Love It Or List It Shows A Simple Way To Make A Basement More Livable
Forbes tells us the median home cost increased every month for the first half of the year, and while inventory shortages and pricing increases are predicted to ease, they've recently shown only a minimal shift. To that end, unprecedented pricing pushed many dissatisfied homeowners to make improvements rather than relocate. According to House Method, more than half of those surveyed undertook a renovation in 2022. Surprisingly, their primary motivation wasn't a return on investment — instead, almost 40% cited their goal was to expand the enjoyment of their home.
The hosts of HGTV's "Love It or List It" base their show on just such a proposition — is it more beneficial to buy or renovate? Home is a supremely personal place, and a functional space looks different for each of us. However, some wish list items are commonly shared; a laundry room, a home office, and a separate living room are among the top five per the National Association of Home Builders. Of course, location is everything, so if you want to stay where you are but desire more space or efficiency, where do you turn?
Blogger Sarah Gibson of Room for Tuesday brought her impeccable design sense down a level to create the basement media room above. She layered carpets and drapery to insulate the space and absorb sound. But the "Love It or List It" pros say there's something more we should do when we're choosing our cellars for a home design solution.
In a basement reno, don't forget to look up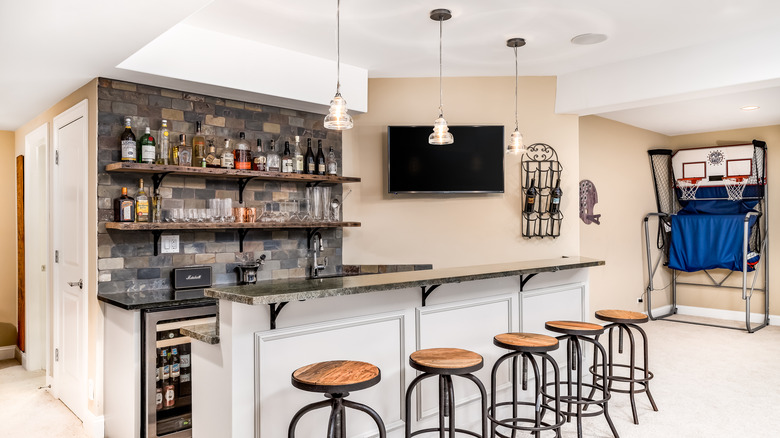 In the episode, "Old Home, New Tricks," designer Hilary Farr and realtor David Visentin are tasked with helping a couple update their 70s-style home or find something that rivals its assets (via Realtor). That might be tough, providing a major draw of the home are the memories that were made there. Hoping to leverage this notion, Farr makes some significant changes on the first floor, but a bulk of the improvements occur in the basement. She waterproofs and finishes the entire cellar and subsequently creates a kitchenette, bathroom, media room, and guest bedroom, adding abundant usefulness. Plus, Farr's remodeling increased the value of the home by $400,000.
With the labor and expense involved in a basement renovation, you'd think every last detail would be weighed. Yet, according to Realtor, many people neglect to consider sound in their design. Because of its underground location, there's an assumption the space will be naturally noise-proof, but footfall and sounds from above definitely carry. Additionally, loud noises, like those from a home theater or mechanical room, can make their way from the basement to the main level. As a fix, they say soundproofing the ceiling is a must, and it's generally budget-friendly, too. SoundproofCow explains there are several methods, including insulation, acoustic panels, and ceiling baffles.
You can also take a page from Sarah Gibson's playbook and add thick carpeting and upholstered wall panels in a shade of sound-absorbing velvet to match the paint.