15 Modern Hutch Cabinets You'll Absolutely Want For Your Space
Hutch cabinets are usually placed in the dining room or kitchen, to provide extra storage, display beautiful dishware, and assist in entertaining guests. According to Rileys Real Wood, they differ from buffets or sideboards because they're taller and have both open and closed storage. Additionally, because they're usually larger, a hutch can store bigger and bulkier items, like your instant pot or mixer.
Typically, hutches have an antique appearance, so if you're used to seeing vintage versions, perhaps the term "modern hutch cabinet" sounds funny. However, there really are modern versions of these large furniture pieces still being sold today — and they can have some beautiful designs. Further, many upcyclers take worn-out hutches and transform them into contemporary pieces.
Perhaps you're looking to add additional storage space to your dining room or kitchen. If so, a modern hutch cabinet could be just the thing you need, and we've listed 15 of the most beautiful options below.
1. Built-in and bold
Let's start off with a bang: This hutch is clearly not antique. It's built into the wall, features a bold green paint shade, and has golden paneling on the glass. 
2. Arched windows and modern paneling
Pipas Imagery/Shutterstock
Now, this is probably closer to what's sitting in your grandmother's dining room. However, this piece has some modern elements, such as arched glass windows and beautiful cabinet paneling.
3. Intricate details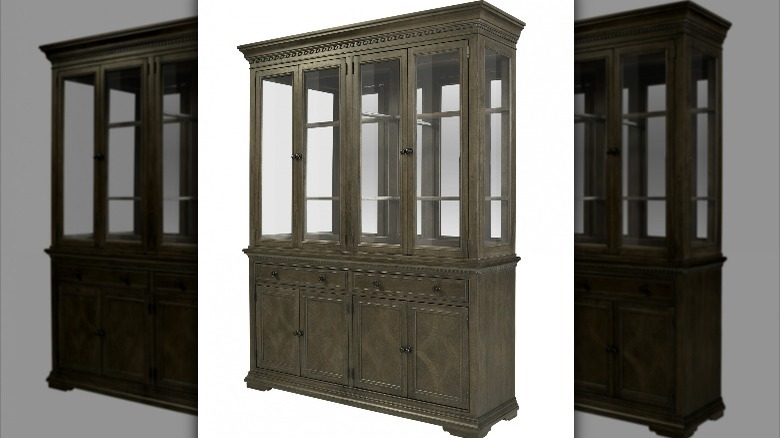 LN_PHOTO/Shutterstock
This piece has interesting detail work on the top and bottom. It also has three storage spaces (shelves, drawers, and cabinets), which would make it useful for storing a number of differently sized items. 
4. Vintage piece with new paint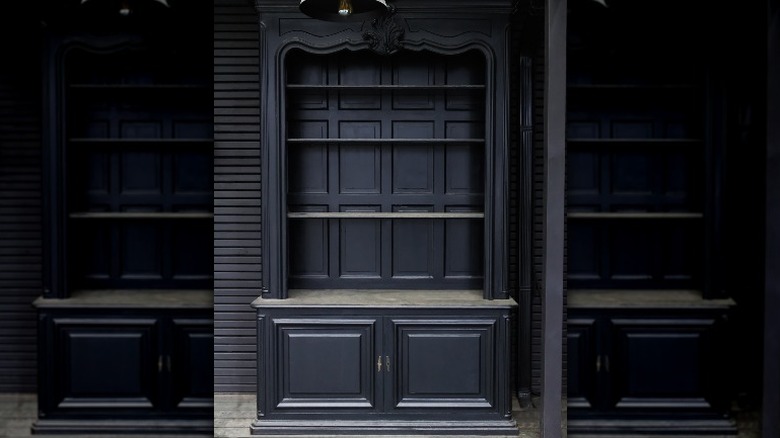 Romo Lomo/Shutterstock
Here's an example of a vintage piece that was redone to provide a more modern feel. While before it was most likely a warm wood shade, now it's a moody deep blue and has gray shelves. 
5. White hutch with glass doors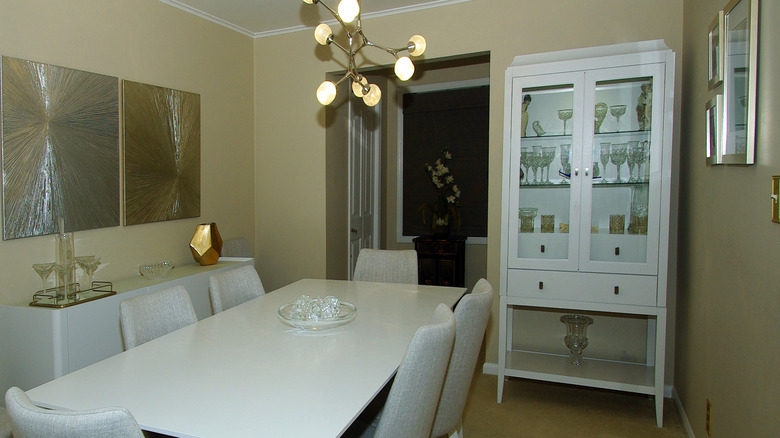 Dominick Corrado/Shutterstock
This white hutch has clean lines and an interesting design, with an extra shelf on the bottom. It matches the other modern decorations in the space, such as the light fixture and metallic art pieces.
6. Classic farmhouse
If you have a farmhouse-styled home, you may prefer the look of this cabinet. Combining white and wood with a shiplap backing, this piece has it all. 
7. A subtler farmhouse piece
Here's another farmhouse design without all the bells and whistles. Those who want a cleaner feel and less rustic look may prefer this style. 
8. Large wooden piece
If you're looking to fill a large blank wall, the hutch above may pique your interest. This wooden design has completely open shelving and lots of storage space. 
9. Arched design
If you love soft edges, you're sure to adore the above wooden and baby pink piece. This hutch has a unique arched design and interesting legs that really make it stand out. 
10. Unique shelves between cabinets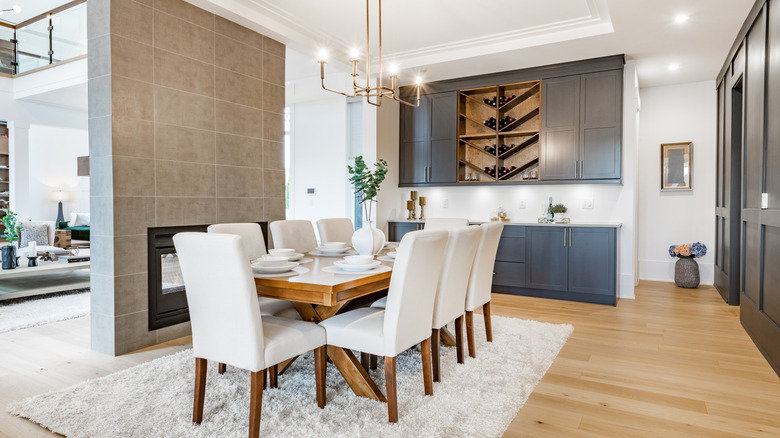 Sheila Say/Shutterstock
The above dining room has cabinets along the back wall that would be great for entertaining guests. This piece also has uniquely shaped shelves, perhaps for wine bottle storage.
11. Glass shelves in natural wood
Mixing warm wood with modern elements like glass shelving always looks gorgeous, and that's exactly what the above hutch does. 
12. An added warm glow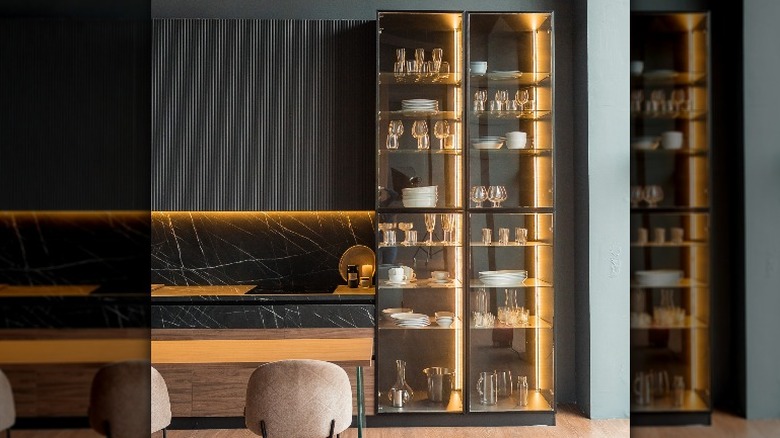 Sakharova Anastasia/Shutterstock
For a truly modern look, you could decide upon a hutch made completely out of glass with interior warm lighting. 
13. Mid century modern
Or, for a more contemporary vintage look, you could choose a piece like the above mid-century modern design. This hutch has no glass and angled legs, giving it a classic appearance. 
14. Painted a soft green shade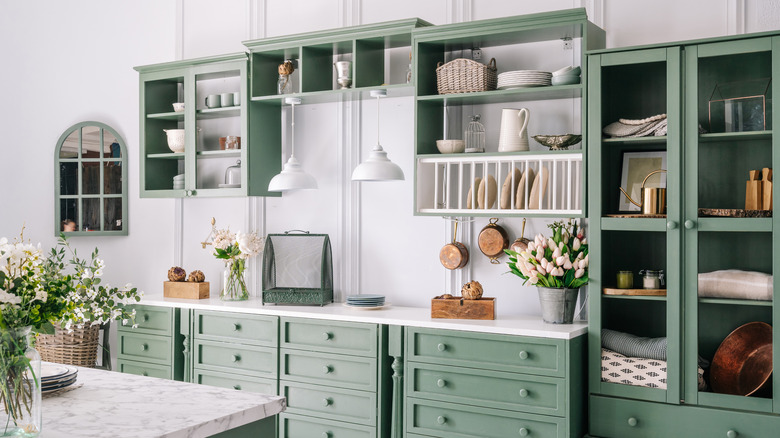 brizmaker/Shutterstock
Painting an older cabinet a more trendy color, such as the soft green shade above, will create a more modern look. To make your kitchen cohesive, you could match the hutch with the rest of your cabinets. 
15. Asymmetrical built-in shelves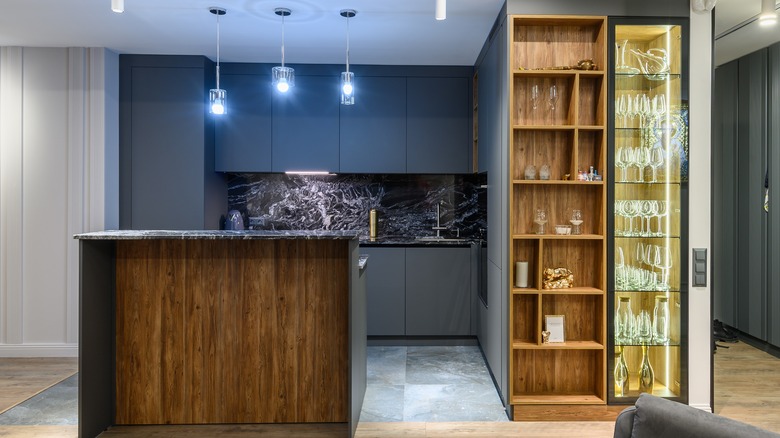 Serghei Starus/Shutterstock
Pieces that use asymmetrical designs almost always look new, as is the case for the built-in hutch above, which features different-sized shelves.