Home Sale Prices In Seattle Are Finally Trending Down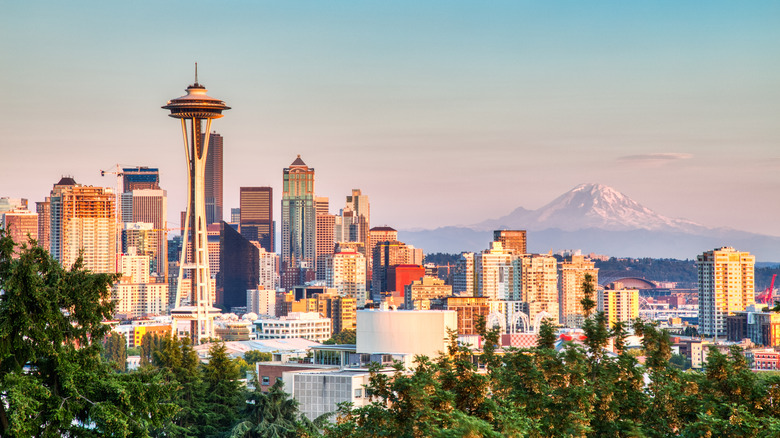 RomanSlavik.com/Shutterstock
After the record-setting competition in the real estate market that sent housing prices through the roof over the past couple of years, home prices in Seattle are beginning to see a downward trend. As interest rates hover close to 7%, the demand for home purchases is continuing to fall, and home prices are falling as a result (via Freddie Mac). According to The Seattle Times, higher mortgage rates are making buyers more hesitant about purchasing a new home. While it's not unusual to see the real estate market cool off slightly in the fall, general uncertainty about the economy is making this more than an annual fall trend.
Recent data compiled by House Digest determines that the median price for a home sold in the Seattle area in the winter of 2018 was as low as $477,000. In May of 2022, the average price rose to $865,000, which is an increase of about 81%. By August, the average sale price had dropped to around $755,000. Several analysts predict that this trend may continue. "I predict prices will drop further as we move into the fall," explains Matthew Gardner, Chief Economist at Windermere. "The market is simply reverting to its long-term average as it moves away from the artificial conditions caused by the pandemic," via Northwest Multiple Listing Service.
Median home sale prices in seattle
According to Glenn Kelman, CEO of Redfin, the housing market in the U.S. has become more reactive to changes in interest rates than it was before the housing crash in 2008 (per Fortune). This means that fluctuations in the rates set by the Federal Reserve will have a significant impact on home prices. Kelman indicates that there's an additional ripple effect from these changes. He says that institutional buyers have entered the market, buying and selling properties to flip for higher profit or to offer as rental properties. Shifts in interest rates affect their decisions, and the market is affected significantly.
Kelman explains that these institutional investors "want to get out first. The way to do that is to figure out where the lowest sale is, and be 2% below that. And if it doesn't sell in the first weekend, move it down [again]." He continued, "As soon as demand weakened, we were marking properties down, and that drives prices down. Every other home for sale in a neighborhood where we marked the listing down now has a comparable sale that every buyer is going to know about and talk about." As these trends continue, expect to see changes in the Seattle housing market as well as throughout the country.