Home Depot Vs. Lowe's: Which Has Better Deals On Painting Tools?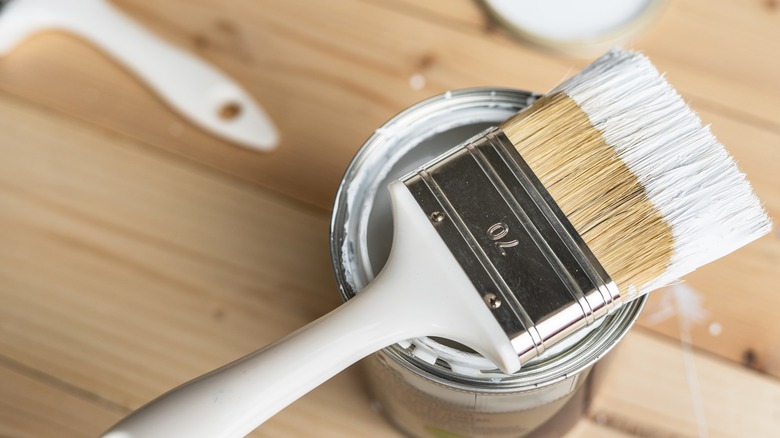 Miljan Zivkovic/Shutterstock
When taking on a painting project, there's a lot to know, including which tools are necessary. According to Forbes, basic materials, such as tape and drop cloths, help prevent paint from getting in unwanted areas. Then there are those essential paintbrushes or rollers. Of course, if you choose a roller, you'll need a frame to go with it. Experts suggest investing in high-end models, as the cheaper versions don't always hold enough paint and can leave streaks.
Additionally, it's critical to choose a paintbrush based on a specific project. For example, when painting a wall, Nova Color Paint recommends using synthetic brushes, which won't leave behind fibers. Because size is a factor, Wooster Brush suggests using a large brush for outdoor projects or painting a wall and a smaller tool for finer details. You'll also need a paint tray, which not only houses paint, but can also be used to remove excess dye from the brush or roller.
Now that you know which tools to buy, locate a nearby retailer that sells them. Home Depot and Lowe's are obvious choices, so let's see which home improvement store offers the better deals.
Home Depot's painter kit
Even though Home Depot sells plenty of painting equipment, one of its more popular products is an eight-piece painter's kit. Available for less than $13, you can use these tools for both indoor and outdoor projects with low to medium-sheen paints and stains. Included is a 9-inch metal tray that has ladder lock legs underneath, as well as a tray liner. Pro Roller Co. says both are convenient for projects that require more than one color, allowing you to easily switch them out. 
Additional features include a 9-inch roller frame with two polyester roller covers, along with a 3-inch roller frame and cover. Finally, a 2-inch brush can be used for trims and baseboards. You can return this product up to 90 days after purchase, and it's backed by a warranty to guarantee protection against defects from materials and workmanship.
With nearly 3,000 reviews, Home Depot's painter's kit has a 4.6-star rating and 93% recommendation rate. One consumer stated they bought it to paint their dining room and would reuse it to paint other rooms. Another buyer purchased it to paint their garage floors and concrete blocks and said it worked great and had no issues. They added that the rollers were sturdy, and the brush was thick enough to hold its shape and did not lose bristles when being used.
Lowe's Valspar painting kit
Over at Lowe's, its most popular painting tools come in an eight-piece kit made by Valspar. At nearly $19, the rollers are ideal for painting ceilings, walls, and trims, and they can be used outdoors as well with premium paints and primers. Included are both a metal paint tray and liner, as well as a wired roller frame. The latter features two microfiber rollers that are resistant to shedding and is said to provide a smooth finish. 
Similarly, the 2-inch brushes are said to accomplish the same task while simultaneously reducing brush marks. Lastly, a 3-inch mini microfiber roller is included for smaller areas, such as window and door frames. Unfortunately, a warranty isn't included with the purchase. Out of almost 100 reviews, the Lowe's painting kit has a 4.4-star rating and a 75% recommendation rate. One reviewer said it's a great kit at an affordable price, while another mentioned how the rollers don't turn well and leave streaks while the brush loses bristles.
Based on reviews, star ratings, recommendation rates, and price, we have to say the better deal is at Home Depot. Not only do its tools offer better ratings and reviews, but they're also a bit cheaper. Additionally, the Atlanta-based retailer offers a return window, and its tools are said to be protected against defects. Conversely, the same can't be said for Lowe's.