Home Sale Prices In LA Are Trending Down For The First Time In Five Years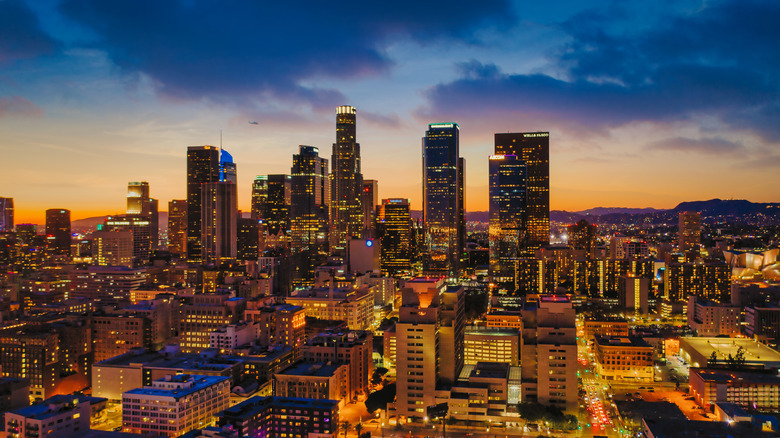 Alonso Reyes Diaz/Shutterstock
There are two types of Californians: those that love Los Angeles and those that don't. While some adore the warm weather, ocean views, and entertainment-focused setting, others despise the traffic, bustling atmosphere, and (some might say,) chaotic celebrity and influencer culture.
However — love or hate Los Angeles, everyone can agree on one thing: LA is an expensive city to live in. In fact, according to Extra Space Storage, the cost of living in Los Angeles is 61% higher than the rest of the United States. To put this into perspective, compared to New York City, the median price of homes in LA this year has been almost $230,000 more, per Best Places.
Further, in the past five years, the median house price in LA has continued to rise. However, if you're looking to buy a home, there's some good news: in the past few months, prices have begun to trend down. Below, you'll find out more about why this may be the case and what to expect in the future.
Less buyers means lower prices
As seen in the above graph made with data from Redfin, from around the middle of 2019, the median house price continued to rise in Los Angeles; In June of 2022, it rose slightly above $900,000. However, since then, prices have been dropping, and in August, the median price dropped to around $810,000. While the numbers are still nowhere near where they were in January of 2018 (when the median price was $580,000), they have started to trend down.
According to Norada Real Estate Investments, the market is beginning to cool because there has been a recent decrease in house purchases; Compared to last September, sales have dropped over 30%. This has led to a slight increase in inventory and a decrease in competitive bidding. Because of this, Manage Casa says that prices may continue to drop into the spring of 2023, which is great news for homebuyers. And, while homes have almost always been sold for their original asking price, recently more houses have been sold after a price drop, per Redfin. This means that buyers may have a better chance of getting a deal than they have in the past.