Home Depot Or Lowe's: Which Has Better Deals On Decking?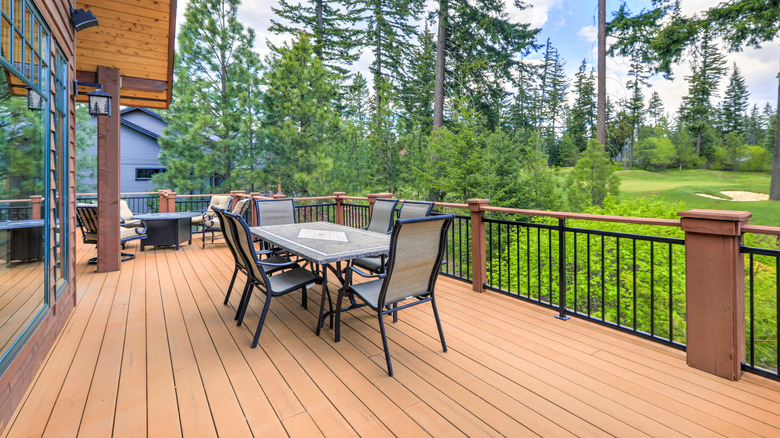 Artazum/Shutterstock
If you're planning on building a deck, one of the things you'll have to purchase is decking boards. According to HGTV, these are the visible boards that are installed on top of the deck's frame. When trying to decide which decking is right for you, you'll discover that there are two main types. The first is pressure-treated wood, which is typically the least expensive option — most people choose either redwood, cedar, or pine boards. The second option is composite decking made from recycled materials. While these boards will cost more, they'll also last longer.
You may be woderind whether to purchase decking from either Home Depot or Lowe's, as both of these big box companies are sure to have everything you'll need. If so, you'll find a rundown of popular pine wood and composite decking options from both these retailers, as well as the verdict on which store has the better deal.
Home Depot's options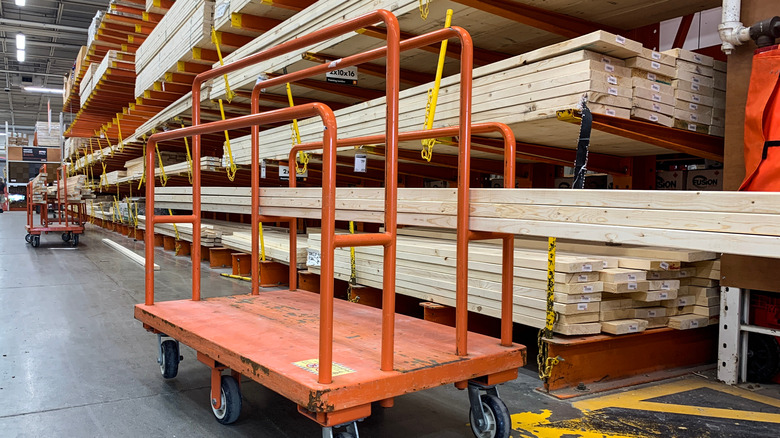 Eric Lysenko/Shutterstock
Home Depot sells a pressure-treated pine decking board that's 16 feet long and costs just over $13. Out of 300 reviews, this product has 4 stars on its website. Most who gave this product the full five stars agreed that it was sold at a great price and worked perfectly. However, many complaints were also about the boards not lasting very long without warping. Others said that the boards arrived damaged and had many large knots. This product has a limited warranty that covers things like fungal decay and termites.
In terms of Home Depot's composite options, they sell deck tiles for over $68 a box, and each box contains 10 square feet of decking. Out of almost 730 reviews, this product has received 4.8 stars. Almost all of those who purchased said it looked amazing and was easy to install. However, some complained about swelling issues and color inconsistencies from the samples to the actual product. This product has a 10-year warranty that protects against splintering, splitting, rotting, and fungal decay; However, while this sounds great, these are not common concerns for composite materials.
Lowe's options and the final verdict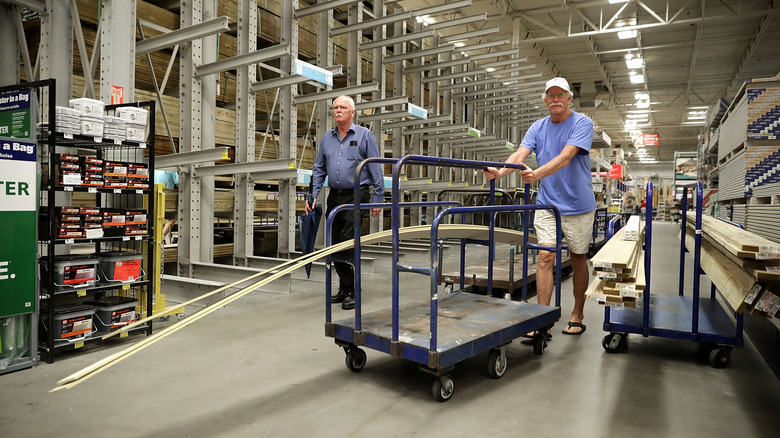 Chip Somodevilla/Getty Images
Lowe's also sells a pressure-treated pine decking board that's 16 feet long, but it retails for just over $20 (four dollars more than Home Depot's option). Out of over 2,000 reviews, this product received 4.2 stars. People said that it's worth the higher price because the boards are straight and don't have excessive knots. Those who complained about this product said that it could split, warp, or bow over time. These wooden boards have a limited lifetime warranty that protects against fungal decay and termites, just like Home Depot's option.
One of Lowe's most popular composite decking options has 4.5 stars out of over 1,000 reviews. This product is sold by the board (not the box), and each 16-foot board costs $32. Those who gave this product five stars said that it was extremely easy to install and requires little to no maintenance. However, some complained about warped boards, slippery surfaces, and inconsistencies with color matching. And, while this product is backed by a 25-year fade and stain warranty, it doesn't cover scratches, which many complained about.
Overall, when it comes to wooden decking, Lowe's definitely has the upper hand. While their pine boards cost more, they have better reviews and seem to be better quality. However, Home Depot may have the upper hand with composite materials, though it's a close call. While Lowe's has a better warranty, Home Depot's option received better reviews and costs less overall.