Why A Wraparound Desk Is The Focal Point You Need For Your Home Office
Almost every home office uses a desk as the focal point in the space, per Sky Interests. Because of this, it's essential to pick the right one, both for aesthetic and functional purposes, and there are several designs to choose from, and Living Spaces names hallway and writing desks as some of the most popular models. Those needing lots of storage space may prefer a built-in hutch or shelving or choose a pedestal desk with shelves on both legs. 
A narrow hallway design may come in handy if you're trying to fit the desk into a small area. Or, those who don't need any space for storage could choose a small writing desk. On the other hand, if you need lots of surface area, you could decide upon a wraparound or an L-shaped desk. Some also call this model an executive desk, as it's typically larger than other designs. Below, you'll discover why a wraparound desk could be the perfect focal point for your office. You'll also find out how to make this design appear less bulky if desired.  
Why choose a wraparound desk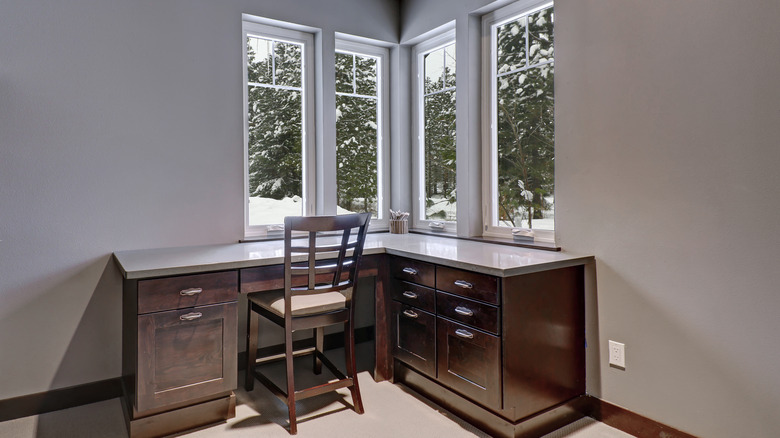 Artazum/Shutterstock
Work at Home Accessories defines wraparound desks as two sides that meet at a 90-degree angle. Typically, they have asymmetrical sides, but some models have even sides as well. This desk will become the focal point when used in your office, as the large design commands attention. These desks provide more surface area than other models; to be specific, most have 30% more than the traditional desk. All Office says that wraparound desks are typically placed in the corner, allowing them to fill unused wall space. Additionally, they add additional floor space throughout the rest of the room, which could make a small area appear larger. 
Online Office Furniture adds that they have more space underneath the desk, which could be used for storage or extra legroom. Additionally, they provide easy access to multiple tasks simultaneously, which would benefit those who often multitask while working. Finally, The Balance says to choose an L-shaped desk because it will designate a space in your home where only work can take place. This could boost your productivity and help you stay more focused.
How to make a wraparound look less bulky
However, some don't like the appearance of wraparound desks, as they can sometimes look large, bulky, or heavy. This is often the case for models with lots of shelving or drawers. According to All Office, there are two types of desks: those that contain storage space and those that appear lighter. If you want the lighter option, you could create a floating L-shaped design without any shelves, drawers, or even legs. The DIY Nuts does this for their three kids to use for homework, but you could also install something similar in your home office. 
To build the desk, they place boards on top of brackets, which creates a clean and minimalist appearance while still providing all the many benefits of a wraparound desk. However, if you choose a design without any built-in storage space, you'll need to ensure you have other storage solutions. The Balance says to create an organizing strategy; maybe you hang some items on a peg board and place others in a closet or shelving unit. Whatever the case, make sure you don't leave lots of things out on the surface of your desk every day.