Home Depot Or Lowe's: Which Has Better Deals On Sheds?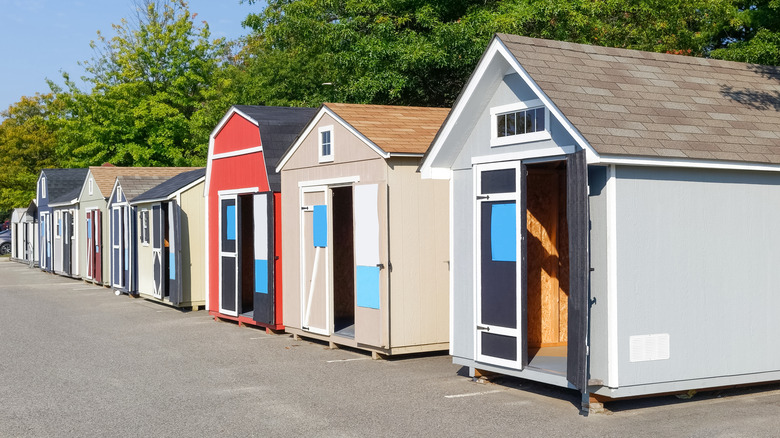 Joe_potato/Getty Images
If your garage is piled high with yard equipment, holiday lawn decorations, and gardening tools, consider adding a storage shed to your property. These units will help you stay more organized — and perhaps even allow you to fit your car back into the garage.
When choosing the right shed, Northwood Outdoor says first determine what you plan to store inside. Additionally, decide whether to store things that roll, like a lawn mower, in which case you'll need a ramp. These considerations will help you choose a storage container with the right size and features. Next, think about the area's weather conditions, which will affect the quality of available materials. If your city or town experiences snow, rain, or wind, pick out a quality model that will last (and, perhaps, one with a good warranty). Finally, scrutinize your budget.
Mulling over a shed from either Home Depot or Lowe's? Then it could be helpful to compare options. Below, you'll see a rundown of some of the most popular options sold by these big-box retailers, as well as which has the better deals.
Home Depot's best sellers
Home Depot's best-selling option is a 7-by-7-foot resin shed made by Rubbermaid (pictured above) that costs $1,099. Out of more than 1,600 reviews, the unit received a meager 3.6-star rating, with only 57% of buyers saying they would recommend it. However, others stated it was easy to build and stays up even in harsh weather. 
Still, critics chimed in with opposite feelings. Some complained the holes didn't line up or the pieces were warped. Meanwhile, others said this model blew down in the wind or that the roof caved in. If set up in the sunlight, the pieces could overheat and begin to warp, and while the Rubbermaid storage container has a limited warranty, this circumstance isn't covered.
Home Depot also sells another 7-by-7-foot resin shed manufactured by Suncast, which also sells for $1,099 and comes with a 10-year limited warranty. With more than 1,900 reviews, it received a 4.3-star rating and an 82% recommendation rate. While some customers said it was easy to assemble, others thought the instructions were difficult to understand. Additionally, some complained about the shed beginning to split, and when they contacted Suncast, the company allegedly wouldn't uphold the warranty.
Lowe's options and the winner
The best-selling option at Lowe's is a 10-by-8-foot shed produced by Arrow that's made from galvanized steel (pictured above). It also includes a 12-year limited warranty. Out of nearly 1,000 reviews, this $529 unit received a 3.4-star rating and a 61% recommendation rate. While some remarked positively about its affordability and sturdiness, others complained about the structure collapsing or being blown over in the wind. Additionally, just about every consumer agreed it was difficult to assemble; on average, it took at least two days.
Lowe's also sells the exact same 7-by-7-foot resin shed manufactured by Suncast (under the Craftsman name). However, on the retailer's website, it's sold for $999 ($100 less). Out of nearly 1,200 reviews, it received a 3.8-star rating, and 72% of customers would recommend it. While some loved the price and aesthetic, others complained about the cheap material and poor customer service.
Overall, when comparing these big-box retailers, the reviews aren't necessarily great from either store. However, if you're set on purchasing a shed from either Home Depot or Lowe's, the latter offers the better deal. Indeed, its best-seller has a much lower price. Plus, you can get it for $100 less compared to Home Depot.