Interior Design Experts Explain The Biggest Wallpaper Mistakes Homeowners Make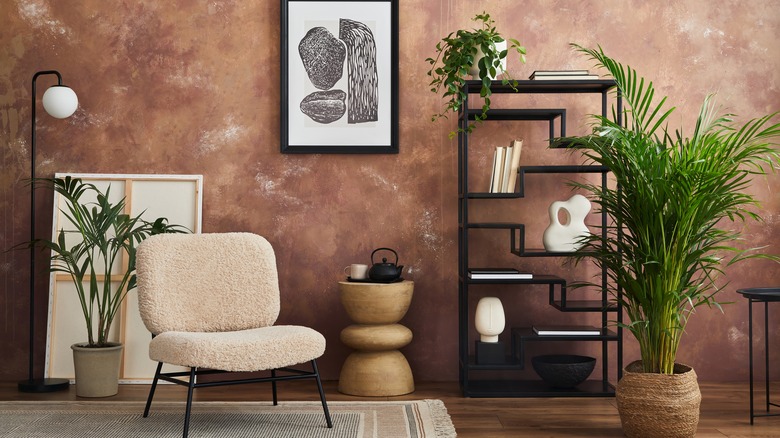 Followtheflow/Shutterstock
Wallpaper is back, and we couldn't love the return of this interior design trend more. What was once a staple in 70s homes with pastel patterns and floral finishes took a back seat in the last few decades. A focus on flat colors and greige tones, which served to please the palette of most homeowners, has now transitioned back to the playful and pattern-filled whimsy that only quality wallpaper can pull off. The shift of people adjusting to working from a home office has inspired folks to amp up their interior design and bring out more boisterous eclectic styles with the help of trendy designer wallpaper, according to Vogue.
However, it's easy to get carried away with the process you are doing the work yourself, so taking some tips from the pros before revamping your whole home can be beneficial. Luckily, House Digest has some design guidance from those in the know to help you along the way. In an exclusive interview with House Digest, experts Grace Baena — interior designer of Kaiyo Used Sofas — Mohammad Ahmed — interior designer and founder of The Home Guidance — and Tara Spaulding — interior design coordinator and consultant for Patio Productions, have put together the mistakes to avoid while wallpapering your home. Let's see what expert advice they have in store for you.
Not preparing properly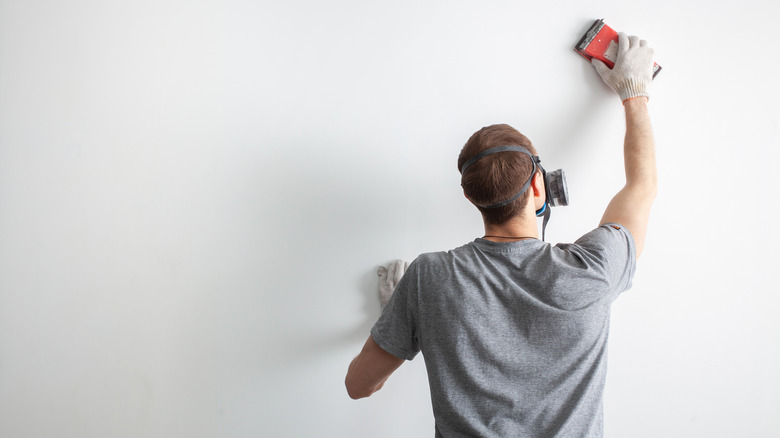 lucky boy studio/Shutterstock
Just like the steps you would take to get your wall ready for a new coat of paint, you need to do the same for wallpaper. When preparing your room, you should take the same care before jumping headfirst into the project. "The biggest and most common wallpaper mistakes will often come from a lack of preparation," interior designer Grace Baena tells House Digest. "For instance, many homeowners will measure everything correctly and still end up with not enough paper for the entire room — it's important to purchase a couple rolls more than you think you'll need to account for unforeseen hiccups." This is great advice, as you wouldn't want to be at the tail end of the project only to run out of materials.
Before you think about slapping the first strip of paper on your chosen wall, Baena tells us, "you'll also need to patch and sand any uneven surfaces on the walls to be papered to ensure a smooth application that lasts." Having a flat area to work on will make it easier to put up your wallpaper and ensure that no bumps show through the material. There is the possibility that if you don't take care of any wall blemishes, they could break through the paper, causing tears.
Trapping bubbles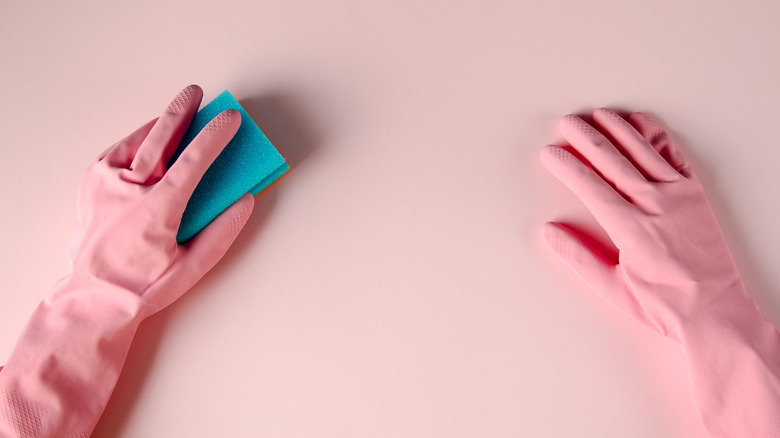 OlgaKan/Shutterstock
Whether you are using traditional wallpaper that is applied using a specialized glue or handy peel-and-stick wallpaper, there is a familiar problem that you may run into. "One of the most common mistakes people make when it comes to wallpaper is trapping bubbles," says interior designer Mohammad Ahmed, who has some helpful tips you can use while putting up your wallpaper. "When installing wallpaper, you'll want to hang each one slowly and steadily," Ahmed explains, "If you spot any bumps along the way, just smooth them over with a soft cloth and light pressure. This will help you get rid of the trapped air bubbles."
When you are taking on a wallpapering project in your home, it may require some additional time and patience. But, by utilizing a slow and steady approach to your process, you can ensure that it will be done right with no glaring mistakes that could come back and haunt you. If you have finished an area and realize there are still a few air bubbles, take a knife and make a small cut in the bubbled surface, push out the air with light pressure, then reapply a bit of adhesive. Finally, using a damp sponge, you can gently press the spot so it can re-adhere to the wall.
Not considering color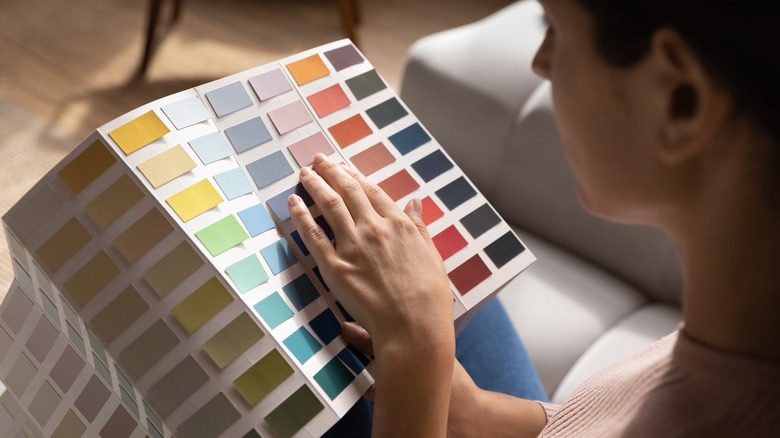 fizkes/Shutterstock
With so many patterns, colors, and textures of wallpaper available, you may soon be overwhelmed with the choices. When deciding on a new type of wallpaper for a space, it's crucial to keep a few key factors in mind. "Another common mistake is not thinking about what colors would work best for your home; it's important to be sure that the colors in your wallpaper are going to work with the rest of your décor," says interior design coordinator Tara Spaulding. If you have your eye on a flamingo print wall covering, it may not be best in a room that is decorated to fit a more contemporary environment. Spaulding says, "If they don't match well, this can ruin the whole look of your room."
If you are looking for guidance, lighter-colored wallpaper, either textured or flat, can help brighten up a room and be the ideal backdrop for homes with colorful furniture or other design features. Botanical and floral wallpaper can do wonders for adding pops of life to a room that has a more modern style, and more dramatic patterns can be best suited for accent walls or rooms that need a focal point. Whatever it is you choose, first take inventory of the room's existing décor to ensure that there are no clashing or competing styles.
Only using wallpaper on walls
Now that wallpaper has made it back into the world of interior design trends, people are getting more and more creative with it. When used tastefully, wallpaper with dramatic patterns or colors can help to elevate any room. You can use it to bring out the personality in a living room designed for entertaining or the playfulness in a basement recreation room. But why stop there? As interior design coordinator Tara Spaulding says, "It's also important to remember that wallpaper isn't just for walls — you can use it on ceilings and even furniture!" As long as your ceilings have been prepared as you would the wall of your home, why not take that design to the next level and add a different look to a room?
Wallpapering furniture can be a fun project to do with upcycled pieces that you have found at an antique market or online. Once you have sanded down the surface of something like an old dresser, trunk, headboard, or cabinet, you can cut some leftover wallpaper bits to fit using wallpaper glue or spray adhesive. Cover the entirety of a piece or certain surfaces, like the back of a cabinet, to add new life to older furniture. For these types of repurposing DIY projects, the only limit is your imagination, so be creative.