You Can Now Buy Ralphie's House From A Christmas Story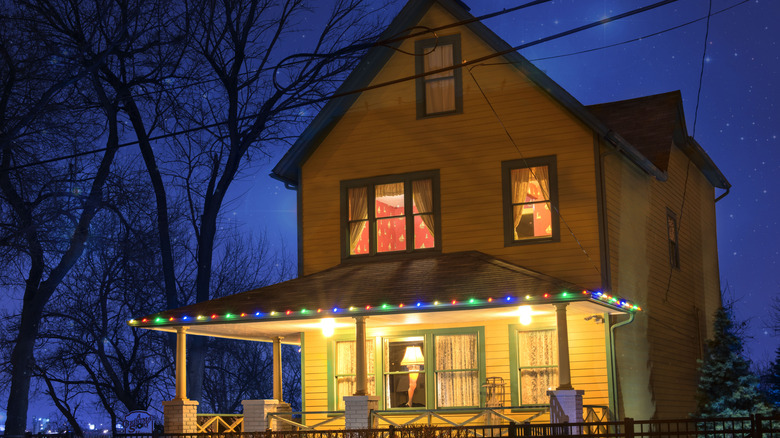 Juli Scalzi/Shutterstock
Depicting the highs and lows of one family's Christmas season through the eyes of a young Ralphie Parker, "A Christmas Story" is one of the most iconic holiday films of all time. If the chance to visit the house simply wasn't enough to curb fans' enthusiasm, they now have the opportunity to own Ralphie's house — just don't shoot your eye out as you scramble to make an offer! Since its release in 1983, the movie has amassed a cult following. Not only is the Parker family house an unmistakably recognizable relic of movie magic, it has become a huge piece of Cleveland, Ohio history. In 2006, its doors were opened for tours; the house regularly attracts 75,000 annual visitors from all over the world, reports USA Today.
Though the official listing has yet to be updated online, the sale was recently announced on the house's official Facebook page. USA Today notes that a large for sale sign has gone up near the front window of the home right next to a replica of the film's iconic leg lamp — a feature that current owner and super fan Brian Jones added after revamping the home to look exactly as it did in the movie.
Own a piece of movie magic
According to USA Today, Brian Jones found the famed abode on eBay, where he paid $150,000 for it back in 2004. On the Christmas Story House website, Jones makes it known that the entire "A Christmas Story" campus will be up for sale, including the museum and gift shop across the street, as well as the neighboring house — home to the arch nemeses of Ralphie's dad, the Bumpus dogs. While there is no mention yet of a listing price, Hoff & Leigh Commercial Real Estate, the agency in charge of the listing, said that they're anticipating quite a bit of interest due to the house's association with such an iconic film (via NBC4).
Chad Whitmer of the listing agency said of the current owners, "They've done a lot of work here. They've turned this into something special." Whitmer added that the family is ready for a new opportunity for themselves, yet they're hopeful that someone new "takes this... and turns it into something even more special and makes it an even greater destination for people visiting Cleveland."