Home Depot Or Lowe's: Which Has Better Deals On Cabinet Hardware?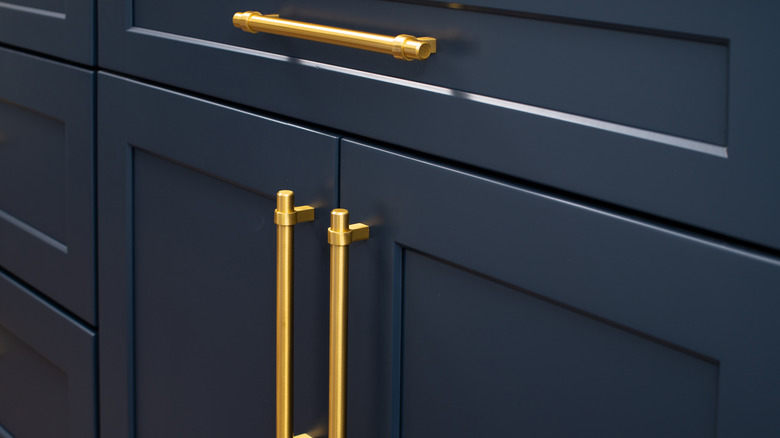 Victor Yarmolyuk/Shutterstock
Installing new cabinet hardware is one of the easiest DIY tasks you can complete. However, there are many design options to choose from. According to Rejuvenation, when updating your cabinet doors, you can choose to install either drawer pulls or cabinet knobs. Drawer pulls allow for a quick and easy grip and can provide added stability. They also give a modern and contemporary feel to the kitchen. Alternatively, cabinet knobs are the most simple option and come in a variety of shapes and designs, which are perfect for classic and vintage-inspired kitchens.
Cabinet drawers, however, come with a few more options. For one, you can install either single knobs or pulls. These are ideal for drawers less than 24 inches wide and should be placed in the middle of the drawer. Double-sized models are also available, which work better for larger drawers that contain heavier items. If these don't strike your interest, you can opt to install a bin pull. Similar to cabinet knobs, their enclosed design can make a kitchen feel more vintage. A fourth option is to install finger pulls, which are designed to take up less space and are ideal for smaller drawers.
Once you have chosen the design you want, you'll need to find a retail location to purchase them. Home Depot and Lowe's are two of the most popular options, so let's see which one has the better deal.
Lowe's Brainerd drawer pulls
Lowe's most popular cabinet hardware is made by a brand called Brainerd. Their model ranges in three sizes: 3 inches, 3 3/4 inches, and 5 1/16 inches. The smallest costs just $1.17 while the largest can be purchased for $5.98. However, it should be noted that prices and availability can vary based on location. Each of these sizes comes in either a black matte finish or satin nickel. To install, you'll need a mounting hardware kit that is included when purchasing. While there is no word on a return window, this product is backed by a limited lifetime warranty.
Based on over 100 reviews, this cabinet hardware received a 4.8-star rating and a recommendation rate of 94%. One customer stated that he upgraded his handles to give a simple and sleek look, and went on to add that they were pleased that the pre-drilled holes were accurately spaced out. However, they also noted that these handles were on the lightweight side. Another consumer chimed in and said that these handles are of good strength and quality and made the perfect addition to their child's bathroom. They also added that the installation was easy especially since they used the template tools provided. A third consumer commented that they love these handles as they are extremely well-made and would recommend them to anyone.
Home Depot's Liberty drawer pulls
In comparison, Home Depot's most popular drawer pulls are made by Liberty. There are many different sizes available with the smallest model being 2 1/2 inches and the largest sitting at 34 inches. With different sizes comes different price tags ranging from as low as $6 to just over $31. Each size also varies in the amount per package — some models come in a standard one-pack while others feature up to 96 pulls. However, each and every size comes in a choice of seven different finishes, including matte black, champagne bronze, and stainless steel.
These drawer pulls can be installed with a rear-mounting kit that comes with the purchase. Out of over 3,000 reviews, this cabinet hardware received a 4.8-star rating along with a 96% recommendation rating. Most of these reviews are positive with one consumer stating that they feel sturdy and make the cabinet stand out more. Another purchaser said they love these handles as they are sleek, sturdy, and look absolutely beautiful.
This was a fairly close debate seeing as both stores contained the exact same star rating and a lifetime warranty. However, Home Depot's hardware contained a slightly better recommendation rate along with a 90-day return window. These factors along with their more customizable sizing options make their product a better deal.