The Property Brothers' Ceiling Trick That Amps Up Personality In A Space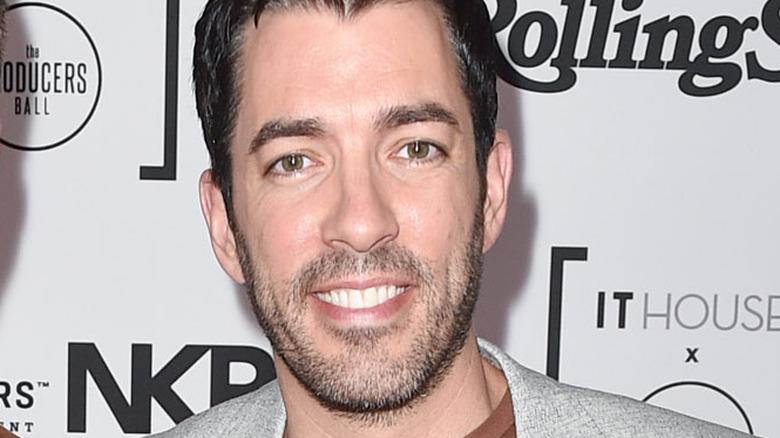 Ernesto Distefano/Getty Images
The Scott Brothers are in the business of creating engaging and extremely watchable home transformations on their various series, including HGTV's "Property Brothers: Forever Home." Jonathan Scott told Parade about the twins' introduction to real estate, noting that when they sold their first house for a $50,000 profit, they realized this was the business for them. They continued flipping homes with friends, learning everything they could as they went, and both became licensed in the fields of expertise we now know them for. Talk about a glow-up.
In a recent episode of their show's seventh season, called "All Grown Up," Drew and Jonathan guide a couple who say it's time to shift their family home from a child's playhouse to a more adult and restful space as their preteens outgrow the old rooms. Realtor.com explains that they have a $285,000 budget and plenty of kid-themed stuff to get rid of, including a living room jungle gym and an air-hockey table in the dining room. The team delivers a modernized, bright space that's inviting and personal, and one clever trick (Did you know that Jonathan is also an award-winning magician?) takes it over the top.
From kids' meals to a classic menu
The Property Brothers were charged with updating the living room, family room, kitchen, and dining room of the home Janice and Mark share with their three kids (via Realtor.com). Drew was particularly drawn to the eating spaces, relaying that mealtimes together were nurturing and foundational to his sense of family bonding while growing up. He wanted to see a calming and beautiful dining room in place of the current play area. The twins used a sleek but weighty table as the centering point of the room; its warm wood is surrounded by cocooning upholstered dining chairs. A chocolate accent wall adds to the cozy and sophisticated vibe.
In the kitchen, the orangey oak cabinetry was supplanted by two tones of subdued green on the bottom cabinets and light maple on the uppers. It brings in a feeling of nature and follows a kitchen design trend that embraces color. The unsanitary tiled countertops were replaced with a light and neutral stone. Additionally, the duo raised the dropped ceiling, helping the room appear brighter and more spacious. In one quadrant, they opened an exterior wall adding access to the yard, and installed a breakfast nook with comfortable built-in banquettes. But there was still an unconventional and bold move up their sleeves. "For me, it's not that I like the 'I told you so' moment, but clients always say, 'You can't do that,' and I'm like, 'Yes, you can,'" Jonathan told Parade.
The prize
Per Realtor.com, before the makeover began, Jonathan Scott shared a photo of a wallpapered kitchen with Janice and Mark for inspiration, and they were taken with the unique effect it had on the space. According to Lucy Searle, editor in chief of Homes & Gardens, while uncommon, "kitchen wallpaper ideas are a great way to inject a decorative element into this high-traffic and functional heart of the home." Further, wallpaper can be an economical and temporarily daring treatment that allows major appliances and cabinetry to remain safely classic. 
However, Jonathan wasn't quite prepared to play it safe and stop at the walls, so he fearlessly applied wallpaper to the ceiling. The designer contends that it brings the eye up and turns the unassuming fifth wall into a surprising show-stopper. Aimee Lagos, co-founder of Hygge & West, told My Domaine, "Now that wallpaper is more common, it's a new way to create a more unique, unexpected décor scheme. It started with a shift from wallpapered accent walls to wallpapering all four walls. The next step was to look at the ceiling as a fifth wall. It is a perfect surface for adding pattern to a room and certainly creates a wow moment," Lagos continued. "Based on the installations we've seen, we think the trend is here to stay." Homeowners Janice and Mark agreed. They thought the wallpapered ceiling looked fantastic and they're happy to stay awhile, too.