The Best Place In Your Living Room To Install Wall Lights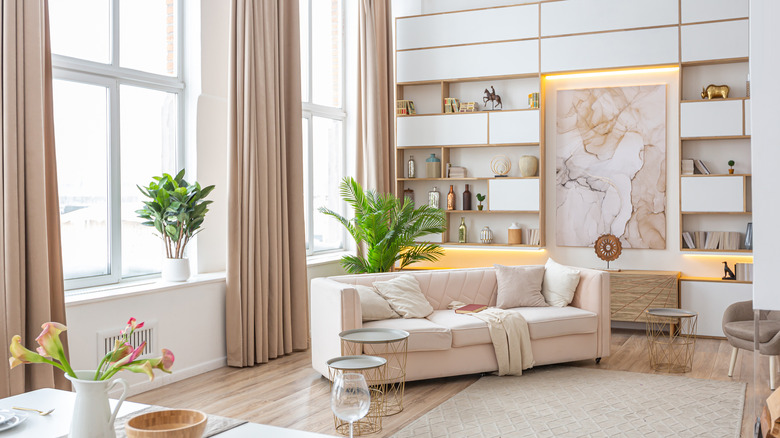 Pinkystock/Shutterstock
Your living room is a hub, and wall lighting is incredibly important to make it shine both literally and figuratively. These additions can make or break the ambiance and atmosphere of your place, and matching them to your décor scheme is vital to pulling everything together. Picking the right location depends entirely on your setup and how you intend to use the wall lighting, but there are a few things to consider before installing it.
Everything, from the time of day to the mood of your living room, affects where your lighting should be placed, and windows, shelving, as well as wall space, will determine what works and doesn't. Once you decide where to set up your wall pieces, you can plan out other additions like lamps, tables, and furniture placement. Furthermore, do you intend to use wall lighting for overall illumination or to help see extracurriculars like reading, games, crafts, or socializing? According to Lightology, these pieces not only add to the room's overall atmosphere but also help make it feel larger and more welcoming. With that in mind, the best place to install wall lighting is all around the room, and this is why.
Using wall lighting in your living room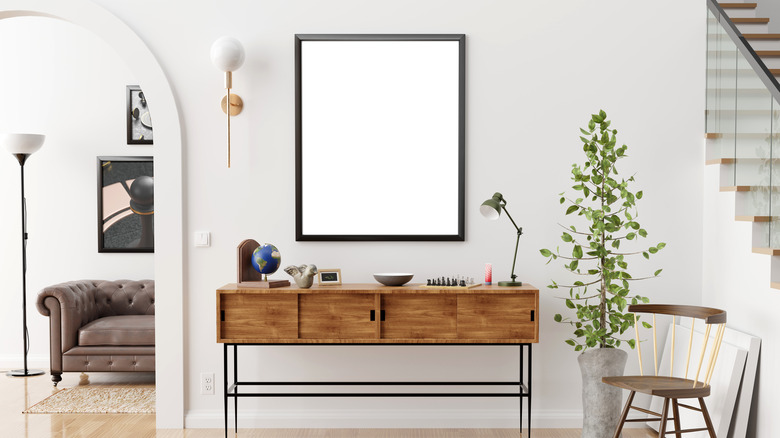 ezps/Shutterstock
Incorporating wall lighting into your living room is a great way to create a cozy aesthetic that leaves friends and family feel safe, comfortable, and engaged. While lamps and overhead lights are extremely popular and help to illuminate a space, the latter can sometimes feel too intense or overpowering. Rooms that are too bright may feel uncomfortable, while areas that are too dark tend to be oppressive. Lamps can provide brightness for nearby spots but don't always reach farther corners. By using wall lighting, you can introduce radiance without leaning too far in either direction.
Placing it all around the room is the easiest way to bring balance, so aim to space wall additions out evenly or strategically to equally illuminate darker areas. Wayfair notes that these pieces are ideal because they don't impose on the rest of the room; instead, they sit up and out of the way to leave floor and wall areas for other items. With this in mind, you can add as many sconces or decorative lights as you want, but avoid overdoing it and making things feel too bright. Lights.com recommends placing wall units at least 66 inches up from the floor and sticking to a maximum height of 72 inches. Of course, the measurement will depend on your ceilings, too, but the website also suggests leaving 6 feet of space between each light across the wall.
Choosing the right designs for your living room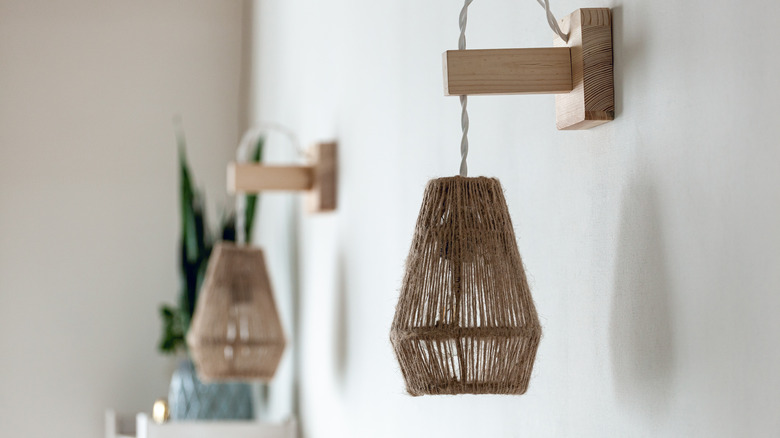 perfectlab/Shutterstock
Choosing the right size, shape, and design will be your next step after determining where each wall light will go. Sconces offer a classic, timeless appearance and will allow you to easily match most designs with existing furniture, hardware, and ornaments. Sconces usually jut out from the wall rather than sitting completely flush, giving dimension and a focal point without being too distracting. They come in a variety of options ranging from modern creations to simple or more basic pieces. If you want to try something a little different, decorative lighting takes the idea of sconces and builds on it, playing with the construct and creating something more artistic.
You need to determine if you are looking at function or form to be at the forefront of your selections. According to Lumens, if you want to add wall lights to read by or bring brightness to a particularly dark space but the décor is minimalistic, stick to simple sconces that don't feel too over the top or loud. If your living room needs a pop of design or the lights are meant to attract attention, look for pieces that draw in the eye and act as wall ornaments as well as illumination.