10 Tips For Making The Most Out Of Your Small Linen Closet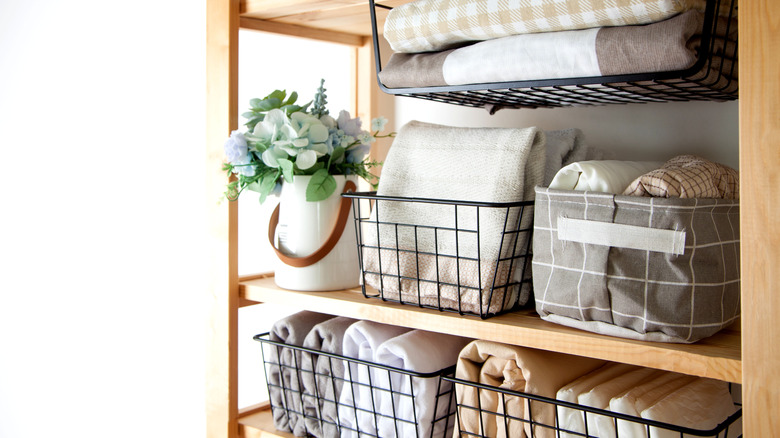 Kostikova Natalia/Shutterstock
Fitting bulky bedding inside a cramped closet can sometimes feel impossible. Most of us don't have the luxury of infinite storage space for things like sheets, blankets, and pillows, yet these items are usually quite large. Therefore, it's important to organize well so that you can make the most out of your linen closet.
The first step? Remove anything that doesn't belong. This closet can easily become a catch-all space, and items that should be stored somewhere else could be hiding behind your piles of pillows. For instance, you could move cleaning supplies to the kitchen or extra toiletries to the bathroom. Further, The Happy Housie also recommends relocating some linens to the rooms they're used in, like storing your napkins and tablecloths in the dining room. 
Once this is completed, you'll probably still need some more tips on how to maximize this tiny area. If so, below are 10 ways to make the most out of a small linen closet.
1. Remove old sheets and towels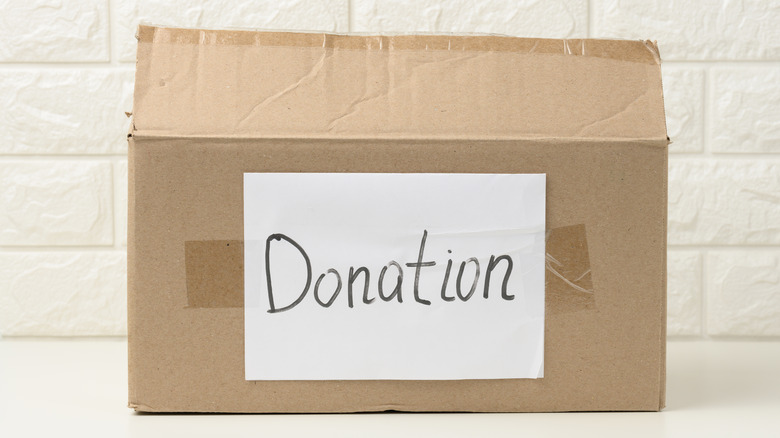 NDanko/Shutterstock
If your closet can no longer close without fighting falling sheets, it's time to say goodbye to your oldest items. You could either reuse them as rags or give them to a donation center.
2. Create a realistic system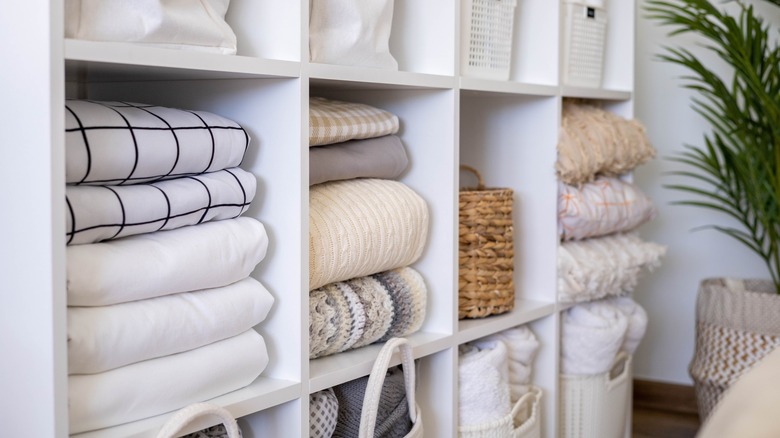 Kostikova Natalia/Shutterstock
Next, you'll need to create a realistic organizational system that you know you'll be able to maintain, even if it's not the most aesthetic. For instance, throwing all your small washcloths inside a bin may make more sense than folding each one.
3. Prioritize everyday items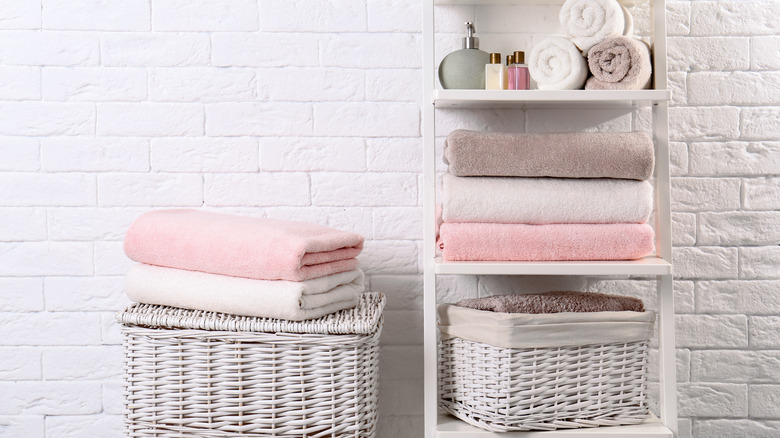 New Africa/Shutterstock
When deciding where everything should go, make the things you use everyday the most accessible. For instance, you could place your bath towels at the front of your shelf and tuck your beach towels behind them.
4. Fold things properly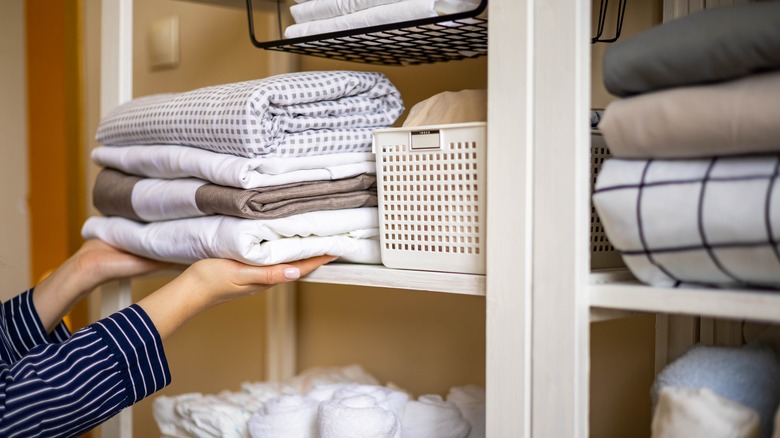 Kostikova Natalia/Shutterstock
While this tip may be hard to hear, it's true: If you don't know how to fold properly, you're probably wasting quite a bit of space. Also, utilize folding methods that create the most area on your shelves. For instance, folding things into skinny rectangles may make more sense than keeping them long and flat. 
5. Choose the right bins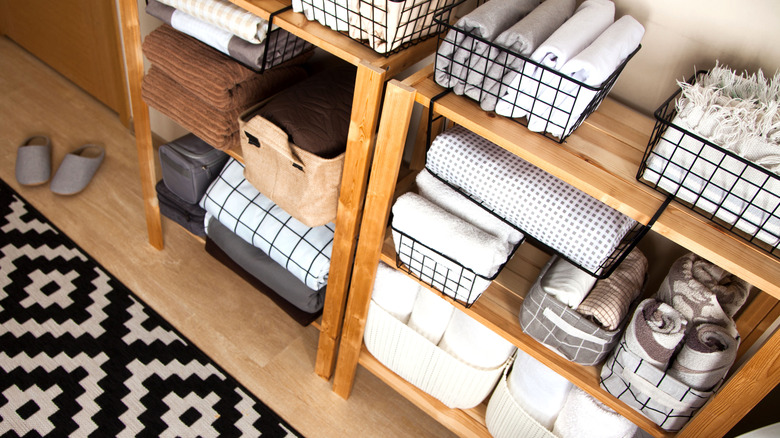 Kostikova Natalia/Shutterstock
You probably already know that bins are an essential part of organizing any area of the home. However, when choosing your bins, make sure they're the correct size so that too much space isn't going to waste.
6. Place bins on the floor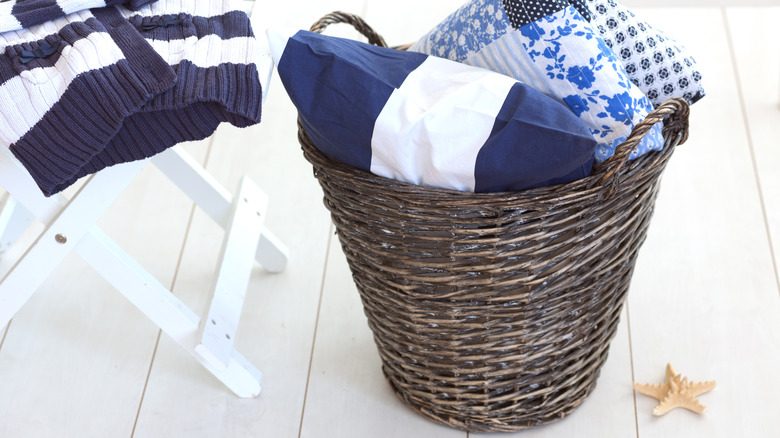 Alena Ozerova/Shutterstock
To make sure you use every square inch of your closet, place bins on the floor. These could hold pillows, blankets, sheets, or towels.
7. Use the inside of the door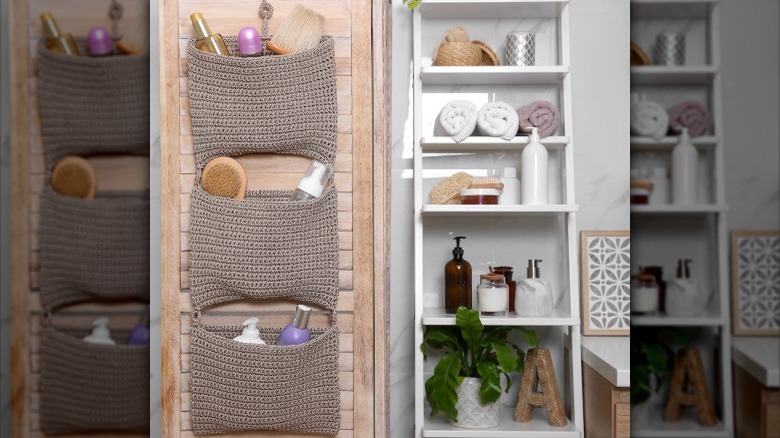 New Africa/Shutterstock
Smaller items like pillowcases or washcloths could be placed inside organizers installed on the inside of the door, which would save you shelf space. 
8. Roll large comforters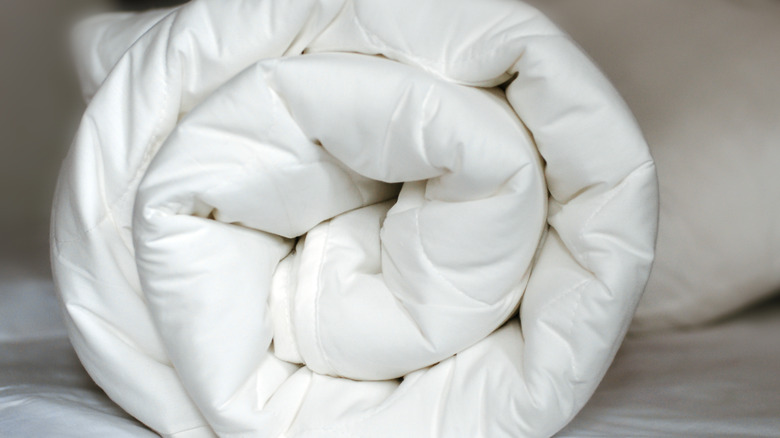 Lidiia Kozhevnikova/Shutterstock
Large comforters will take up less space when they're rolled. Because these are probably only pulled out when guests come over, you could store them either in bins on the floor or at the top of the closet.
9. Keep sheets inside pillowcases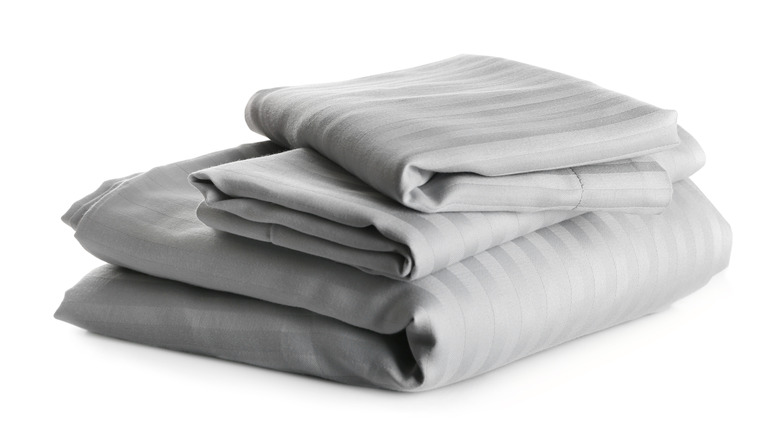 New Africa/Shutterstock
If you're not a huge fan of bins, place your sheets inside their matching pillowcases and stack them on a shelf, which will keep all the sheets maintained.
10. Make use of labels
Kostikova Natalia/Shutterstock
Whether you're using bins or not, labels will come in handy. These could either be placed on your baskets or on your shelves and could differentiate the sizes of sheets or the rooms they belong in.