How Much Does It Cost To Replace A Central Air Conditioning Unit?
dotspencer/Shutterstock
Depending on the location of your home, an air conditioner is a must-have for most properties. Whether it be seasonal variation, soaring humidity, or freezing winters, a functioning unit is a vital feature in any happy home. Unfortunately, like most things in the home, these units occasionally do break. In order to keep your air conditioner running smoothly, regular maintenance is a must. 
Modernize notes that in the US, the average air conditioner replacement costs just under $8000. However, there is a lot of range within this average cost. A few minor replacement parts might only run you a couple of thousand, while a high-end total replacement might be pushing the costs closer to around $13,000. We know that homeownership can be a time-consuming and, at times, costly endeavor. So we are going to break down the typical costs of each of the key parts to keep this as streamlined as possible. Let's dive in!
Key parts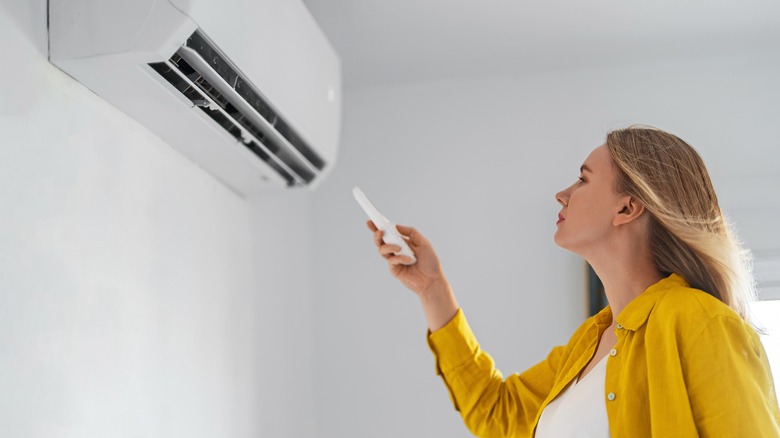 M-Production/Shutterstock
The main parts of the air conditioner system include the expansion valve, evaporator coil, condenser coil, and compressor. If one, or all of these parts is not functioning at optimal capacity, this poses a major challenge to keeping your home at your preferred temperature. The expansion valve is needed in order to manage how much liquid refrigerant is operating within the unit. Typically, the cost to replace the expansion valve is around $500, depending on the quality and type, explains Angi. 
The evaporator coil is responsible for physically removing overly warm air from inside the property. So this is also a critical piece. The cost to replace the evaporator coil is around $1500 (as noted by Home Advisor). Advanced Heating & Cooling notes that the condenser coil is part of the outdoor unit, and is responsible for eliminating excess warmth from the refrigerant. Typically, this will cost around $1000 to replace but can be well over $2000 in some cases (as noted by Forbes). The compressor is what physically transports the refrigerant around the air conditioning unit. The unit is nothing without this. This Old House notes that replacing this piece costs just under $2000, but can be more depending on the size of the house. 
Labor and size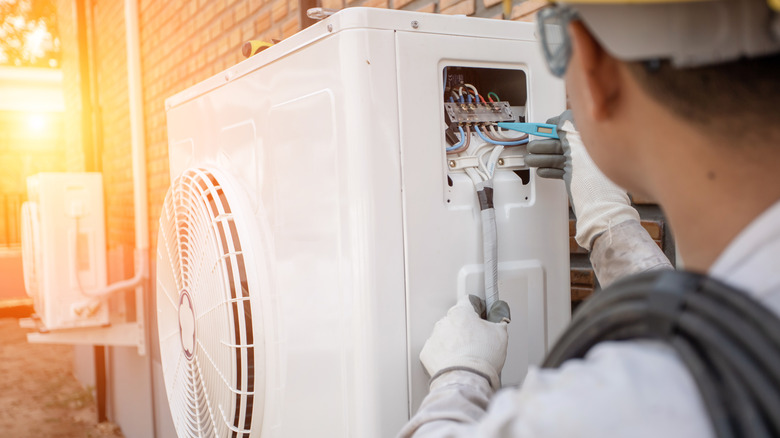 I AM NIKOM/Shutterstock
Labor is a separate cost that needs accounting for in your air conditioning replacement endeavors. Angi notes that the work involved will typically average under $2000. Thankfully, when it's a replacement, you will not need to account for insulation costs as those are typically handled during the initial installation. 
It is advised to get several opinions on a project like this. Depending on the type of labor, proposed solutions, and brands that the prospective contractors work with, you may end up receiving a wide spectrum of price points and qualities of work worth considering. Forbes notes that for every additional 500 square feet of space in a home, a homeowner can typically expect the replacement cost to increase by $1000. Be sure to stay mindful of figures like this, so that you have a ballpark idea of what contractors should be quoting and feel certain in your decision-making.