Are Dark And Moody Kitchens The Next Biggest Home Trend?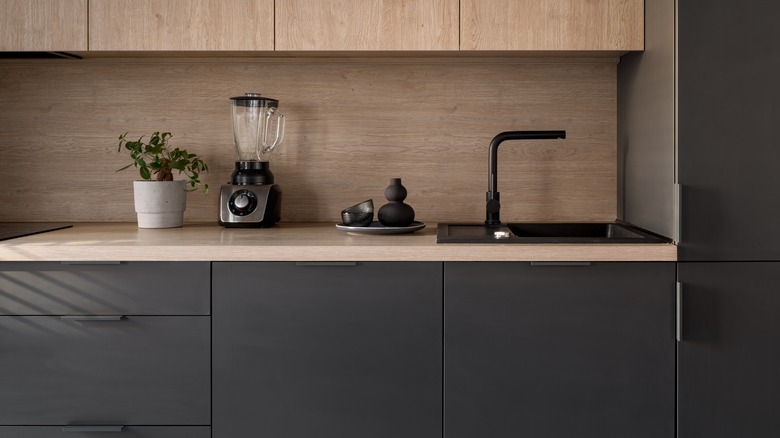 Dariusz Jarzabek/Shutterstock
White has dominated the kitchen scene for many decades, and it isn't unusual to find most homes adorned with brighter themes and designs. While well-lit, brilliant, clean, and milky kitchens have been the go-to, a new trend has come into play that might just change the way you imagine your cooking space. Rather than relying on white counters and appliances, the up-and-coming ambiance is darker, leaning into natural materials and inky accents or paints.
Not only does black make a room look luxurious, but according to Wall Sauce, it also does wonders for photos, making the kitchen a coveted spot for some seriously good snaps. So how do you achieve this new trend? There are several things you can do to transform your kitchen into a dimensional and engaging area that draws in the eye and makes others want to follow suit. You don't even have to give up some of the lighter elements that already exist in the space, as these tips will allow you to incorporate brighter units into the dark scheme. 
Dark and moody kitchens are in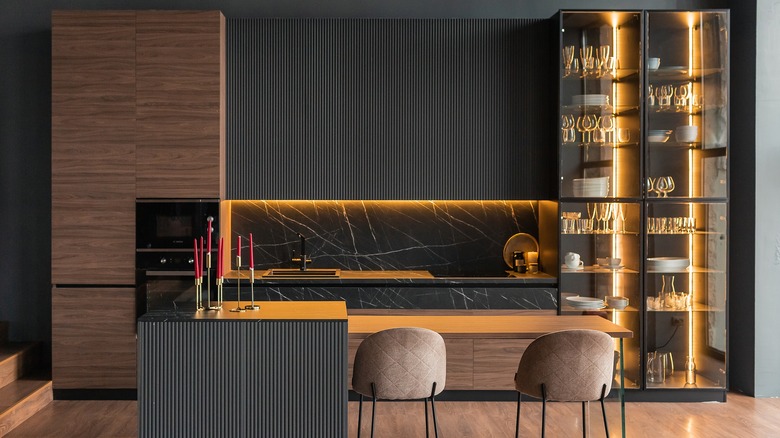 Sakharova Anastasia/Shutterstock
Dark and moody décor is replacing the white aesthetic that so many homeowners opted for in the past, and it is because this new trend allows for more depth and dimension. A darker kitchen also creates a warm, welcoming ambiance. Monstera Drive notes that darker shades and hues can transform a room from too open or bland into a cozy reprieve. In the past, people may have thought of their kitchen as a place meant solely for cooking and cleaning. In the current age, however, many families prefer to eat or just hang out in this room, which is why building a comfortable vibe is so important. 
Black walls not only produce a photogenic effect but also disguise mess more easily than white ones. The latter shows everything from a small splatter to a giant spill in a glaring manner, but darker colors will also help make your kitchen feel less messy between cleans.
How to nail the trend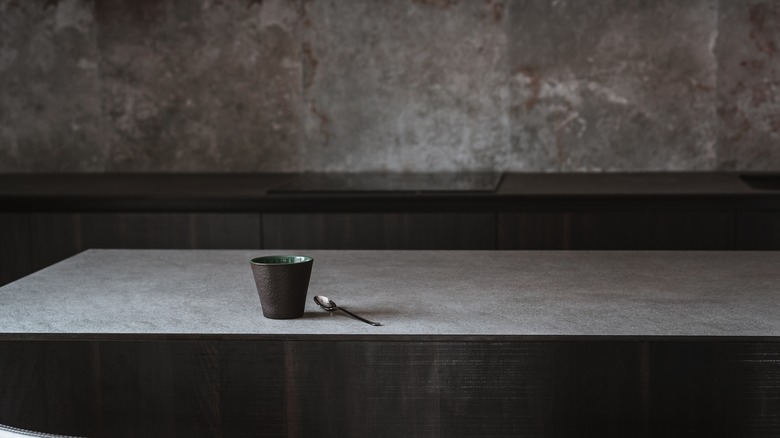 RasaBasa/Shutterstock
There are several ways you can incorporate a dark and moody theme in your kitchen. It is important to think about the overall turnout and how much dark versus light you want within the space. Black, navy blue, gunmetal, or deep gray are all good colors for the walls and can provide an inky appearance without feeling too oppressive. You'll also want to consider the cabinets and what color scheme you're pursuing. If you want the entire room to feel dark and immersive, paint the cabinets a similar shade to the walls or one that compliments them. Wall Sauce notes that moodier colors can also diminish shadows, making the whole room feel seamless. 
For some contrast, Digs Digs recommends trying lighter-toned cabinetry to pull through brighter hues to offset all the darker walls. Instead of opting for dark countertops, try a lighter natural material or stone. This will create a focal point among all the black or subdued shades. Lastly, consider using metallic fixtures to add pops of color and dimension, like brass, silver, and gold. These will give the kitchen a polished look while still embracing the moody trend that is sweeping the interior design universe.