The Best Pet-Friendly Additions The Property Brothers Recommend For Your Home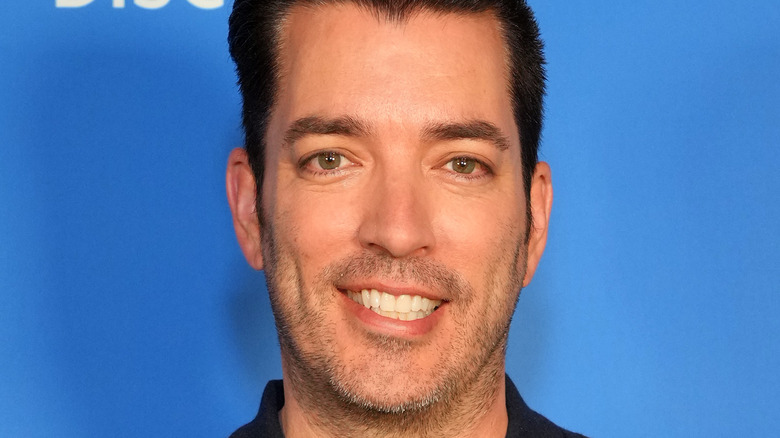 Kevin Mazur/Getty Images
People don't only see pets as companions but also as part of the family. According to a survey by the American Pet Products Association, about 70% of households, or about 90.5 million homes, in the United States own a pet. Pet ownership continues to increase each year, says Bankrate, as do pet products and services. It's no surprise that the most common pets are dogs and cats; 69 million households have dogs and 45.3 million own cats. Fish, reptiles, and birds make up the rest of the top five pets, according to Forever Vets.
Because pets are so important, many people want to add features to their homes to make pets more comfortable. Jonathan and Drew Scott of HGTV's "Property Brothers" series remodel homes with their clients' needs and families in mind. On recent episodes of "Property Brothers: Forever Home" and "Celebrity IOU," the Scott Brothers create homes with the owner's pets in mind, per Realtor. These pet-friendly additions can be a part of any home.
Pet-friendly materials
antibydni/Shutterstock
If you're going to have a home filled with furry friends, then you're definitely going to want to use pet-friendly materials throughout. On "Celebrity IOU," the Scott Brothers remodel the condo of actress Lisa Kudrow's cousin. The condo featured tile floors that were beautiful but impractical for a pet owner. "With this kind of floor, any staining will go right into it, and it will sit within this tile," Drew says of old tile, per Realtor. Pets having accidents in the house is common and can cause odor and staining if not properly treated. On the show, they opt for vinyl flooring, which is easier to clean and doesn't stain as easily.
Luxury vinyl floors have the benefit of being durable, waterproof, and inexpensive which means they can stand up to nails scratching and potty accidents. This material can look like wood planks or tile, so you won't have to sacrifice style.
You'll also want to consider the fabrics for your furniture, especially if your furry friends enjoy a cuddle on the sofa. Microsuede and microfiber are both synthetic materials that are durable, easy to clean, and easy to remove fur from, says Discounted Designer Fabrics. Large patterns can also be a great option to hide imperfections caused by stains and claws.
Enhance the outdoors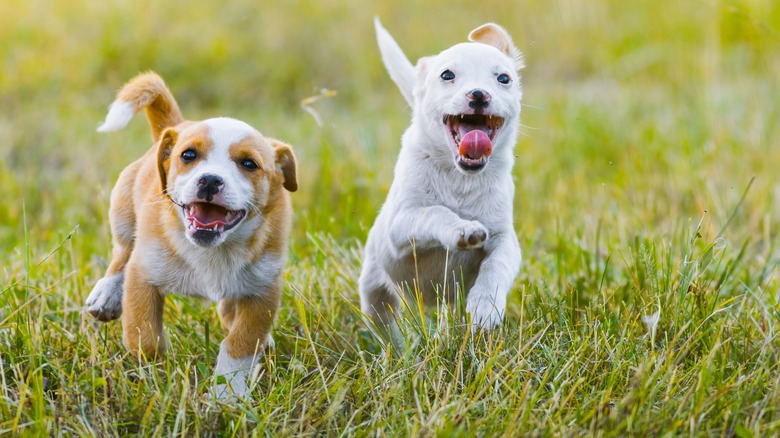 Ozturk Art Studio/Shutterstock
Most pets enjoy a little time outside, whether they like to play in the yard or lounge in the sun. If you have yard space, having grass is a great option for pets. Jonathan Scott notes this in the episode "Rockin' Reno," per Realtor, where he says that natural grass is "better for drainage, and it also doesn't get quite as hot on paws as artificial turf." While natural grass is the best option, artificial grass can be an alternative for pets to do their business if you don't have space or live in an apartment or condo. Just be sure the artificial grass pad is raised to provide drainage.
Consider installing a solid fence, suggests Forbes, so your pet can go outside without being overwhelmed by visual stimuli like other dogs, animals, or neighbors who are also outside. You may also want to consider adding shade with a gazebo or trees so there is a place to cool down. The Scott Brothers also added an outdoor station meant for washing off pets in a client's backyard. This is a great feature for pups who tend to get a little messy before coming back into the house. The process is similar to creating an outdoor shower and can be made with full or partial kits or from scratch, according to The Created Home. Have pet shampoo and towels nearby so furry friends are squeaky clean before coming back in the house.