20 Blue Kitchen Ideas You'll Absolutely Love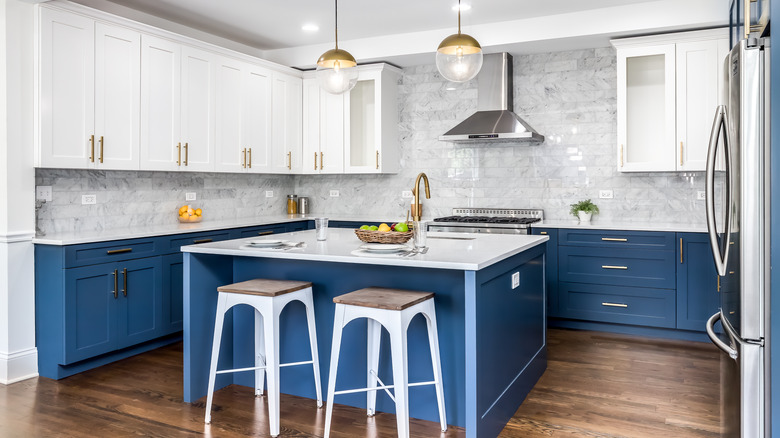 Hendrickson Photography/Shutterstock
If your home has a coastal, contemporary, or country design, a blue kitchen could suit your space. According to Decoist, while this color always makes a statement, it's also a classic look that won't quickly fall out of style. Further, just like green, certain shades of this cool-toned color can be used almost as neutrals and could be paired with just about any shade in the rainbow. At the same time, if you're going for a more subtle look, you could always simply mix blue with white tones or neutrals.
While most use this color on their cabinets, there are also a number of other ways you could add blue to your kitchen. Additionally, because this color comes in such a wide range of shades with different undertones, each paint swatch would give your room a very different vibe. Both of these ideas are demonstrated in the 20 images below, as each kitchen has a distinct appearance.
1. Sophisticated deep shade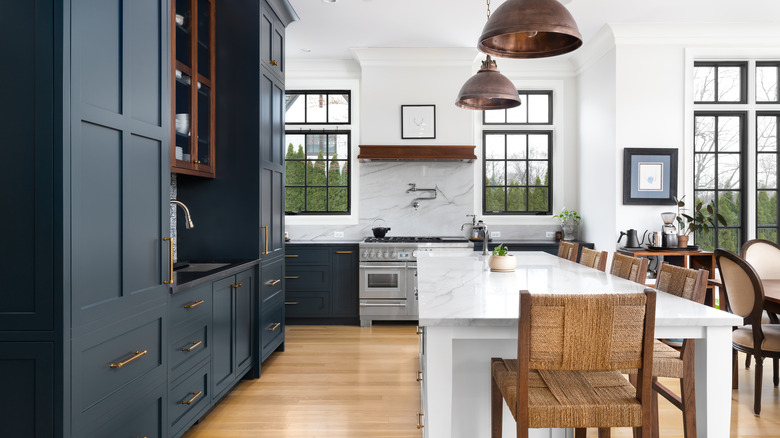 Hendrickson Photography/Shutterstock
Those with modern homes may desire to use a very deep tone on their cabinets. Almost black, this sophisticated shade demonstrates how blue can sometimes be used as a neutral. 
2. Subtle painted walls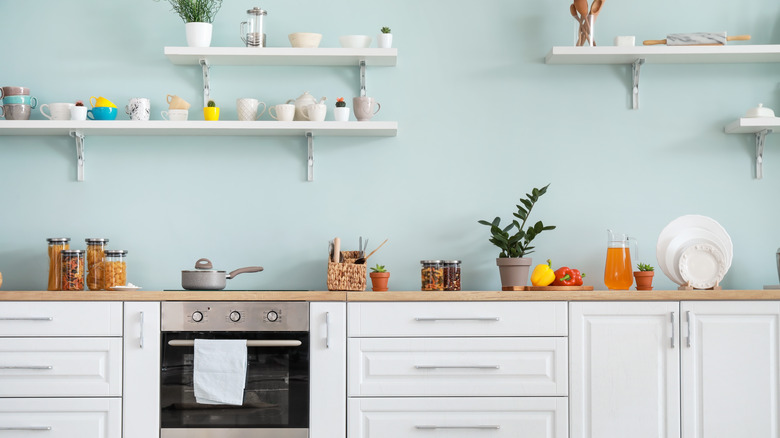 Pixel-Shot/Shutterstock
If you own a beachy home, use an extremely subtle light blue tone, and for an extra coastal feel, pair it with light wood countertops. 
3. Just the lower cabinets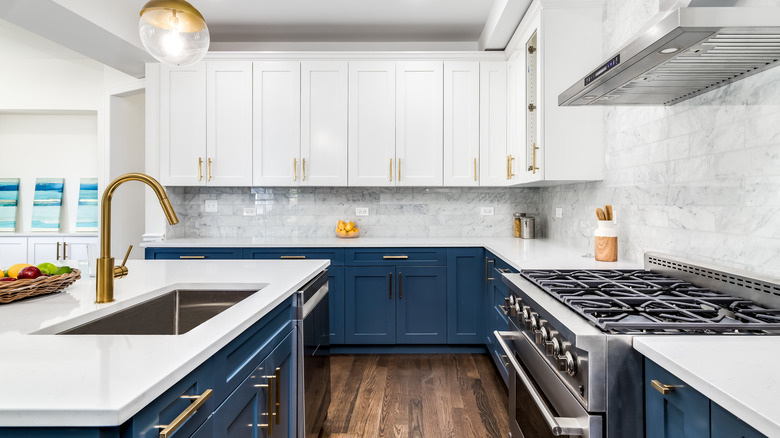 Hendrickson Photography/Shutterstock
To provide a modern look, mix navy blue with golden fixtures and only add the bold shade to your bottom cabinets. 
4. Accented with blue furniture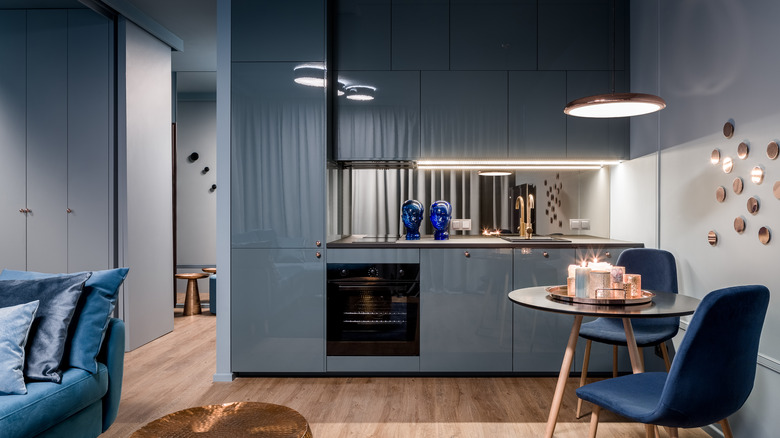 Dariusz Jarzabek/Shutterstock
This kitchen has blue-gray cabinets that almost look neutral. However, to bring out the blue undertones and create a more cohesive design, the space also features navy chairs and an aqua couch. 
5. Bold tone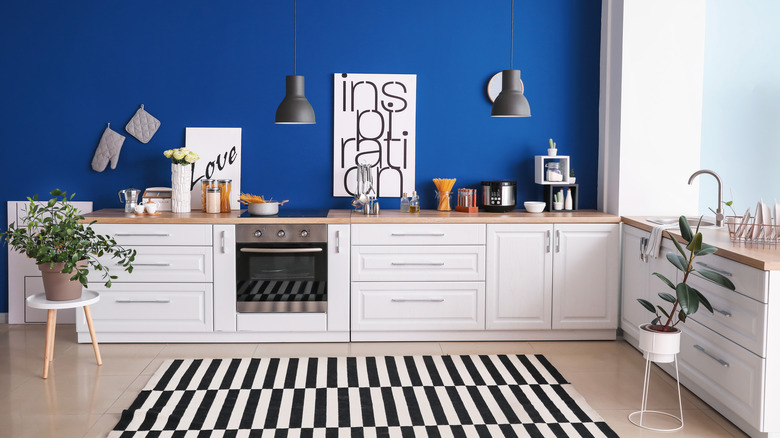 Pixel-Shot/Shutterstock
To really make a statement, choose a bold, in-your-face shade. Additionally, painting the walls is a less permanent option than changing the color of your cabinets. 
6. Paired with gray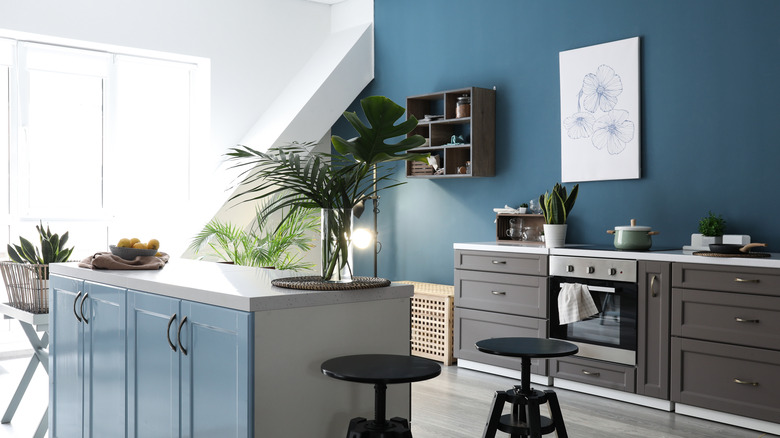 Pixel-Shot/Shutterstock
Because both blue and gray are cool-toned, they make the perfect pair. However, to create contrast between these two colors, also include a white element in your kitchen, such as the countertops and artwork in the above space. 
7. Contrasted with warm shades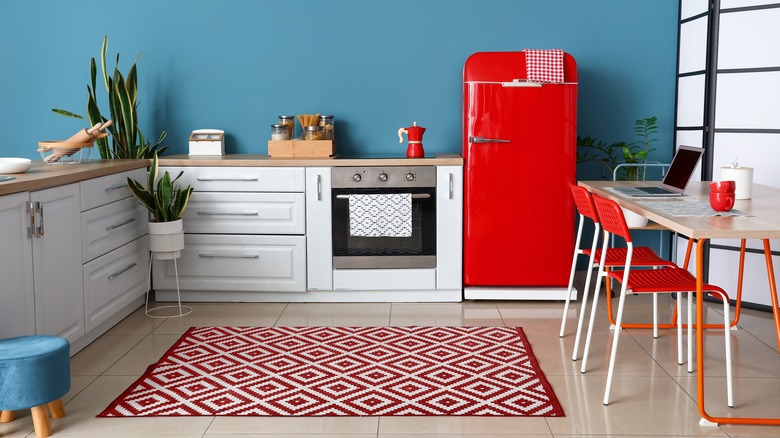 Pixel-Shot/Shutterstock
On the other hand, blue can also be mixed with warm-toned shades like red. This pairing would give your room an overall vintage feel. 
8. Blue everything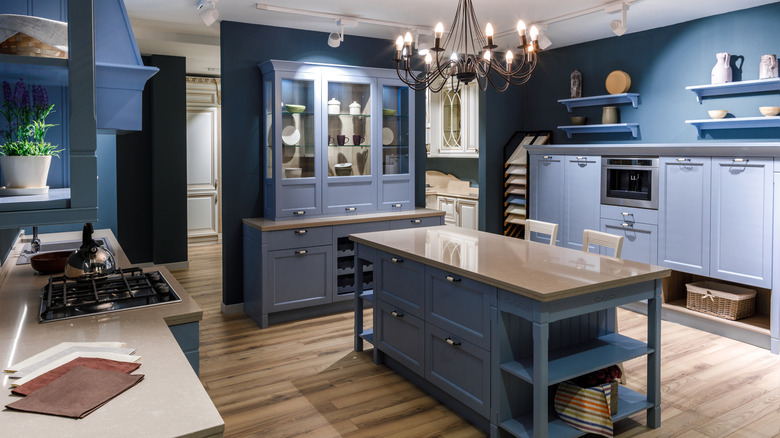 Lightfieldstudios/Getty Images
Even though the above kitchen has blue walls, cabinets, and shelves, the design is still interesting and has dimension. The designers achieved this by painting the cabinets and shelves a lighter tone than the walls. 
9. Pastel color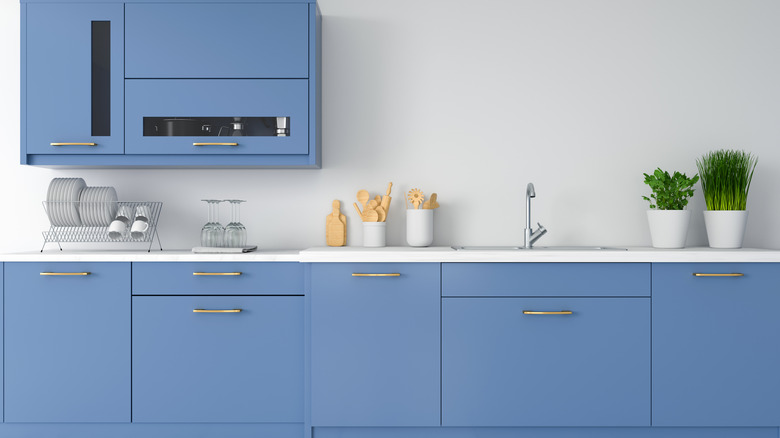 Wuttichaijangrab/Getty Images
A pastel blue-purple would give your space a fun atmosphere. To emphasize the playful vibes, mix this shade with other pastel tones such as green or yellow. 
10. Painted ceiling beams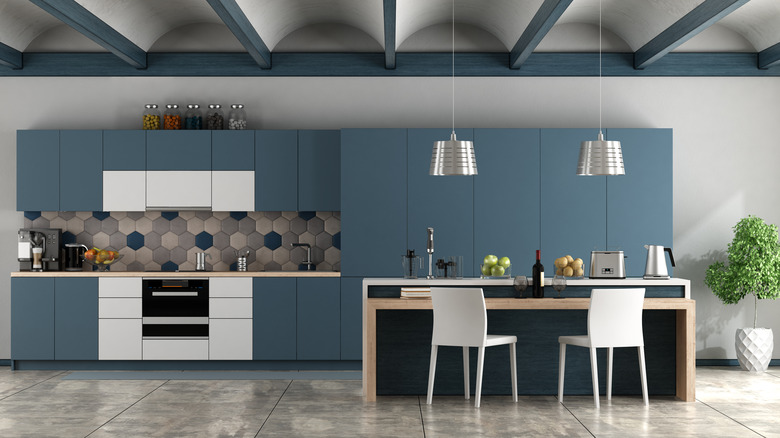 Archideaphoto/Getty Images
To bring the eye up, you could paint the ceiling beams the same blue tone as your cabinets. Further, notice how the owners sprinkled another blue shade into the backsplash to create a more cohesive design. 
11. Many blue shades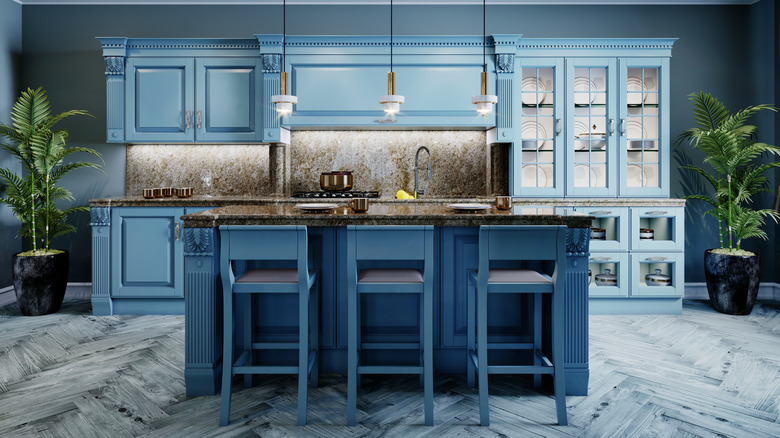 Peter_visual/Getty Images
For a monochromatic look, pair many different shades together. The above image has a deep blue on the walls, a navy shade underneath the island, and a light tone on the cabinets, as well as cool undertones in the flooring. 
12. Muted tone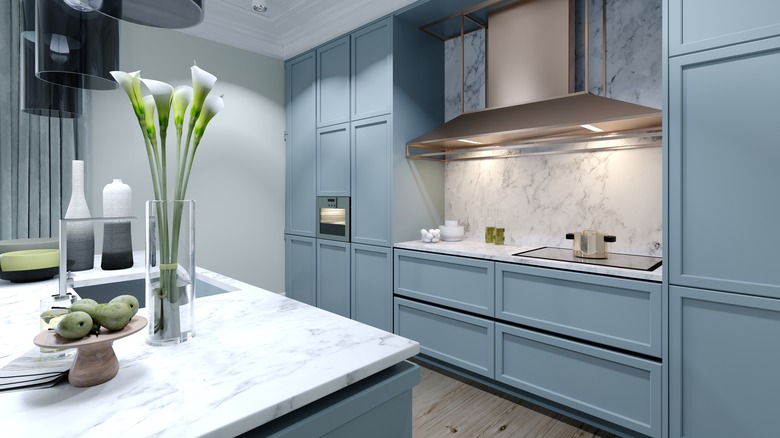 Peter_visual/Getty Images
Just because blue is a bolder color than others doesn't mean it needs to pack a punch. If you'd rather create a more muted feel, lean into lighter and less vibrant shades. 
13. Limited to the backsplash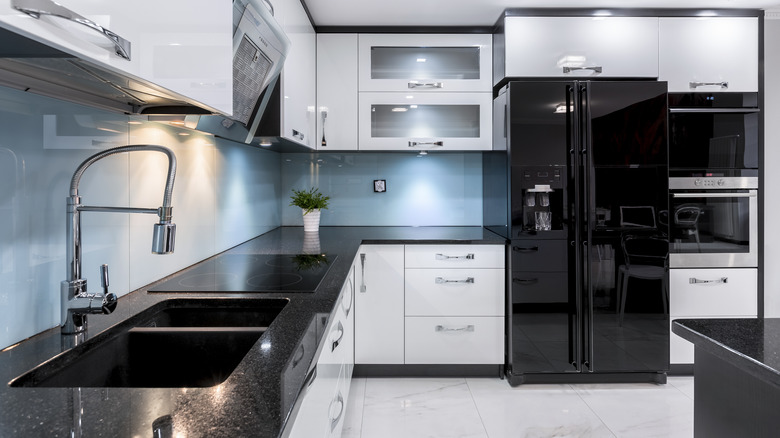 In4mal/Getty Images
Another subtle look you could try is only adding blue to a small area, such as the backsplash, and keeping the rest of the pieces in the space black or white. 
14. Painted ceiling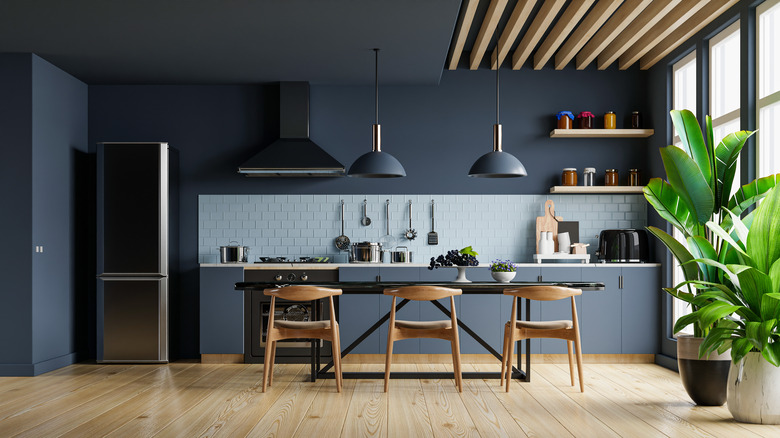 Vanit Janthra/Getty Images
If your kitchen gets lots of natural light, you could paint both the walls and the ceiling the same deep shade. Further, notice how the backsplash is light blue but it almost looks white against the darker tone. 
15. Vibrant tone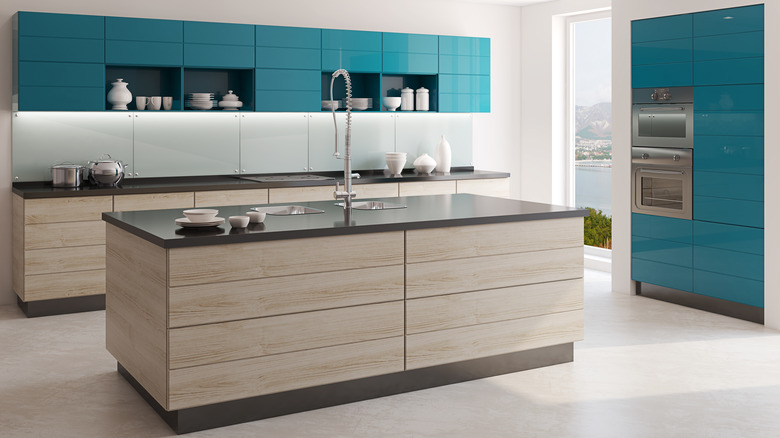 Poligonchik/Getty Images
Those who are extra daring or adore vibrant tones may love the teal cabinets above. Because this tone is paired with light wood and neutrals, the space feels beachy. 
16. Continued onto the floor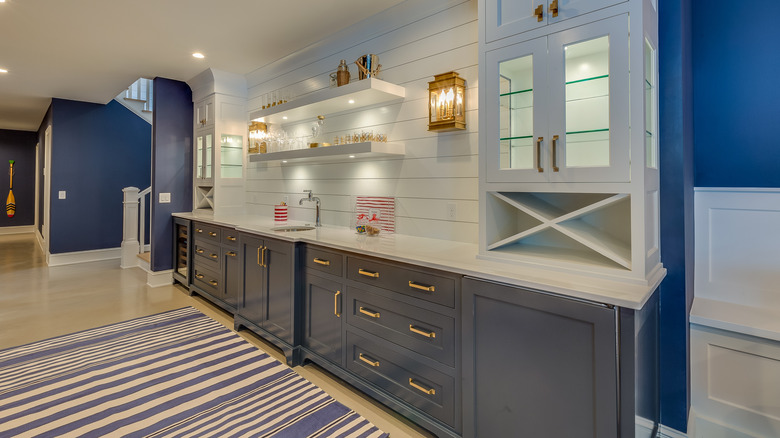 Pc Photography/Getty Images
This farmhouse kitchen features blue not only on the walls and the cabinets but also on the floor. While these homeowners used a large striped area rug, most place runners in this space. 
17. Only the island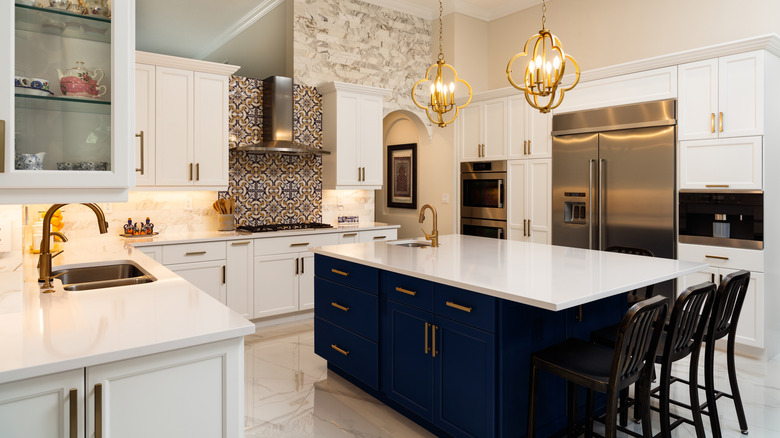 Fotoluminate LLC/Shutterstock
This kitchen uses an extremely deep blue shade only on the island and leaves the rest of the space airy white. However, to create cohesion, the designers also used a small amount of blue in the mostly brown tiles above the stove. 
18. Emphasized with dark wood
Peter_visual/Getty Images
Blue may be a great color to add to a kitchen with dark wood elements, as the deep wood would make the cool blue really pop. 
19. Warmed up with lighter wood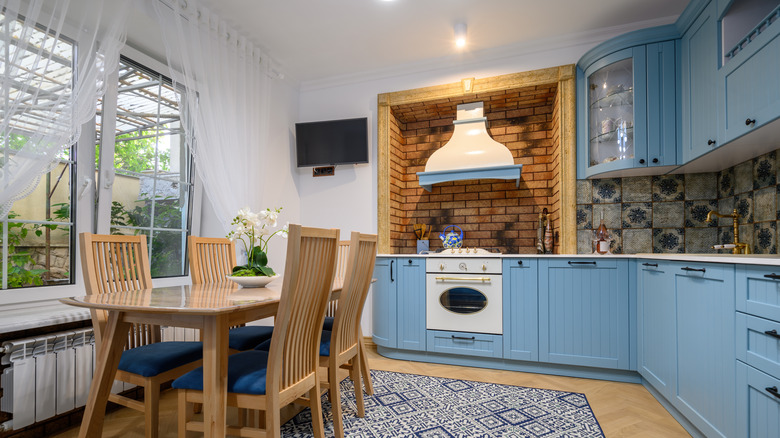 Serghei Starus/Shutterstock
On the other hand, lighter wood will warm up the space. The mix of blue tones and wooden details in this vintage kitchen makes it feel cozy. 
20. Combined with red brick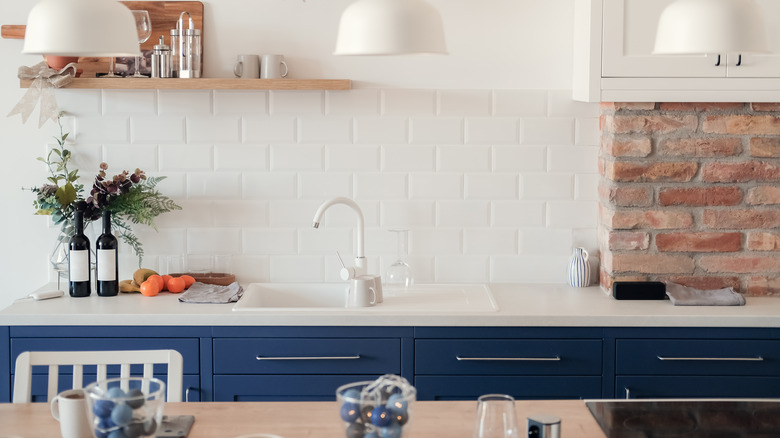 Space_cat/Getty Images
To add a slight country flare to a mostly white and modern space, try pairing dark wood cabinets with a rustic red brick element.