The Best Place To Live In New Hampshire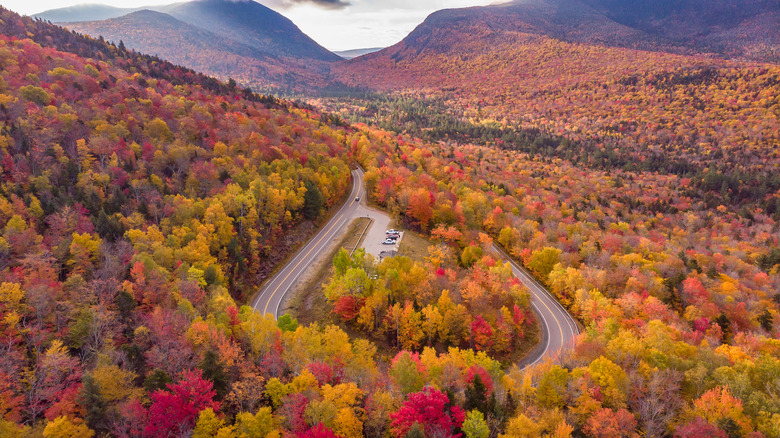 YuziS/Shutterstock
The state of New Hampshire has quite a bit to offer those looking to move — and no, we're not just referring to their delicious maple syrup and wicked good seafood, though those benefits may help convince foodies. With no income tax, mountainous landscapes, and low crime rates, this state could be seen as a haven. Further, just about every area has that small-town, New England charm that so many adore, per Pease International.
Along with the above benefits, SoFi says that the Live Free or Die state has two main assets: beautiful scenery and rich history. Because of this, those looking to move to New Hampshire may search for a place that has both these strengths. If so, you'd be hard-pressed to find a better city than Portsmouth. Below, you'll discover what makes this area so unique, as well as how your quality of life may improve if you move there.
The appeal of Portsmouth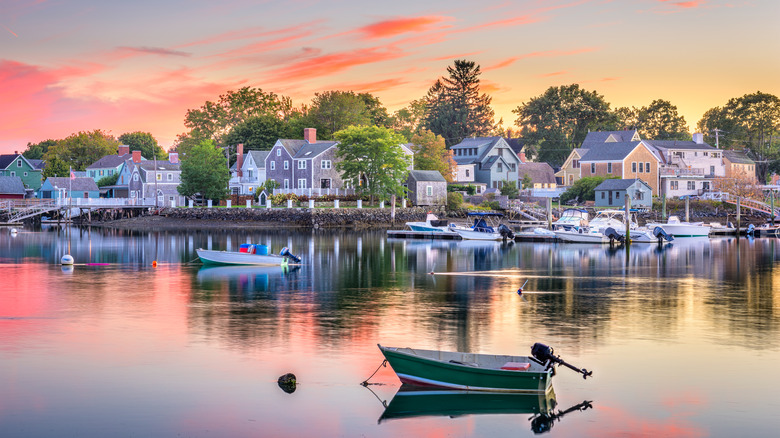 Sean Pavone/Getty Images
With a population of over 22,000 people, Portsmouth has all the benefits of a small town without feeling too tiny, per Rent. First settled in the 1600s, this city is most known for its deep water port. According to Go Portsmouth, the city is so appealing because it caters to a variety of different people. If you love the outdoors, you could regularly enjoy whale watching, lobster catching, or traversing the Black Heritage Trail. Those that love to shop could take advantage of the many local vendors in Market Square without having to worry about taxes. If you love a great view, you could spend time at Prescott Park, which also has a public boat dock.
Lovers of the arts will be excited to discover the many museums and theaters in the area, while food connoisseurs could try out the various restaurants on the waterfront, and history buffs will definitely want to spend time at the Strawbery Banke Museum, which contains the preserved town from the 1600s. Finally, those who love the sand and the sea would enjoy regularly visiting the very clean Hampton State Beach, only a 25-minute drive away. However, keep in mind that Portsmouth does experience quite a bit of snowfall in the winter, and the warm weather only lasts for a few short months.
This city's quality of life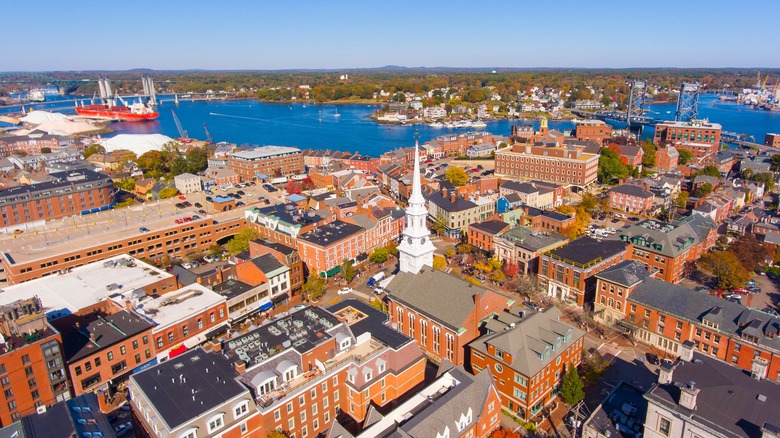 Wangkun Jia/Shutterstock
There are many reasons why this city may improve your quality of life. First, there are many jobs, many of which pay well; Livability says that the Portsmouth Naval Shipyard and Regional Hospital provide the most careers. Second, many of the people who reside there are quite educated; HomeSnacks says that most of the population above 25 years old has a Bachelor's Degree, and many of the schools are well-rated. Third, if you desire a safe place to raise a family, the crime rate is 38% below the national average.
However, the biggest con to living in Portsmouth is the cost of living, as it's almost 30% higher than the average in America, Rent notes. To give you an idea about how much housing would cost, most homes currently sell for around $659,000, per Livability. So if you're looking to rent, expect to spend about $1,500 on a one-bedroom apartment and up to $2,000 on a two-bedroom per month (via Rent). However, there is a silver lining — as SoFi points out, New Hampshire is much cheaper to live in than other New England states, including Maine, Massachusetts, and Connecticut. Portsmouth may also be a great home for those who work in Boston, as their commute would only take about an hour.