This Type Of Countertop Is Making Your Kitchen Look Cheap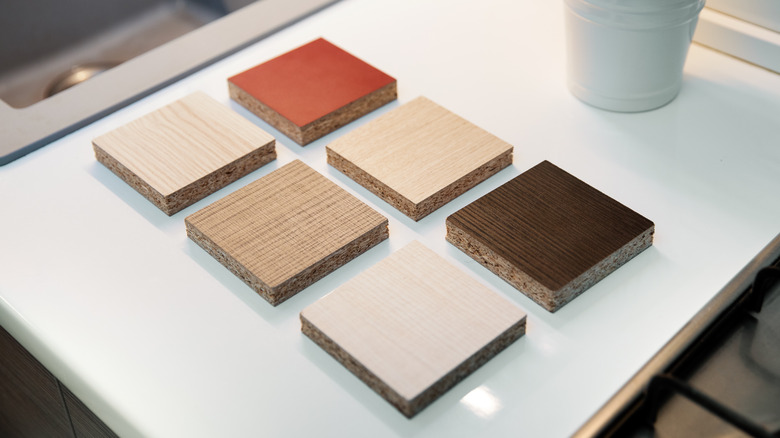 ronstik/Shutterstock
Those who love cooking know the importance of a sturdy kitchen countertop. It needs to be able to withstand a certain level of abuse, from bearing the weight of hot, heavy pots, to being able to repel liquid spills and survive accidents with sharp kitchen knives.
For decades following the 1950s, the go-to material for kitchen countertops was a sturdy plastic laminate, as the material was seen as an expensive way to deck out a trendy kitchen, per The Washington Post. The most popular laminate of the time was sold under the brand name Formica (per The Guardian) and had been invented to act as electrical insulation. Laminate's first incarnation was a fabric-and-resin material before it later morphed to become made with layers of paper and melamine.
But laminate has a downside. It begins to look old and worn as time passes, and it's fairly easily scratched, nicked, and stained. Because of this lack of durability, people began viewing laminate as cheap. As such, it's not surprising that it would eventually became synonymous with shoddy design.
Some designers discourage the use of laminates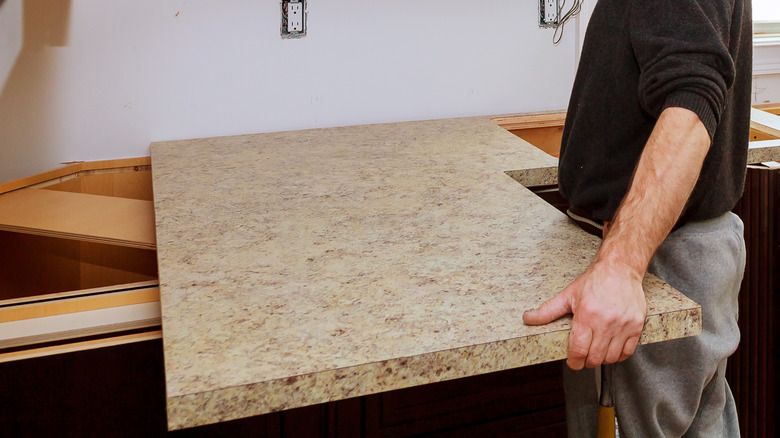 ungvar/Shutterstock
Many interior designers, like Minneapolis-based Carla Bast of Carla Bast Design, have their own beef with laminate. She tells Homes and Gardens that she is no fan because the material doesn't "have the natural beauty or depth of real stone or solid surface such as manufactured quartz."
And that's not all. "Additionally, they sound cheap because they make a hollow sound when you place an item on them," Bast noted. "Laminate countertops also tend to make a kitchen look smaller due to their glossy finish, and they also produce a high-pitched sound when tapped," she said.
This is not to say that today's laminate is similar to the kind your mother might have purchased decades before. On the contrary, custom cabinet company Deslaurier points out that laminate now comes in different forms, thicknesses, and style offerings thanks to advancements in manufacturing and technology. However, laminate's real benefit is its low cost; granite or marble may be eye-catching, but these are expensive materials and won't fit everyone's pocketbooks. By contrast, laminates today can last up to five years and mimic the pattern of your dream kitchen countertop until your finances are healthy enough to get the real thing.
Laminate countertops won't increase your home's appeal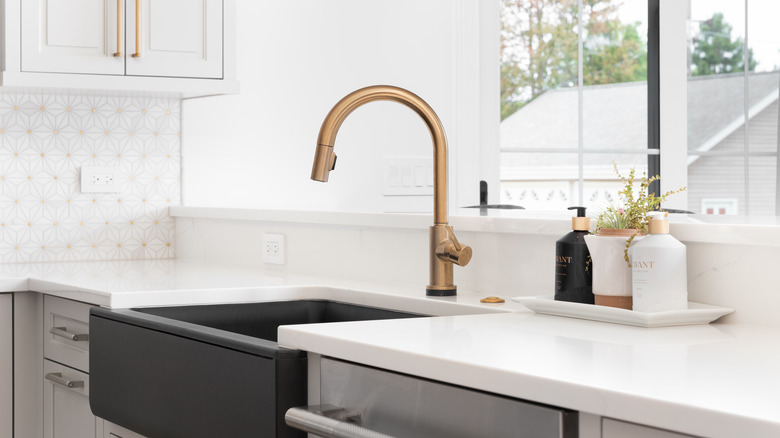 Hendrickson Photography/Shutterstock
A thrifty price tag isn't laminate's only strong suit when shopping for countertop materials. It also possesses a degree of aesthetic versatility, is impervious to external influences like dirt, and doesn't require pesky routine maintenance.
However, laminate's other issues continue to plague the material. For instance, it doesn't stand up well to heat, scratches easily, and is difficult to repair when damaged. And while it can resist moisture pretty well, a bit of dampness can still do some damage if water manages to seep into its center and cause its layers to split. Also, unlike some premium countertop materials, it won't be a huge draw when trying to sell your home.
As Boston-based interior designer Tanya Nayak put it (via The Washington Post): "laminate is an impostor version, and even if they look exactly the same, you know the difference... I always advise going for the best you can afford and what you feel is right for your home. If you can swing it, get the stone. ... It's the same thing as leather versus vinyl."