10 Budget-Friendly Decor Ideas To Spruce Up Your Powder Room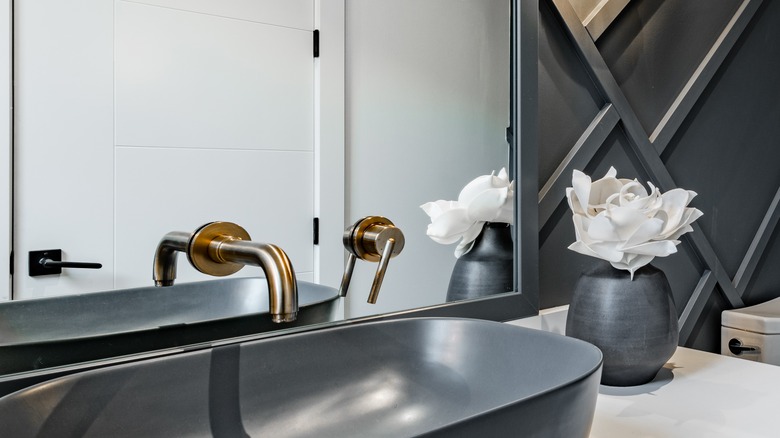 Sheila Say/Shutterstock
When it comes down to decorating a home, more often than not, the powder room gets neglected. After all, the only traffic this area gets regularly comes from the residents that live there — along with the occasional guest. Yet, that doesn't mean that this room shouldn't shine just as much as the other rooms in the home.
To decorate this area, it's best to understand exactly what this room is. According to Dream Maker Bath & Kitchen, a powder room is commonly referred to as a half bath or guest bath. Usually, it's located on the main floor of a home and only contains two of the four main components a regular sized bathroom has — the toilet and sink. This means that while décor should be a must; you don't have to go above and beyond like in other rooms.
Whether this area is big or small, you shouldn't have to spend a ton of money to bring it to life. If you're limited to how much you want to spend, here are 10 budget-friendly décor ideas to spruce up your powder room.
1. Display a large-sized mirror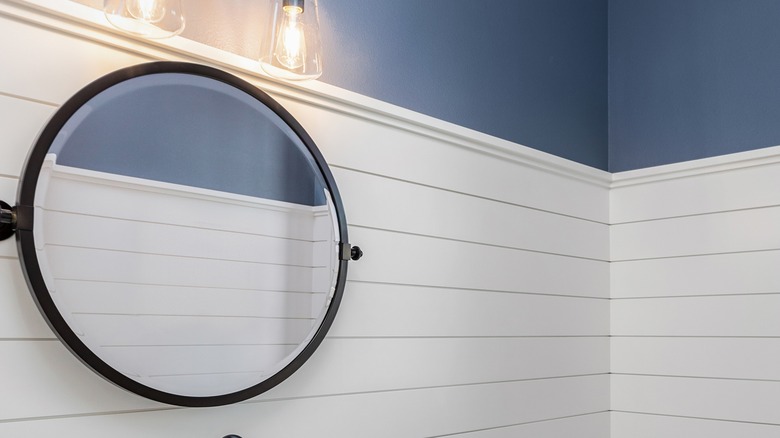 Justin_Krug/Shutterstock
One of the easiest ways to enhance any room is by adding a large mirror. Doing so will not also give your visitors a way to check their outfit or makeup, but it can also reflect the lighting throughout the room. Thus, making this area appear larger than it actually is. 
2. Touch up the paint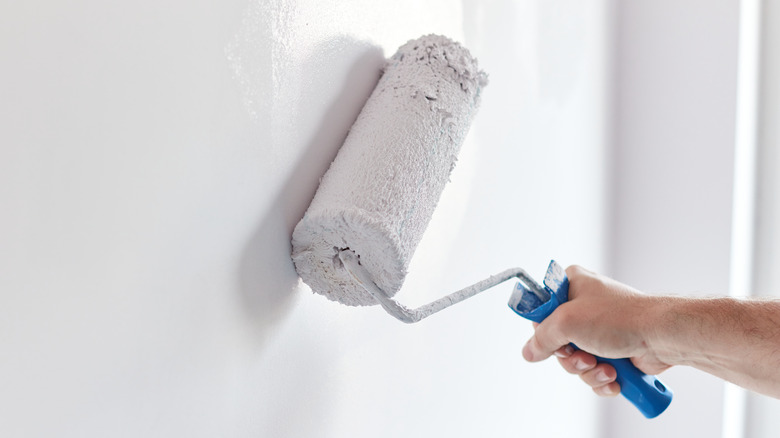 Artur_Nyk/Shutterstock
An effective but cost-efficient way to update this room is by simply touching up the paint. As Paint Rite Pros points out, every three to five years, your interior walls will need to be repainted. Therefore, not only will you be doing regular maintenance, but you'll also give this room a fresh new vibe. 
3. Or add some new wallpaper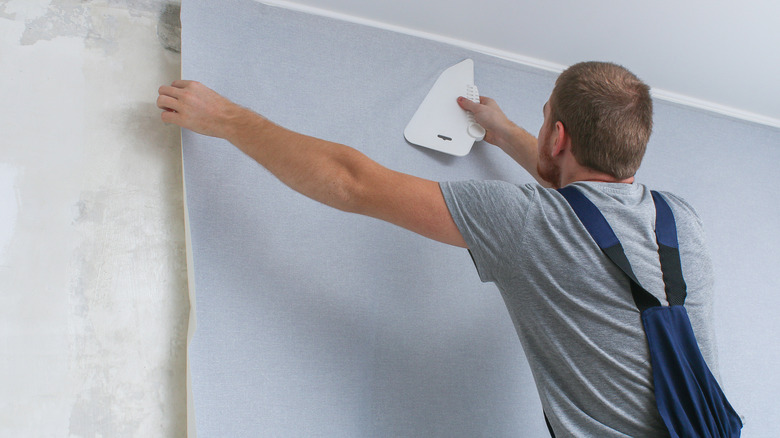 Olya Detry/Shutterstock
On the other hand, you can go a step further and add wallpaper instead of doing a simple paint. Wallpapers come in many different designs and colors, so you can further customize your bathroom. Additionally, wallpapering may be slightly less time-consuming than painting. 
4. Install new lighting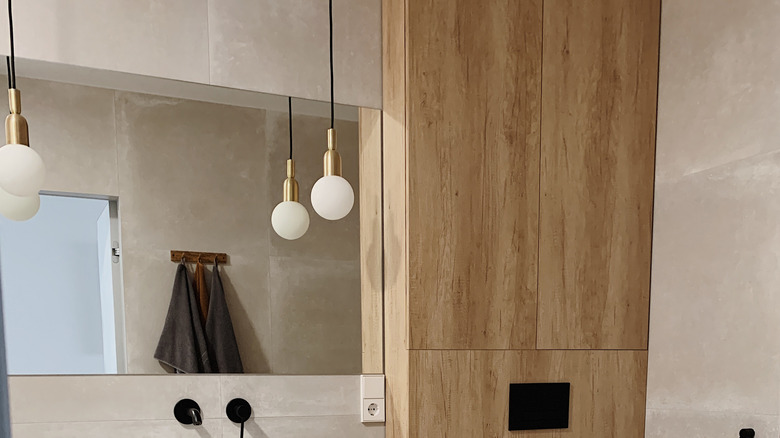 Floral Deco/Shutterstock
One of the key aspects of any room is the lighting. However, for a powder room, it's essential that the lighting in this area is of good quality. If your current lighting isn't doing the room justice or it's simply old, consider replacing it. You can add in some pendant lights or even a cheap chandelier. 
5. Display an art gallery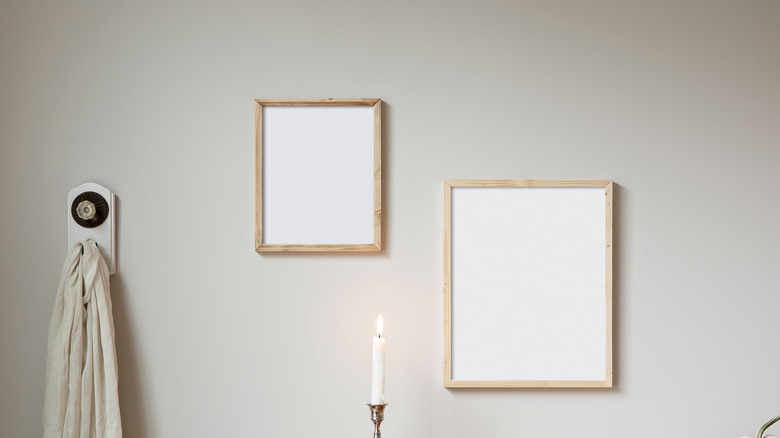 Sarah_Leanne/Shutterstock
Another customizable idea is to display an art gallery of some sort within the powder room. This can range from a single framed piece to several canvases throughout the area. With this type of décor, there is no limit to what you can display, as there are designs available everywhere, including Amazon, Target, and Walmart. 
6. Redo the tile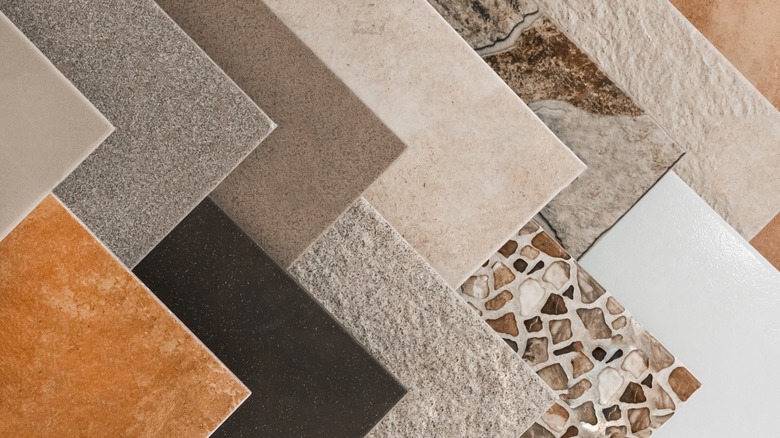 AYDO8/Shutterstock
Tile is another powder room necessity that needs to be spruced up every so often. According to The Grout Specialists, while tile can last for many years, it's best to go ahead and revamp up this area if you notice mold, cracks, or stains. In doing so, you can give your powder room a new look. 
7. Add multiple mirrors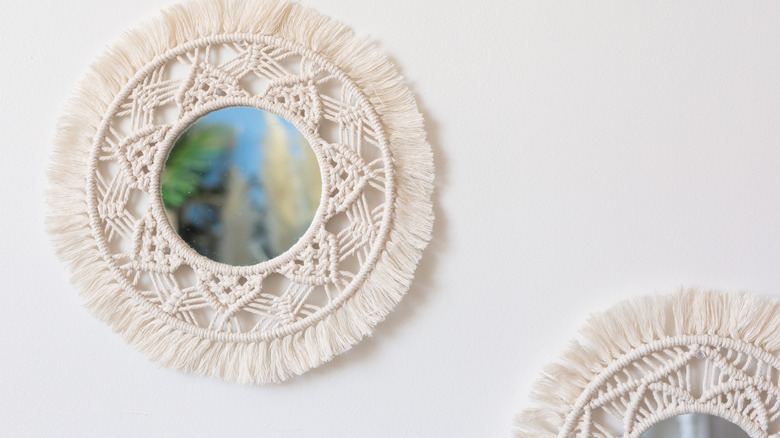 Karen Culp/Shutterstock
If you're not the type of person who cares for one large mirror, consider adding in several smaller ones. This way, you have multiple customizable mirrors. These can also act as a focal point in the bathroom and bounce the light around throughout the room. 
8. Invest in some live plants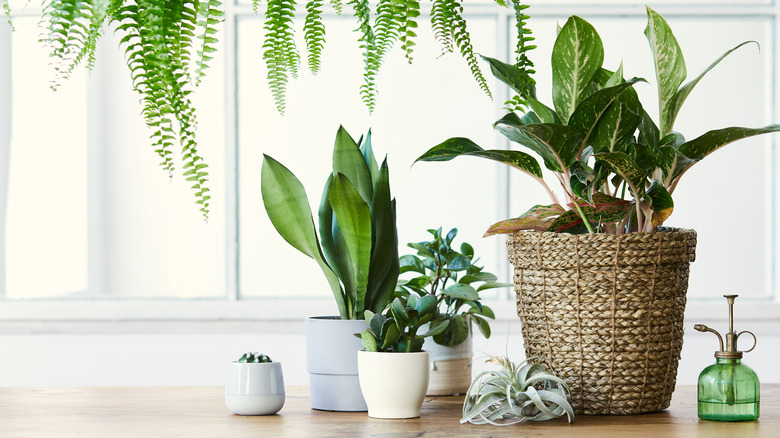 Followtheflow/Shutterstock
Live plants are cheap yet beneficial additions to any room — including the powder room. As Piedmont points out, plants can help improve the air quality in the room, improve cognitive health, and help to reduce stress, along with many other benefits. Just remember to adhere to any water and sunlight requirements. 
9. Arrange a few candles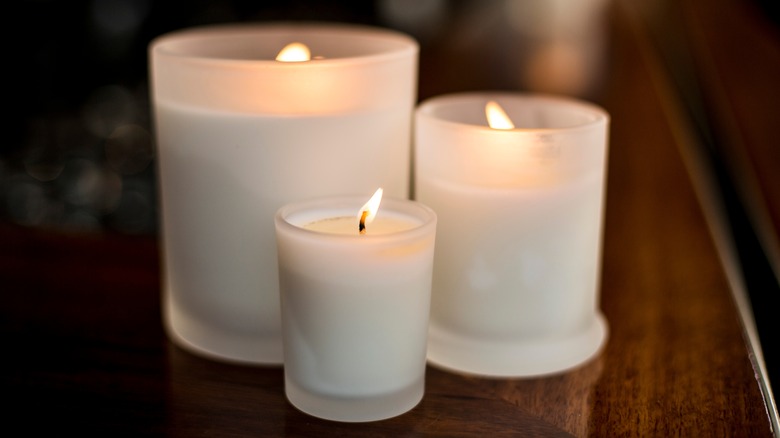 Amy Richmond/Shutterstock
Candles, while providing a pleasing scent to any area, can also act as décor. Arranging a few candles on the sink or a nearby table can be a simple but aesthetically pleasing look. If authentic candles aren't to your liking, you can also opt to get a few battery-operated models. 
10. Buy some new curtains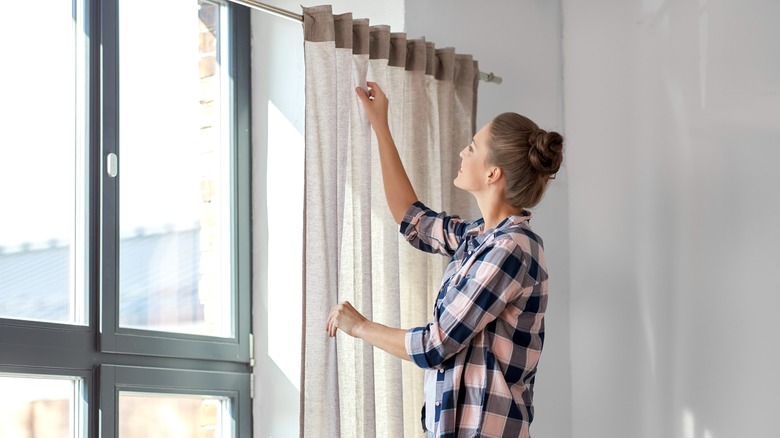 Ground Picture/Shutterstock
Finally, another way to spruce up your powder room is to add or change the curtains. You'd be surprised how installing a new curtain color can enhance this room. Additionally, you can style curtains in many ways, aside from just having them pulled open or closed.