Home Depot Or Lowe's: Which Has Better Deals On Moving Boxes?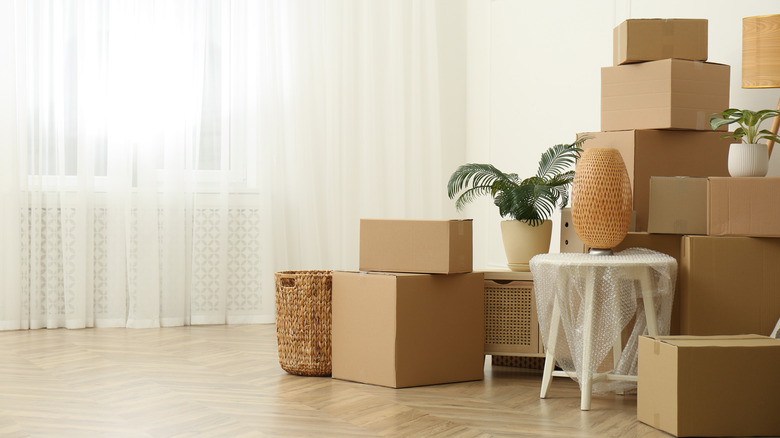 New Africa/Shutterstock
No matter what area you're leaving or where you're relocating to, moving is not an easy task. Therefore, the last thing someone needs is the stress of purchasing moving boxes. While this task inevitably must be completed at some point or another, there are a few things to consider that can make this part of the process easier. For instance, it's important not to find a huge container and stuff as many items in it as possible. While this may seem like a simple solution, you may end up with a lot of damaged belongings. Instead, you may consider limiting the weight of each box while keeping them packed to the top. This way, you won't waste space, but your boxes will be easy to move from point A to point B.
Medium-size boxes are the most versatile option when moving as they can hold a wide variety of objects. However, if you need to go a size up or down, it's important to put heavier items in small boxes and light items in large ones. Once packed, test them out. Pick them up to make sure you can carry them easily and ensure that the bottom doesn't fall through. 
However, before you can do this, you have to choose where to purchase these helpful necessities. While you can get them from many retailers, Home Depot and Lowe's each carry a lot of options, so let's see which chain has the better deal.
Lowe's medium-sized moving box
One of Lowe's best-selling moving boxes is a model that retails for $1.98. However, this price can change depending on location. Coming in a medium size, this box sits at 18 inches in width, 16 inches in height, and 18 inches in depth. The interior contains around 3 cubic feet of space. When empty, the box itself weighs around 1.7 pounds. 
This standard duty box is said to come from material that was sourced in a sustainable manner and passed an edge crush test at a rate of 32. There are two handles on each side of this model, allowing you to easily pick up the box. Additionally, to close it, you simply need to fold the tabs over and either overlap the tabs or secure them with tape. While there is no word on any warranty, you can return any new and unused boxes in-store, or ship them back to the retailer at no additional charge.
With over 3,000 reviews, Lowe's box contains a 4.4-star rating and a recommendation rate of 84%. One consumer stated that these well-made boxes do exactly what they are supposed to do. They added that while they packed their belongings with bubble wrap, every item survived the move. Additionally, reviewers noted that these boxes are simple to fold up and store when not in use.
Home Depot's medium-sized moving box
Over at Home Depot, their most popular moving box also sells for $1.98 – although some may be able to score free boxes. You can also buy these in bulk to save some money. This medium-sized model sits at 21 inches in length, 15 inches in width, and 16 inches in depth. It can hold items up to 65 pounds, while the box itself, when empty, weighs around 1.8 pounds. Made from 100% recycled materials, Home Depot's model has an edge crush rating of 32. Two handles are located on each side of the box, allowing for an easier move. While there is no warranty provided, these standard-duty boxes can be returned up to 90 days after purchase. Any unused boxes can be returned in person with a receipt for your money back.
With over 8,000 reviews, these boxes earned a 4.6-star rating and a recommendation rate of 83%. One reviewer stated that they contain a lot of storage space, so buying a lot may not be necessary. They added that after their move, they even used the boxes for storing their Christmas decorations.
Although each of these boxes is very similar, the better deal is probably at Home Depot. They have significantly more reviews to count for as a slightly better star rating. In addition, this retailer has a convenient bundling option that Lowe's doesn't.