Home Depot Or Lowe's: Which Has Better Deals On Under-Cabinet Lights?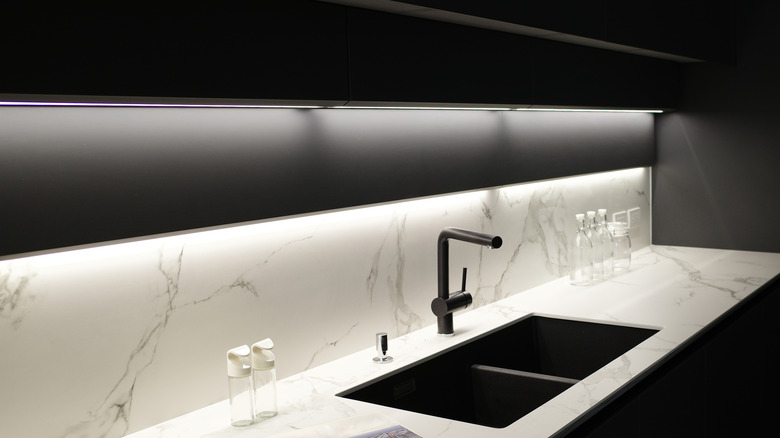 PK-Donovan/Shutterstock
So you need to illuminate under your cabinets but don't know where to start? Don't worry, you're not alone. This issue is a common problem for many households. Fortunately, there's a simple solution: under-cabinet lights.
When choosing to install these useful gadgets, there are many things to consider. According to Lamps Plus, there are three main types to choose from. First, you have light bars that act as a single unit that can sometimes connect to other models. Then, you have puck models, consisting of several circular lights placed throughout the area. Finally, you have tape models. These ones stick to surfaces like LED strips and can fit in small spaces. Once you've decided which design you'd like, you'll need to figure out where to place it. While this can vary depending on which model you choose to install, keep in mind where you spend most of your time and need light the most. You'll also need to figure out how to connect it to a power source after it's secure.
Lastly, you'll need a retailer to purchase these lights. Of course, two of the most popular home goods stores are Home Depot and Lowe's, so let's see who has the better deal.
Lowe's light strip
One of Lowe's most popular under-cabinet lights is made by GE for around $60. However, this price could change based on your region. Equipped with energy-efficient LEDs, this model spans 80 inches in size and displays a variety of colors that can be controlled via an app on iOS and Android devices. They also work with Alexa and Google Home, allowing you to use voice control to adjust them to your needs. In addition, they can be connected directly to your internet router, enabling you to use these lights without a smart hub.
Lowe's GE light strips can bend around corners and be trimmed to fit specific areas. However, you can also buy extenders if needed. To install, pull off the back piece of tape and stick it to the desired surface. It should be noted, however, that these lights need to be used indoors only. A 3-year limited warranty is included with the purchase.
Based on 59 reviews, this product has received a recommendation rate of 86% and a 4.3-star rating. One user stated that they love how bright these lights are and how they can connect them to Wi-Fi and other devices to control them. Reviewers also added that their adhesive is super strong and warned that these couldn't be moved around once installed. Another purchaser agreed and said they opted to use velcro, which worked just fine.
Home Depot's light bar
Over at Home Depot, one of their most popular under-cabinet lighting models is this light bar. Made by Black and Decker, this gadget can be purchased for around $54 depending on location. Sitting at 24 inches in length, you can link up to two bars together and control them simultaneously. It displays a warm white hue and features high-efficiency LEDs that are easy on the eyes. There are 10 different brightness levels included, as well as a motion sensor. This product produces 360 lumens and can be used for 50,000 hours. You can simply stick the device to your desired location with the adhesive bracket and screws to install it. Also, this model can be returned up to 90 days after purchase.
With a total of 32 reviews, this product has a 4.7-star rating and a 100% recommendation rate. One consumer raved about how simple the installation process was, while another reviewer said that this gadget made a huge difference in their kitchen and they are considering another model.
Based on several factors, we believe that Home Depot provides a better deal on under-cabinet lights. Not only is their model a few dollars cheaper, but it also scored a better rating and comes with the highest achievable recommendation rate.