Home Depot Or Lowe's: Which Has Better Deals On Hot Tubs?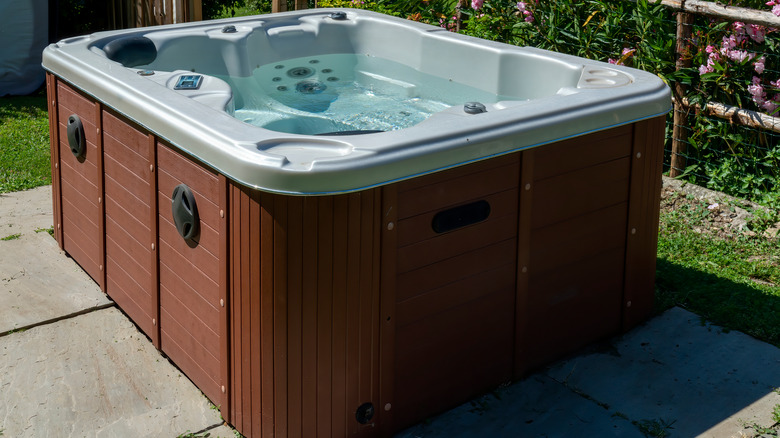 Leonardo Viti/Shutterstock
If you're looking to purchase a hot tub, it may feel a bit overwhelming, as there are quite a few different types on the market. To narrow down your search, the following three options are the most popular: inflatable, plug-and-play, and hardwired. 
According to InflataSpa, inflatable tubs are much cheaper than normal models. However, they typically don't have seats and take much longer to heat. The next most inexpensive choice is the plug-and-play, and Pioneer Family Pools says these come with simple installation: Just plug them into an outlet and you're done. Like inflatables, these are portable and less expensive, but they also can take a long time to warm. Finally, hardwired tubs are usually installed by an electrician, and they heat up in about seven hours, which is quite fast. Further, while more expensive up front, they maintain heat better, which may save you money on your electricity bill over time.
Whatever type you choose, both Home Depot and Lowe's have lots of options. Below, you'll discover some of the most popular choices at both of these big-box retailers, as well as which store has the better deals.
Lowe's hot tubs
Most of the options at Lowe's are inflatable. For instance, this four-person Coleman hot tub, which costs $548.13 and comes with a one-year warranty, features 114 air jets for the optimal hot tubbing experience. With 70 reviews, this tub has earned a 4.6-star rating, with many praising it for being durable and simple to set up. However, some had issues with it taking a long time to heat up and said the instructions were difficult to follow. Home Depot sells the same inflatable tub for $621.12, about $70 more.
Lowe's also sells some regular tubs, including this plug-in Hudson Bay six-person spa that includes 34 jets, retails for $5,619, and has a two-year warranty. However, this product only has eight reviews and a 4.3-star rating. While some say it looks high-end, is large, and seems well-made, others complained about it breaking down, the pump being loud, and the tub not heating up in cold weather. Home Depot also sells this product for $6,179.34, or about $560 more.
Finally, Lowe's carries a hardwired tub by USA SPAS, which seats seven people and has 40 jets. Sold for $6,119 (on sale from $7,059), this product has a one-year warranty and claims to be energy-efficient. Home Depot also sells this model, but only for $5,962.22, or about $150 less than Lowe's. On both retailer's websites, this product has no reviews.
Home Depot's hot tubs — and the winner
Two of Home Depot's most popular options are manufactured by Lifesmart and aren't sold online by Lowe's. The first is a plug-and-play option, pictured above, that fits four people and has 13 jets. Sold for $3,799, this model comes with a limited warranty and has earned a 4.7-star rating across 130 reviews. Some reviewers say it works great, has powerful jets, and is easy to install. Further, many love the color-changing LED light. However, this tub isn't ideal for cold weather, as it's only heated by the pumps and not an actual heater. Others complain that it supposedly only fits two people, not four.
The second popular option from Lifesmart, which sells for $5,999, can accommodate seven people, has 65 jets, and comes with a limited warranty. With more than 440 reviews, it to-date has earned a 4.5-star rating. Many say it looks great, heats up quickly, and has strong jets, while others have complained about leaks, cheap materials, and broken pumps. Additionally, this is a hardwired model, so you'll most likely need to hire an electrician to install it.
When all is said and done, and you're looking for an inflatable model, you may want to shop at Lowe's. However, when comparing regular hot tubs from Home Depot and Lowe's, the former is the overall winner. While the Hudson Bay model is more expensive at Home Depot, this product isn't immensely popular. We recommend looking into the Lifesmart options instead.