An Interior Designer Explains How To Update Your Bathroom For Less Than $300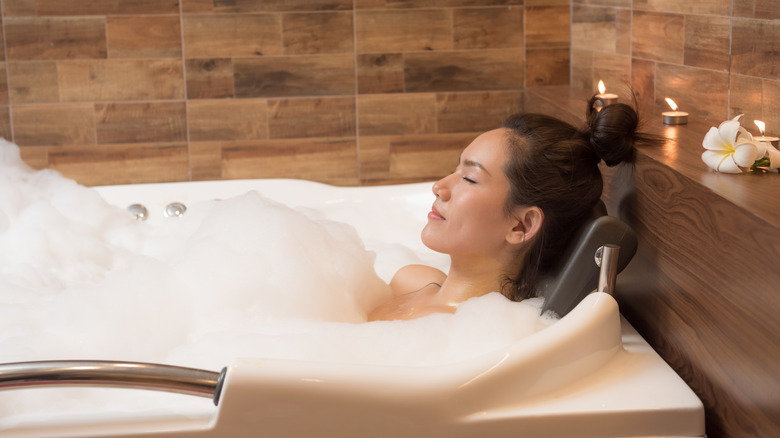 narikan/Shutterstock
No matter your daily routine, you probably start and end your day in the bathroom. Showering, brushing your teeth, putting on makeup, or doing your skincare routine all happen in the highly-trafficked space. Not to mention, if you're looking to relax after a long day, this room can be like your own personal spa.
But not every bathroom is perfect for relaxation and daily traffic in its current state. However, upgrading yours can be quite expensive depending on the scope of the project; remodels can range from $6,000 to $16,000, with an average of $10,788, according to Bankrate. 
Fortunately, you don't always have to shell out thousands of dollars to give your bathroom a total transformation. In an exclusive interview with House Digest, interior designer Jennifer Burt, founder of Mississippi Maximalism, shares some ways anyone can update theirs for less than $300. You can have your dream bathroom without breaking the bank.
Paint the walls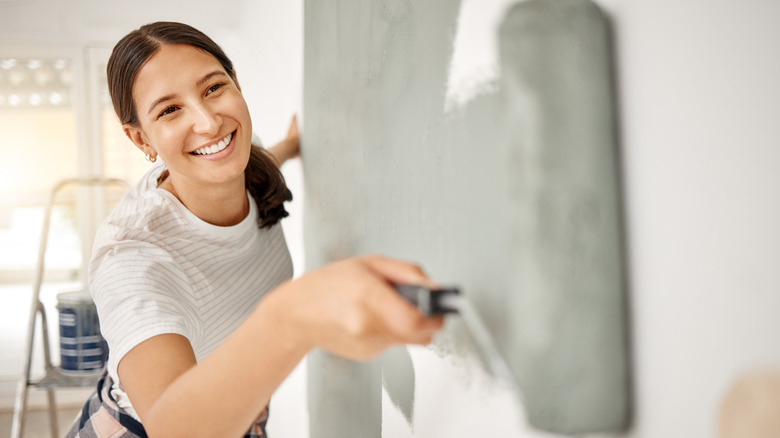 Peopleimages/Getty Images
Some transformations are as easy as heading to the nearest hardware store, as noted by Jennifer Burt. "Paint is the most affordable way to transform a room and in a space like a bathroom, the impact will definitely be noticeable," she says. "A bathroom can handle the intensity of a bold color or a patterned wallpaper – and make sure to include the fifth wall, the ceiling." 
Bathrooms provide a great opportunity to be a little more creative with your interior design, so don't be afraid to choose a color you might not for the rest of your home, as Burt points out. Bold hues and patterns can make your bathroom look like it was designed by a professional, for one. Plus, you don't have to stop at painting only the walls. "Having a contrasting statement there will elevate the space," Burt continues. "Give the trim and cabinets a new coat of paint as well." Updating these small areas shows attention to detail, which helps to create a stylish room.
Update the light fixtures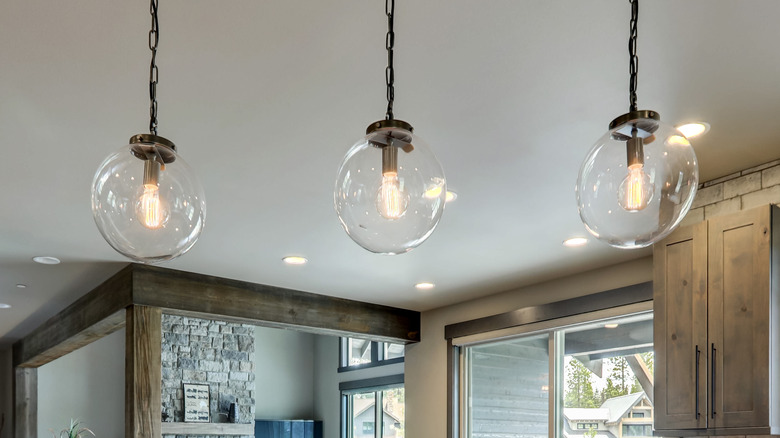 Artazum/Shutterstock
You might be surprised how easily this swap can make your bathroom feel brand new. "I almost always update the light fixture in a bathroom," Jennifer Burt explains. "Most are dated and now the affordable options are endless." Changing these out can also add some unique style to the room, depending on what you select. Additionally, this is a project that many homeowners may be able to do themselves over a weekend.
Lighting is one of the most important interior design details that many people don't use to their advantage, so do so and have fun with it. "Choose something that is interesting and maybe a little whimsical since it will be seen a lot," suggests Burt. "Install a dimmer for the ability to control the mood and create either a nightlight or low lighting for an at home spa effect." Note that lighting in layers by combining overhead and accent lights like wall sconces can create the relaxing and elevated atmosphere you're after.
Swap out your shower curtain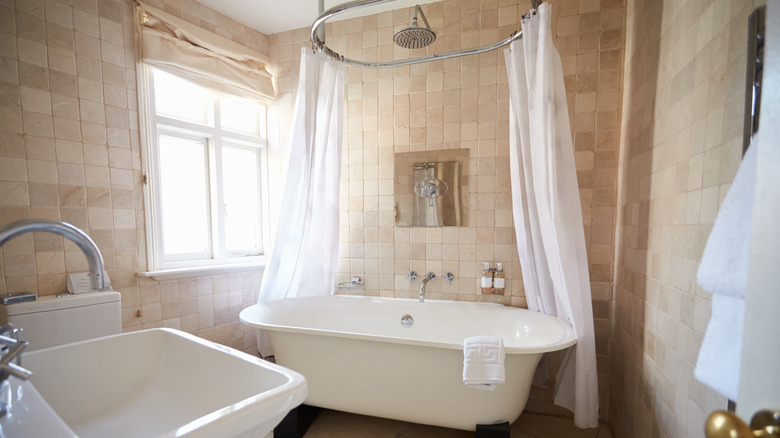 Monkey Business Images/Shutterstock
Choosing the right décor makes all the difference when creating a spa-like feel in your bathroom. To that end, there is one swap you can make that will give your space an elevated look. "One of the easiest ways to update your bathroom is to simply get a new shower curtain," Jennifer Burt reveals. "A crisp, white shower curtain creates a hotel look. If you'd like some kind of pattern, the options are endless." Take inspiration from the spa-like feel hotels create if you need an example.
Note that choosing a quality option is worth the extra money, too. "I like shower curtains that have a texture, which helps create a luxe look rather than one that is just printed and thin," Burt continues. "Add in a new set of towels and a new rug for the floor, and your bathroom will have a fresh feel." Choosing soft, plushy items can add that comfy and luxurious feel without breaking the bank.
Upgrade the hardware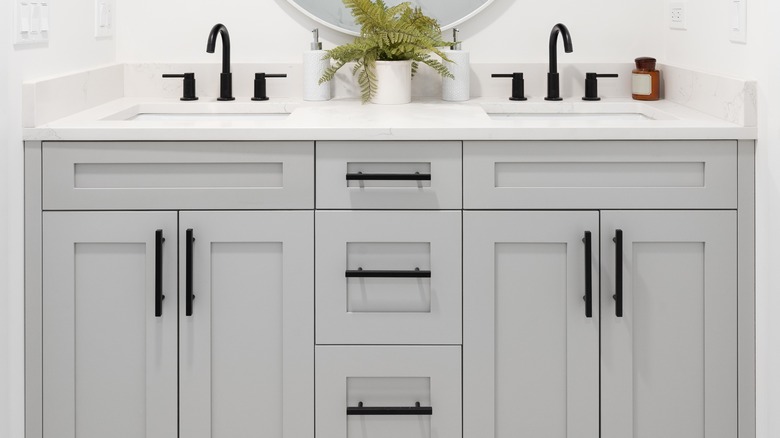 Hendrickson Photography/Shutterstock
For interior designers, creating a stunning home is all in the details; you'd be surprised how much a quick change can make a home feel like a custom creation. "Most bathrooms have plain, builder grade hardware," Jennifer Burt shares. "Upgrading the hardware will instantly update your bathroom." You can swap these in less than a day, and when combined with newly painted vanities or cabinets, your bathroom will look professionally designed.
Even the smallest details you don't give much thought to can give your space an updated look. "Items like a new towel bar, toilet paper holder, light switch covers, and new knobs for the cabinets will bring your bathroom into the 21st century," Burt adds. You can find these items in various styles and finishes to better fit your aesthetic. If you want to take it a step further, you may want to swap out fixtures like your faucets and shower head, which can upgrade your bathing experience.
Utilize peel-and-stick tile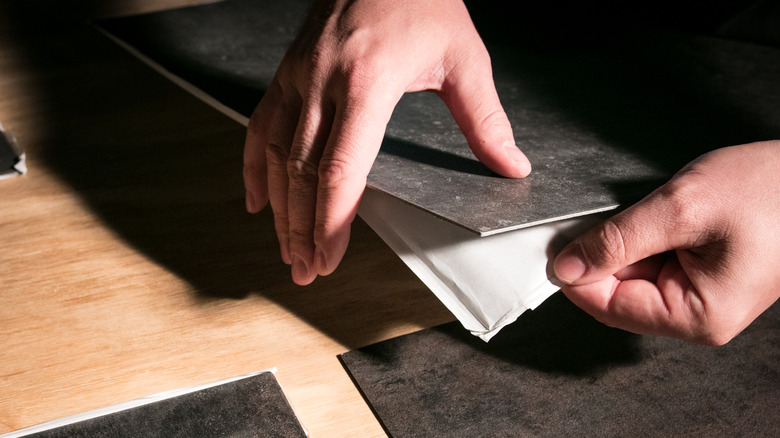 Benjamin Clapp/Shutterstock
Changing the tile on your floor or in your shower can be pretty expensive with materials and labor. But if you don't like your current selections, you don't have to rip them all out. "Previously, changing the floor and shower tile in bathrooms was difficult," Jennifer Burt says. "Now with all of the peel-and-stick tile options, it couldn't be easier." These look like they're made of ceramic or porcelain, but they come in flat sheets similar to stickers. You can lay them like regular tile, and they can be just as durable. They're also easy to remove, which is great for renters looking to give their bathroom a new look.
Additionally, peel-and-stick tile comes in a variety of colors and shapes to fit any interior style, but Burt has a suggestion you may prefer. "I like a simple, classic pattern such as a white and gray marble," Burt concludes. "You want to create a clean background for your other new updates to stand out." Be sure to look for waterproof or water-resistant products so they can stand up the excess water from the shower or sink.