IKEA Or Target: Which Has The Cheapest Loveseats?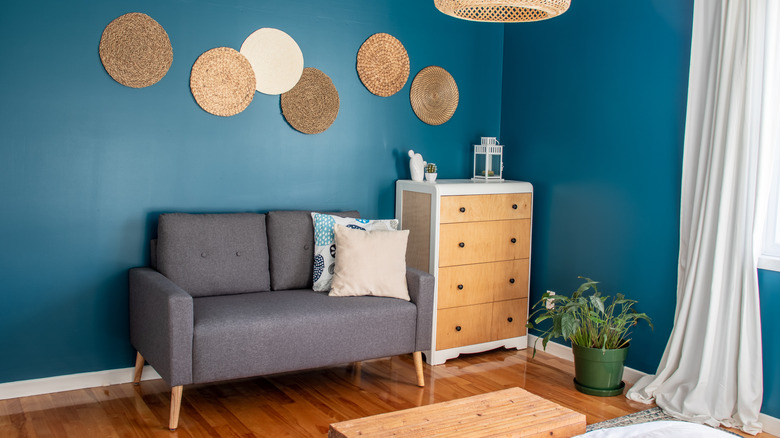 Philip Beauchesne/Shutterstock
Buying a large piece of furniture, such as a loveseat, can quickly become a hassle. After all, there are a lot of factors that go into determining the right model for you. According to Nixx It, one of the first aspects to consider is the room in which this piece will reside. If you already have a similar piece such as a sofa or a large chair, consider matching your new loveseat to that item. Also, ensure that it will match the decor in the room — unless you're also redecorating.
Consider the size of this piece of furniture along with the space it will reside in as well — you don't want it to appear too big or too small, as this can then throw off the whole feel of the area. To prevent this, measure your space and get an idea of the exact size you desire. Additionally, it goes without saying that another key factor is quality. 
You don't want a model that will start to show wear and tear after just a few uses, so test out the piece before you buy it to ensure that it feels strong and durable. Finally, you'll need to consider the pricing when it comes to these furniture pieces. While these are typically costly items, we compared IKEA to Target to see which retailer has the cheapest loveseat — here is what we found.
Target's variety of loveseats
Target has many affordable loveseats that can be purchased for as low as $260 to about $480. One of Target's popular models is a curved-back loveseat made by eLuxury for nearly $271. However, it should be noted that this is a sale price and the cost can vary based on the region and location purchased. Available in a cream color, this model weighs 39 pounds and is made with rubberwood legs. It also comes with a 90-day limited warranty. Consumers gave this model a 4.9-star rating and a 100% recommendation rate. Many purchasers complemented the appearance of this piece and stated that they love how cute it is.
Target also houses this patio loveseat designed by Project 62 for $450. Holding up to 300 pounds, the loveseat itself weighs around 40 pounds and is made of acacia wood and woven rope. While there isn't a warranty available, consumers gave this piece a 4.6-star rating and a 100% recommendation rate. Reviewers state that it's perfect for a balcony and is comfortable without pillows.
Lastly, Target has this gray patterned model made by Christopher Knight Home for just over $206. It's made with solid birch legs and can hold up to 400 pounds of weight while sitting at 43 pounds. It contains a 90-day limited warranty. Reviews gave this piece a 4.2-star rating along with an 86% recommendation rate and said that it's cute as an added feature to any room.
IKEA's cheapest loveseat
Some of IKEA's most affordable loveseats can be purchased from around $149 to about $499. Yet, IKEA's most affordable option is this model made by GLOSTAD for $149. Again, this is a sale price and the cost of this item can change depending on location. Coming in either dark gray or a medium blue shade, this loveseat has a seat height of 16 1/8 inches, a depth of 21 1/4 inches, and a width of 44 7/8 inches. Additionally, it weighs just under 45 pounds. The cover is made from a dope-dyed polyester while the legs are made of metal and bend slighting giving it a more sleek and modern design. It includes a 10-year limited warranty upon purchase.
With nearly 60 reviews, consumers gave this loveseat a 4.7-star rating. These ratings were broken down into categories with ease of installation receiving 4.6 stars and value for money gaining a 4.8-star rating. The works as expected category received a 4.6-star rating while appearance received 4.7 stars and product quality received 4.5 stars. One consumer stated that it has a comfortable design and they love how convenient this model is while being lightweight. Another reviewer chimed in and said that it was very easy to put together and works great in small spaces such as an apartment or bedroom.