2022 Holiday Shopping At Lowe's: Hours, Deals, And What To Expect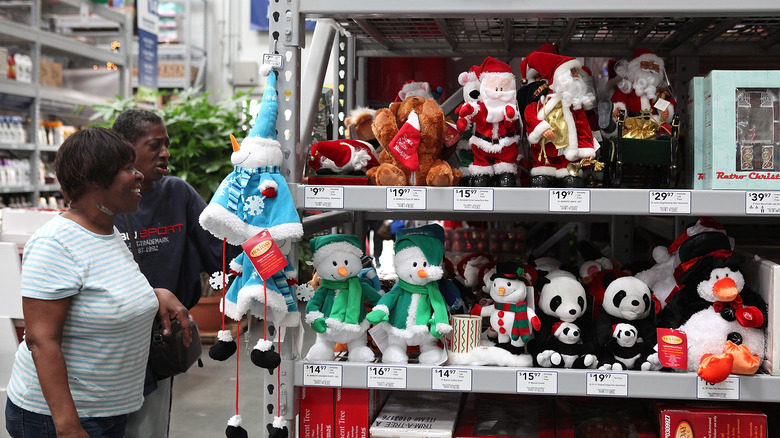 Justin Sullivan/Getty Images
With less than two weeks until Christmas, shoppers are scrambling to pick up last-minute decorations and gifts to deck their homes for the season. In fact, according to Chain Store Age, most of the premiere shopping days of the holiday season are still upon us, with the Friday before Christmas, the Saturday before Christmas Eve, and the Monday after Christmas serving as top contenders. 
Big-box hardware store Lowe's is a popular shopping destination for many in November and December, where it's easy to find a tree, ornaments, garland, wreaths, and other decorative items all within a few aisles. Though the retailer comes in second behind Home Depot for total revenue, per Fortune, it's still a popular shopping destination for hardware and home goods enthusiasts. Thus, it's no surprise that the chain bears a strong presence across the United States and Canada.
If you have some last-minute Christmas shopping to complete, here are some tips and details to make your Lowe's shopping experience a breeze.
When to shop at Lowe's
Bloomberg/Getty Images
Before you plan to shop, reviewing Lowe's updated holiday hours for the 2022 season is crucial. As a general rule of thumb, shoppers who rise early to hunt for Christmas decor are more likely to have a peaceful experience inside the store than those who wait until the afternoon or evening to shop for merchandise.
Shoppers craving a less rambunctious shopping experience should also avoid trekking to Lowe's on the weekend since it's easier to catch adults off from work and parents with kids inside the stores on these days. Since Christmas Eve falls on a Saturday this year, it and the preceding Saturday (often called "Super Saturday") are projected to be particularly hectic shopping days for workers and consumers (via Chain Store Age).
Lowe's typically opens its approximately 2,000 stores nationwide between 6 a.m. and 10 p.m. on Mondays through Saturdays and 8 a.m. to 8 p.m. on Sundays. These operating hours will not change much during the holiday season, but the store will close to observe Christmas Day. Christmas Eve and the Monday after Christmas Day, also known as Boxing Day, will also follow the store's regular schedule, says GOBankingRates, opening at 6 a.m. and closing at 10 p.m.
Cash in on great deals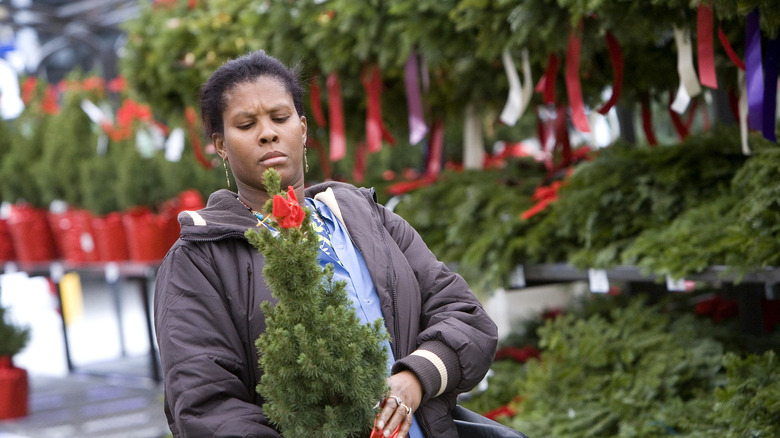 Bloomberg/Getty Images
Shopping is much more fun when you have an opportunity to save money. Luckily, Lowe's has some great sales accessible both online and in-store from now until the end of the season. Currently, the retailer is promoting its "Deals of the Day" campaign where the prices of select items are reduced for 24 hours. 
The campaign extends beyond Christmas decor to other categories of merchandise. Shoppers should also browse Lowe's weekly advertisement papers online to know which items will be on sale for a limited time. Although they're dubbed "weekly ads," the current sales paper features offers that last until Christmas Eve, according to the retailer's website.
It's common for stores to drastically reduce their holiday decor prices after a given holiday passes, likely proving why shopping on the day following Christmas is so popular. As such, Lowe's is expected to offer great deals on select merchandise on Dec. 26 and beyond. However, supplies are likely to be limited.