An Expert Explains The Best Way To Organize Your Kitchen Cabinets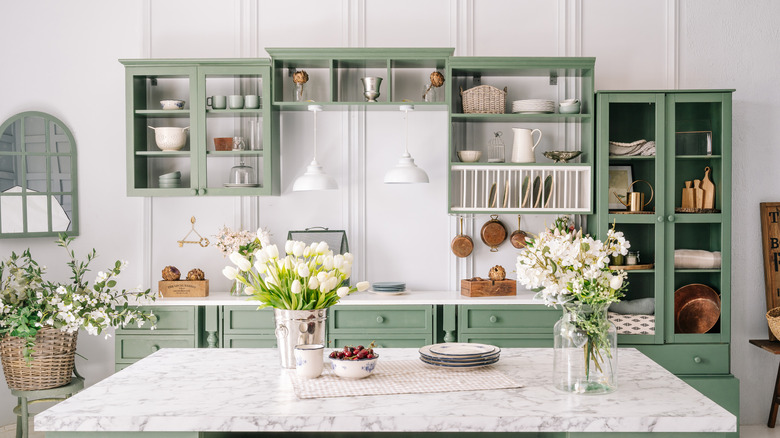 brizmaker/Shutterstock
Proper organization around the home can be a key to eliminating some of your daily frustrations. For example, if your organized hall closet has neatly stacked shoes and coats arranged in order of seasonal appropriateness, then you won't be left scrambling for your outerwear when you're in a crunch for time. The same goes for the bedroom. Keeping a tidy area with room for everything will save you some major headaches.
The kitchen may be one of the most important areas of the home to keep neatly arranged. Because you spend so much time in the space making and eating meals, you need to know where your items and food are kept. Unfortunately, with many people leading busy lives, cupboards and kitchen cabinets can turn into hiding places for serious messes. 
Cutlery is haphazardly thrown into overstuffed drawers, and storage containers are tossed about in cabinets that are dangerous to open, not to mention food stuff tucked away and forgotten about. An organized kitchen will save you time during your meal prep, keep you safe from falling objects that could land on your hot stove, and offer more storage space, according to iCabinetry. In an exclusive interview with House Digest, certified professional organizer and founder of Imagine Home Organization, Kirsten Fisher, filled us in on some ways you can organize your cabinets. Let's look at these helpful hints you can use in your kitchen.
Use a category system in cabinets and drawers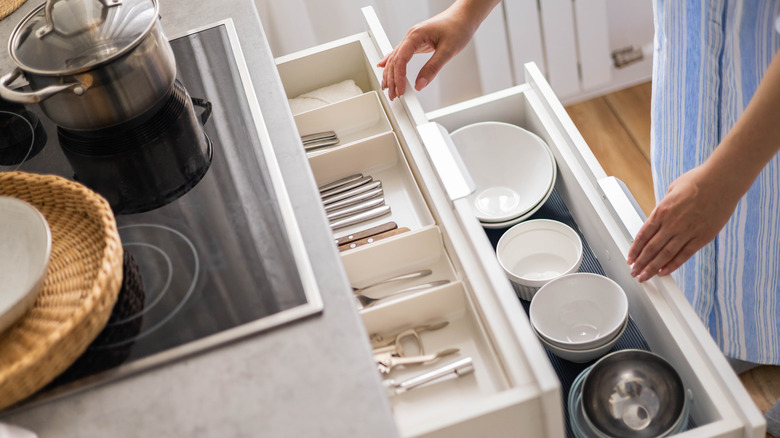 Kostikova Natalia/Shutterstock
Organizing your kitchen can start and end with the layout of your cabinets and drawers. If these storage spaces are left in a state of disorganization, then you may find that you're wasting time out of the day looking for items you need or even ruining objects due to improper placement.
According to organization expert Kirsten Fisher, your first step to maintaining order in the kitchen should be to take inventory of all the cabinets and drawers and the items that are tucked away in them. "Sort items by category," Fisher explains, "Determine the best 'home' for each one based on the size of the category and how often you use it. The category should fit easily in its home and frequently used items should go in the most accessible places." For example, if you use that potato masher, gravy boat, and turkey baster only on special occasions, then there's no reason it should be kept in a spot that crowds the things you use daily. 
To avoid clutter in your storage areas, it's best to keep it simple. "Designate each drawer and cabinet to contain only one or two categories," Fisher tells us, "Too many categories leads to chaos." As such, when storing your dishes, you could assign one space for dinnerware and another for smaller plates and bowls. You can then designate more formal dishes or serving platters in a higher area of the cabinet.
How to store appliances and utensils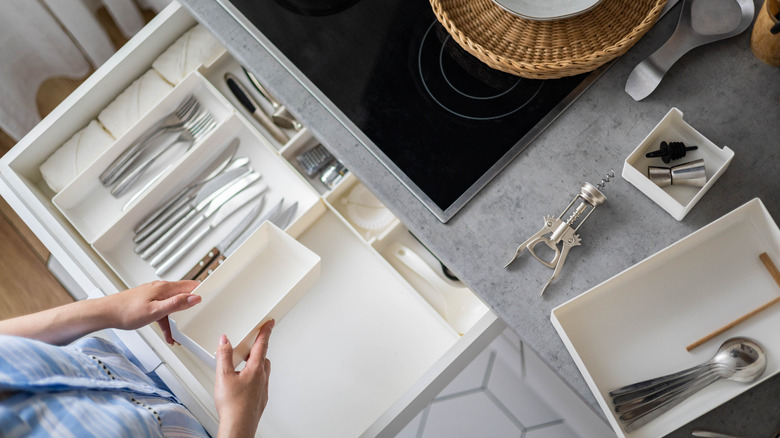 Kostikova Natalia/Shutterstock
One reason kitchens may seem overwhelming could be that there are so many small appliances being used, unlike most other rooms in the house. From air fryers, blenders, toasters, coffee makers, kettles, and more, you may find yourself quickly running out of storage and counter space. Concerning proper placement of your kitchen gadgets, Kirsten Fisher suggests that you "Place large appliances in a low cabinet. Wrap cords neatly. Put the larger ones at the back and the smaller appliances in front." This simple strategy can help keep all your items accessible and within reach while ensuring they don't get banged around, damaged, or misplaced.
When it comes to cutlery and other cooking tools, you might find that some silverware drawers are being used to hide things like a shameful secret. Without a designated area for storage, you may find silverware quickly become scattered and unsorted. This unseemly chaos could lead to your utensils being scratched or lost. There is also the possibility that you have too many items hanging about in your drawers. To keep the clutter from spreading about your kitchen, you should "Cull your cooking utensils," Fisher tells us. "Spatulas and spoons add up over time. Give yourself the just-right amount, and use drawer dividers to keep utensils separated and in place."