How To Protect Your Dahlias From The Cold Winter Weather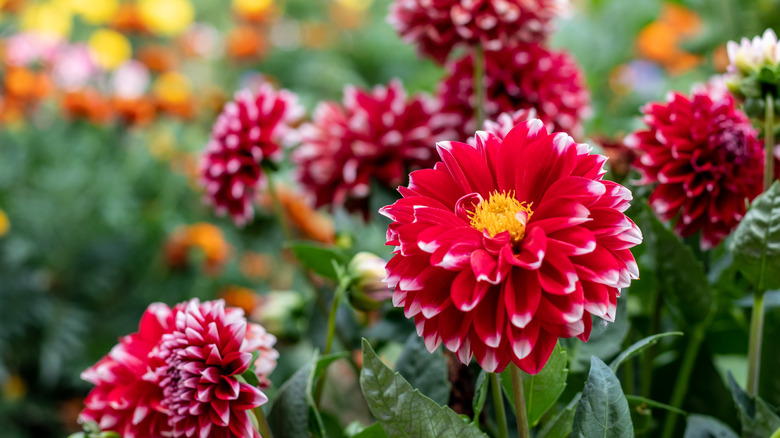 Serhiy_Chaiko/Shutterstock
If you're an avid gardener, then you know the importance of planting beautiful flowers in your yard. Dahlias happen to be gorgeous and one of the easier options to grow, sprouting their plentiful blooms from the middle of summer until fall, per Longfield Gardens.
According to the Old Farmer's Almanac, dahlias belong to the Asteraceae family of plants and can grow 4 to 5 feet tall, depending on the type. These colorful flowers are in the same grouping as some other popular florals, including daisies, chrysanthemums, and sunflowers. They come in various colors, like white, yellow, orange, pink, red, dark red, lavender, black, and more.
Intrigued to learn more about these gorgeous florals? Keep reading to find out how to protect your dahlias from the cold winter weather. Plus, you will get tips on replanting these beauties for the following season to ensure you can enjoy them year after year.
Heed this advice for overwintering precious plants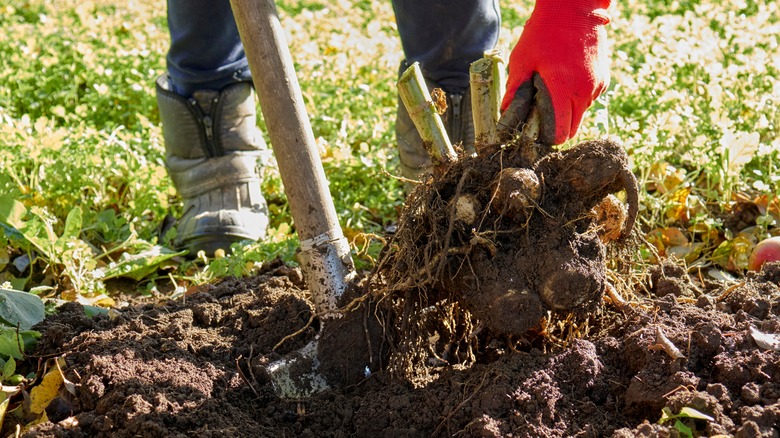 Tasha-photo/Shutterstock
MasterClass explains that dahlias can't make it through winter and notes gardeners should overwinter these plants, which basically means removing them from your garden during this timeframe. However, if you are in USDA growing zone eight, you can keep them in your garden year-round.
Another way to preserve these plants during the cold winter months is to bring in your potted plants. Alternatively, you can simply dig up the dahlia tubers, which MasterClass says is most common in colder climates. Per Masterclass, keep the tubers in a cardboard box, lining it with newspaper or paper bags, filling it with moss, and spraying it with water to keep it moist. Next, place the box in a dark, dry spot while waiting for winter to end. 
Longfield Gardens suggests storing your dahlias in plastic bags. Or, use a crate for storage that's filled with sawdust or sand to see which option works best for you.
Read this before you replant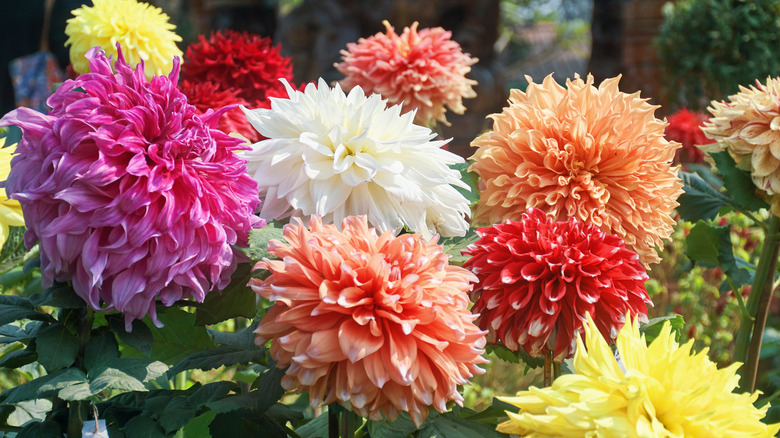 suprabhat/Shutterstock
Once your dahlias have made it through the harsh winter months, it's time to replant them. But first, you need to find out what growing zone you're in with this hardiness zone map, notes Longfield Gardens. After doing so, you can begin the process of replanting in the spring, while making sure the frost is long over. It's important to note that dahlias thrive in a full-sun environment and should be planted with soil that is loose for the best results.
MasterClass also recommends soaking your tubers in lukewarm water before replanting them. The company also advises that the temperature of your soil be at least 60 degrees before you begin planting. There you have it! Follow these simple tips to preserve these gorgeous plants during the harsh winter months, so you can enjoy the beautiful blooms during the summer and fall the following year.