How Much Does A Jacuzzi Bath Remodel Cost?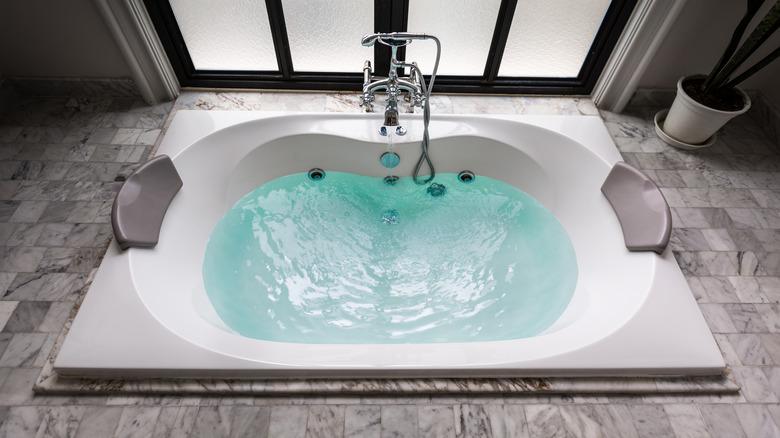 Meesiri/Shutterstock
If you like to unwind at the end of a long day by soaking in the bathtub, then you might want to do a few things that will take that experience up a notch. For instance, you could always keep candles nearby to help you set a certain mood or use a diffuser to send pleasant smells into the room while you take a bubble bath. Alternatively, you may be interested in treating yourself by remodeling your bathroom with various touches that will make taking a bath a truly luxurious experience.
Giving your bathroom an upscale upgrade might involve anything from making the entire space bigger or changing the set-up, according to Zillow. You can also put in new tiles, opt for fancy faucets, add stylish countertops, pop in attractive new light fixtures, and even have heated flooring installed. When it comes to the shower, you might want to add glass doors and swap the basic showerhead out for something that provides a soothing stream. Of course, for those who adore taking a bath, adding a jacuzzi to the space might seem like an ideal option. It might also be worth your while financially as Zillow notes that opting for a posh bathroom reno can result in a 56.2% return on your investment, which isn't too shabby at all.
Granted, if you're interested in a jacuzzi, then there are a few different options that you can consider. Each offers you something that may suit your needs, preferences, and budget.
The price of a jacuzzi reno varies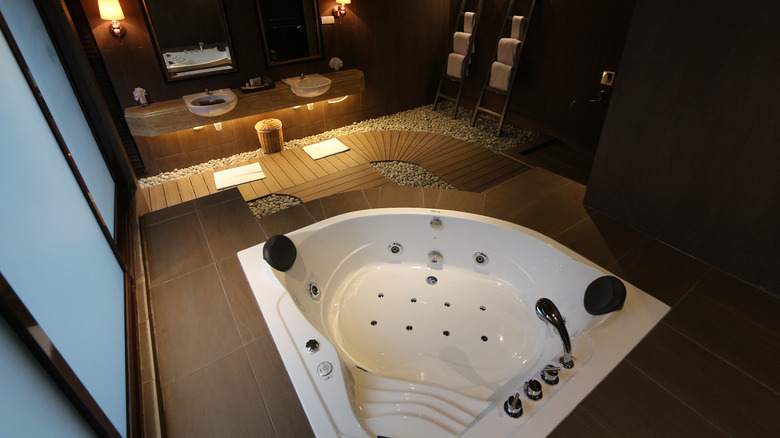 Jafni Johari/Shutterstock
Choosing to add a jacuzzi to your bathroom might be an easy choice if you're a bath-lover, however, that's just the first step. Next, you'll need to figure out what you want and can afford. If you're into DIY projects, then you can actually convert your existing tub into a jacuzzi, according to The Bathtubber's Shana Burg. While noting that the alteration can either involve affordable changes or pricey adjustments, Burg explains that you can block the overflow drain which will give you a deeper soak, or add LED lights to enhance the aesthetic. You can also install jets that are either temporary or permanent.
On the other hand, you might want to get a new bathtub. In that case, you'll still have a few choices to make. Due to the fact that there are different brands offering jacuzzi-like baths that are made of various materials and include a range of features, the price of tubs varies. For instance, an acrylic drop-in jetted whirlpool bathtub will be around $499 at Lowe's. The same sort of Primo bathtub that's made by the Jacuzzi brand is $1,529 while the Jacuzzi Fuzion is $8,789, but has enough room for two people. Over at Home Depot, the Jacuzzi Projecta is just over $1,339 while the Jacuzzi Sia Pure Air is slightly less than $5,554. However, before you purchase a tub, you'll need to keep in mind a few other important financial factors.
You'll need to pay for more than just the jacuzzi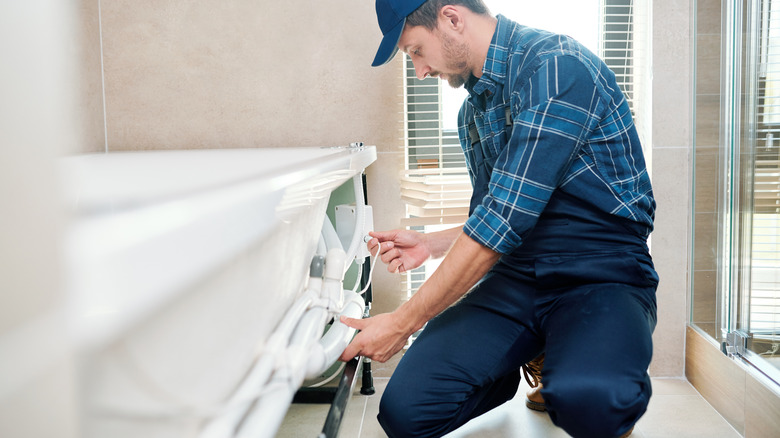 Shironosov/Getty Images
The jacuzzi itself isn't the only thing you may need to consider money-wise when it comes to your remodeling project. If you happen to have a large truck, then you might be able to get your new jacuzzi home on your own. Otherwise, you might have to factor in shipping costs. Before you buy your tub, ask the store where you're thinking of purchasing it what their shipping options are and how much that will cost for you. The answer will likely depend on how quickly you want your new tub to be delivered and how far you live from the store.
Finally, there will likely be costs related to the installation of your jacuzzi. Although you can save some money if you're able to put it in by yourself, you still might have to pay for supplies. Think along the lines of potential new pipes, a few tiles to blend the jacuzzi into the rest of the room, and caulk to seal everything in and keep water from seeping into problematic places. If you pay a professional to do the entire installation, then it will obviously cost a little more. Either way, you could end up paying anywhere from $925.50 to $3,290 for materials and $600 to $950 for installation costs, according to Remodeling Expenses – if these kinds of costs won't bust your budget, then you might want to start planning your jacuzzi remodel right now.