What Were The Most Popular Terms In Real Estate Listings In 2022?
Deemerwha studio/Shutterstock
If you've perused through online real estate listings, then you know that visual appeal tops off the list of factors that result in a successful sale, whether you're on the buying, renting, or selling end of the situation. This is why realtors try to paint a vivid picture with words. Their goal is to draw your attention to the features and amenities that prove that the home is worth its listing price. With the state of the housing market today, as interest rates play a key role in pricing, shoppers are scrutinizing every minute detail.
Hence, descriptions are no longer crafted just for the sake of getting shoppers' attention. They are strategically written with key terms that give the buyer the information that they are looking for about a property, as noted by Point 2.
So let's take a closer look at the most widely used terms in real estate listings. As you will see, 2022 became the year when using general descriptions gave way to sharing no-nonsense, to-the-point, specific elements of a home.
The catchiest words and phrases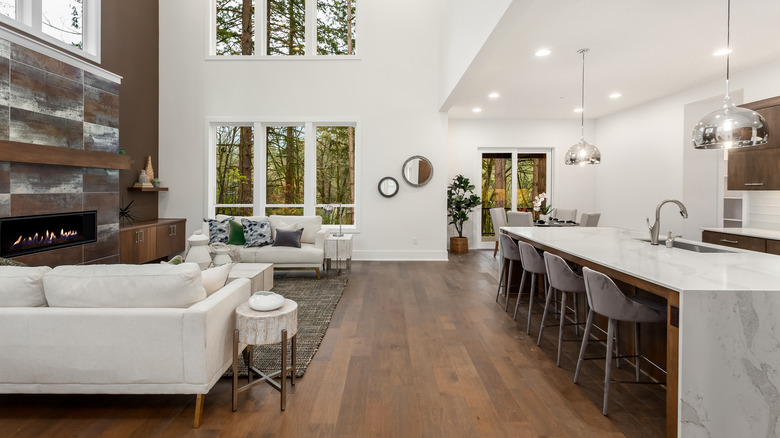 Justin_Krug/Shutterstock
One of the most sought-after traits that buyers were searching for was space (per Point 2). However, it wasn't enough to simply describe a house or a condo as spacious. Listings provided more specific details like an oversized family room, an open floor plan, a chef's kitchen (which also implies enough room for the large appliances), or a master suite with a sitting area and a walk-in closet as opposed to just a master bedroom with a bathroom attached. Plus, terms like bonus room and basement caught the interest of buyers.
Moreover, individuals who were searching for a new abode seemed to gravitate towards low maintenance. Thus hardwood or tile floors achieved widespread popularity. Additionally, "new" caught the eye of buyers who may have been hoping for a place with a new roof, a new HVAC system, a new backyard fence with new landscaping, or a new (or refinished) pool. Along the same lines, anything that was updated or even customized piqued the interest of viewers.
In relation to the amenities that you find outside, many listings mentioned areas that added an additional family and entertainment space that extended to the backyard, such as a patio with an outdoor kitchen or a deck. Such terms earned a second look from buyers, along with parking space and a garage or attached carport.