We Tried The Most Popular Bed Pillow At Bed Bath & Beyond. Here's How It Went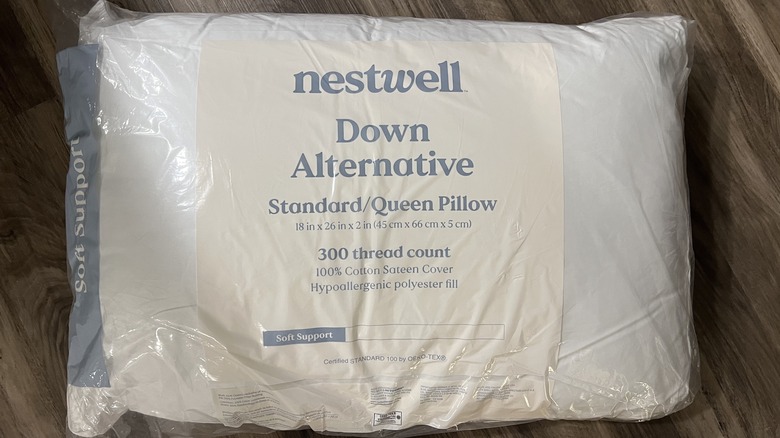 Darby Wagler/House Digest
Besides your mattress, your bed pillow is perhaps the most influential thing that affects your quality of sleep, so choosing the right one for your specific needs is extremely important. For instance, if you're a hot sleeper, a pillow that's temperature-regulating, moisture-wicking, or that feels cooling could benefit you. Or maybe you struggle with dust allergies; if so, you may want to select one that's anti-allergen. Those who often wake up with neck or body aches should search for a pillow that supports them well and doesn't cause pain. In fact, finding an option that doesn't strain your neck is the most crucial factor of all to consider, per Leesa. 
Bed Bath & Beyond sells a large number of bed pillows, and because their website has them categorized into the sections we listed above, it's easy to find what you're looking for when buying one. To see if this retailer has quality products, we tested out their most popular option: the Nestwell Down Alternative Density Bed Pillow. While the standard/queen size is normally $15, we got online it for $12 with a coupon.
Nestwell's down alternative pillow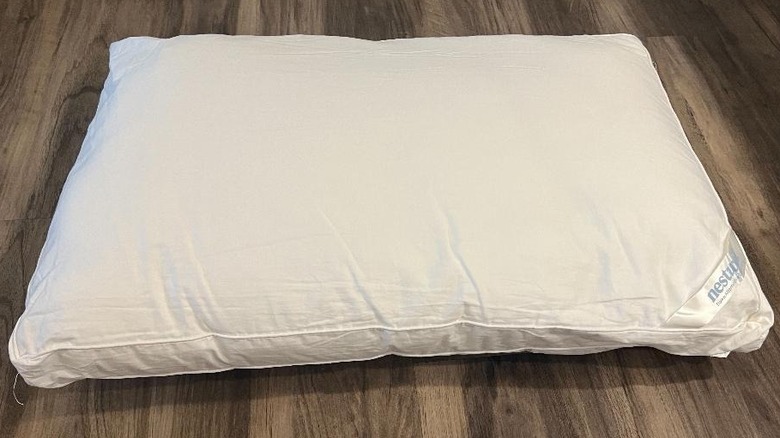 Darby Wagler/House Digest
On Bed Bath & Beyond's website, most of their pillows range from $15 to $100, so this option is very inexpensive. It's filled with a hypoallergenic polyester fill and covered with 100% cotton sateen. While we chose the soft support option, there are also medium and firm support types available in this collection. Nestwell claims that it's ideal for all sleeping positions, whether on your back, side, or stomach.
With over 300 reviews, this product has 3.9 stars and is branded as a bestseller. Out of all the customers, 78% of them said that they would recommend this product to someone else. One person praised the medium support type, saying that it never gave them neck, body, or head pain, but rather allowed them to sleep through the night without having to flip or fluff. Another person said using the Nestwell is like "laying on a cloud." One reviewer even said that their doctor recommended this specific product to help with neck pain. However, there were some notable complaints, including that it was either too firm or not firm at all, didn't provide any support, and wasn't stitched up well.
We tested it for a week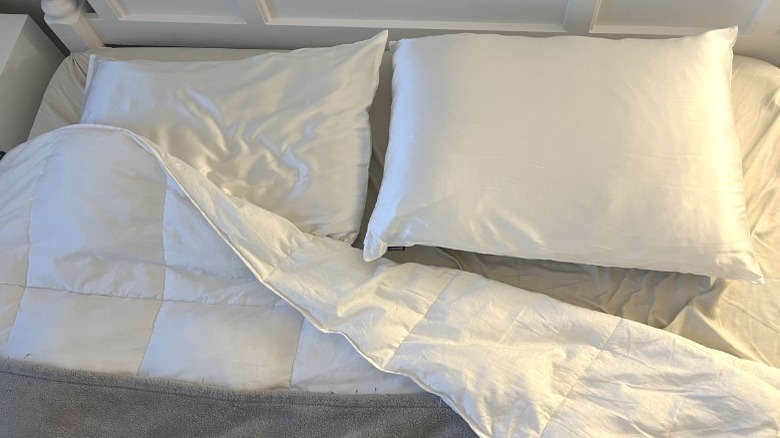 Darby Wagler/House Digest
According to Back To Sleep, it typically takes quite a while to get used to using a new pillow — in fact, they say it can take up to four weeks for some people. Additionally, if you're trying to switch to a new bed pillow, the outlet recommends never going back to your old one, as this could make it harder for you to adjust.
Because we only had a week to test this product, we were hoping we could adjust to it as much as possible during this time. So, we simply slipped on a queen-sized pillowcase and used it as our only bed pillow for seven night consecutively. In order to test if it's comfortable in all the sleeping positions as Nestwell claims, we slept on both our back and side and often relaxed on our stomach. We were hoping it wouldn't cause any neck, head, or body pain and would allow us to slumber comfortably through the night.
How the Nestwell exceeded expectations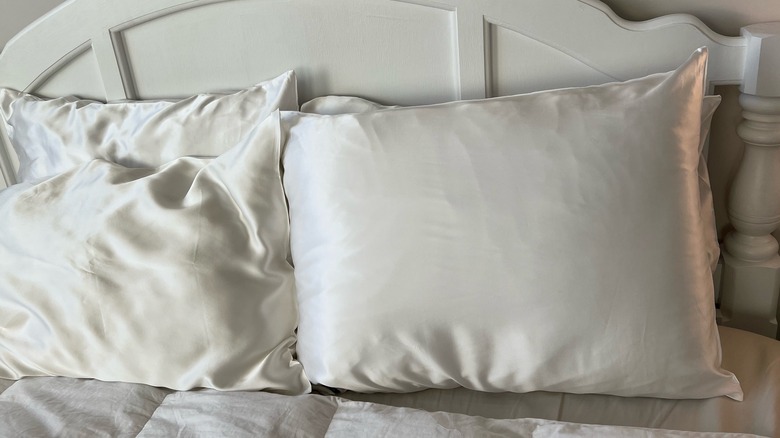 Darby Wagler/House Digest
The first thing we noticed as soon as we slipped on the case was that this pillow appears extra full and fluffy. Because of this, it didn't sag at all and was appealing to look at while adorning the bed during the day. Further, we love that the pillow is machine washable, as this will make it easy to clean in the future. And we appreciate that it comes in three different support levels, so we had options that appealed to our preferences.
While testing the pillow, we only woke up with a headache the first day, but this could have been caused by any number of things. We never experienced any body or neck pain, which was a huge win. And, besides the first few nights of adjusting to using a different pillow, we didn't wake up more than normal during the night. Overall, this product is comfortable to use and, in our experience, easy to adjust to, as we got used to it within just four days.
How it could be improved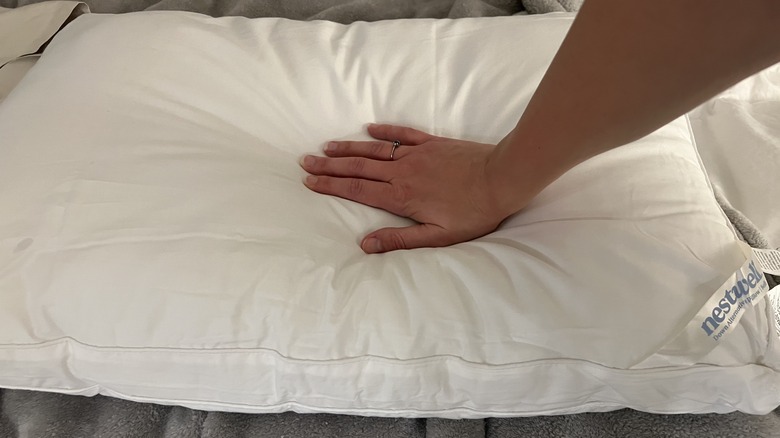 Darby Wagler/House Digest
While we love the fluffy look for aesthetic reasons, the soft type of the Nestwell may be just a bit too full in the middle. It also doesn't provide much support or have any firmness at all. Because of this, we sometimes found ourselves sleeping with our head on the flatter edge or completely off of the pillow for the first few nights. At the same time, after a few days, we got used to the fluffy feeling and actually started to enjoy it. However, if you're a stomach sleeper, the soft support may not be the best choice for you as it can feel a bit suffocating as your head sinks into the cushiony softness.
Additionally, because this pillow is filled with polyester and covered in cotton sateen, those who prefer a cooling sensation may not enjoy this product; it can often feel quite warm. Hot sleepers may benefit more from a pillow that's made out of foam or covered in latex.
Would we buy this pillow again?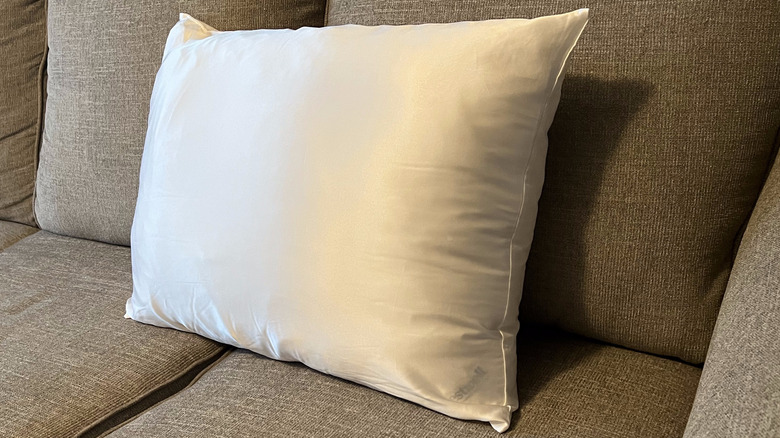 Darby Wagler/House Digest
Compared to flatter or more sunken-in pillows, the Nestwell soft support is extra fluffy and comfortable. Because we never experienced neck or body pain, those who often feel achy after waking up may enjoy this product. As stated, one reviewer even said that their doctor recommended it, so we think it's worth it to give this pillow a shot — especially with such a low price tag.
We find it pretty impressive that after just a few days, we were used to sleeping with the Nestwell; we may even make it our default bed pillow from now on. However, keep in mind that the soft option is quite squishy, so those who prefer more support may want to steer clear. Or, if this is the case for you, perhaps you could test out one of the medium or firm pillows in the Nestwell collection.