Ikea Or Target: Which Has The Cheapest Nightstands?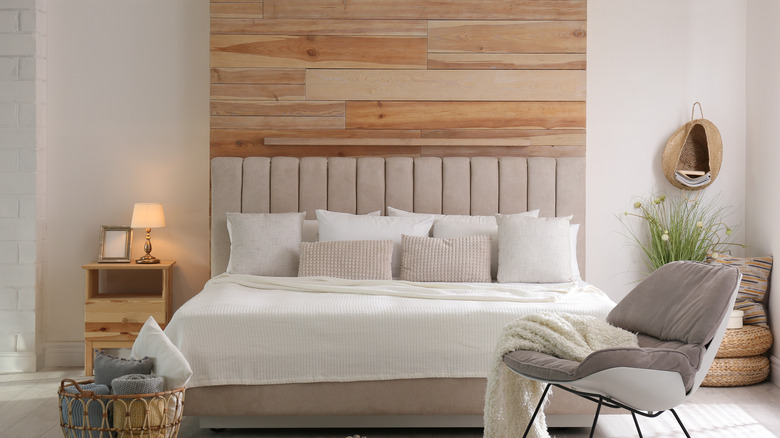 New Africa/Shutterstock
We may receive a commission on purchases made from links.
Your home's nightstands are there to provide both functionality and style. Not only can they be aesthetically pleasing, but they'll probably be used to hold essential items within easy reach of your bedside. Feng Shui By Jen notes that some items promote security and balance around your sleeping space, which is incredibly helpful in promoting well-being and comfort. So, while finding the right bedside table is essential for your bedroom's aesthetics, a product's function is every bit as important as its form.
Target and Ikea have long been many homeowner's go-to sources for bedding, linens, and furniture since both shops offer a variety of home goods for budget-friendly prices. However, suppose you're attempting to decorate a bedroom without spending hundreds of dollars. In that case, you'll likely seek out some of these retailers' most modestly priced offerings, especially when snagging multiple bedside tables for your space. Thankfully, Ikea and Target offer gems that score points for their versatile design and accommodating asking price. However, one retailer outperforms the other in terms of affordability.
Comparing the options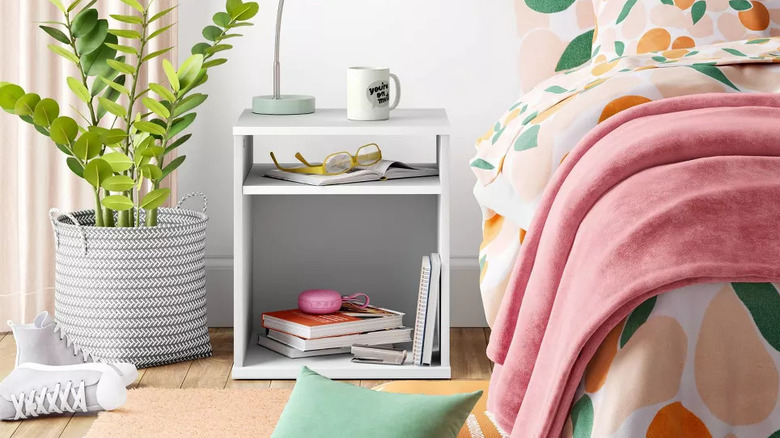 Target
Target's most affordable nightstands range between $35 and $50, each one designed to fit in with a multitude of aesthetics and interior decors. One of the most popular (and affordable) selections on the Target website is the Room Essentials Nightstand, which comes in espresso, brown, black, and white. The simple design offers two cubbies, with the top one serving as a small space for books and trinkets.
Another well-reviewed model, the Costway 2-Drawer Nightstand, features two drawers that come in a cloth material, which are the exact dimensions as one another and can be removed and used as separate storage if needed. The top of the nightstand is a wood slat, ideal for holding decorative lamps, plants, magazines, or other lightweight items you wish to display. This product is currently on sale for only $49.99 (from $79.99) and comes in two colors: black and white. The cloth is unimposing, so it's unlikely to clash with most decor. Its five reviews are all stellar, with buyers noting they were delighted with the materials, dimensions, and building process included. One reviewer wrote that it was straightforward to assemble, with Forbes adding that Target does well in turning the job of putting together new furniture into a relatively simple process, especially compared to some of their top competitors in the home goods space.
The verdict
Ikea's nightstands range from $14.99 to $80 and above. Their simple and understated designs are ideal for anyone trying to stretch a budget, especially if decorating multiple rooms is involved. Their furniture is also known for being unassuming and designed to mix and match with other furniture from the retailer or elsewhere.
The most affordable Ikea nightstand is the Lack Side Table, which only costs $14.99 to $16.99 and can be bought in dark brown, black, white, or stained oak. It offers a simple one-level design unlikely to clash with existing pieces in the room. The table has over 500 reviews with an average of 4.7 stars, meaning the vast majority of people who bought it were happy with the build and overall assemblage.
The interior of the Lack has a honeycomb layout, which Ikea's website explains helps make it more sturdy and resilient against weight and daily use. Given this product's surprisingly cheap price and number of positive reviews, it's probably the best budget nightstand between the two retailers, as well as one of the most affordable. Furthermore, its modern style and variety of neutral color offerings work just as well in a college dorm as a child's room or guest space. Thus, if you're seeking to outfit your home with new nightstands without breaking the bank, Ikea's probably your best bet.