What To Know About Home Depot's New Energy Deal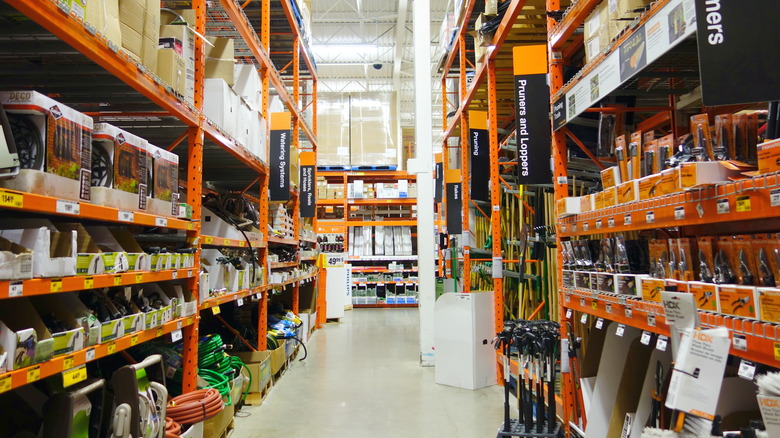 ValeStock/Shutterstock
With the effects of climate change becoming more apparent, it's only natural that a renewed focus on green energy has shifted to the forefront. Many individuals have taken it upon themselves to live sustainably, whether by eating less meat or cutting down on single-use plastics. Though these make an impact, for a true and lasting difference, the change must come from large companies, which are often the most significant contributors to the climate crisis.
More businesses than ever are pledging to be greener and more sustainable, as well as making commitments to use renewable energy to power their companies. As opposed to traditional energy sources like fossil fuels, green energy harnesses the power of natural resources like water, wind, and sunlight. In addition, these and other renewable energy sources are "carbon-free," which means they don't create harmful greenhouse gases that negatively impact the environment and the climate, says Constellation Energy Resources. Coal, for example, created only 10% of energy in America in 2020 but accounted for a far greater portion of the country's carbon dioxide (CO2) emissions.
Pledges from large companies are what will make the biggest difference in the climate crisis. Switching to green and renewable energy on a large scale proves it can be done anywhere and everywhere.
Clean facilities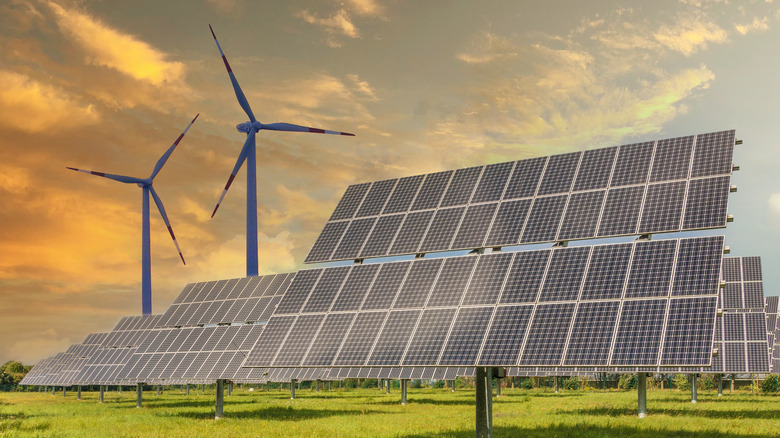 Mr. Kosal/Shutterstock
The Home Depot recently announced plans via press release for all its facilities to be powered by solar energy by 2030. To help, the company has purchased 100MW of solar energy from National Grid Renewables in Denton County, Texas. This purchase is the equivalent of 8% of the company's total electricity use.
Ron Jarvis, The Home Depot's chief sustainability officer, says, "Solar energy is the most abundant energy resource on earth. With this purchase, we are getting a step closer to our goal to produce or procure 100% renewable electricity equivalent to the needs of our facilities. We anticipate about three-quarters of our alternative and renewable energy capacity will come from solar energy by the end of 2023."
National Grid Renewables farms and stores solar energy. Solar panels absorb sunlight through photovoltaic cells, which form electrical charges that can then be converted into power or stored in solar batteries (via the U.S. Department of Energy). National Grid Renewables' Texas storage project is estimated to avoid producing 450,000 metric tons of CO2 emissions annually via renewable energy production.
More sustainable choices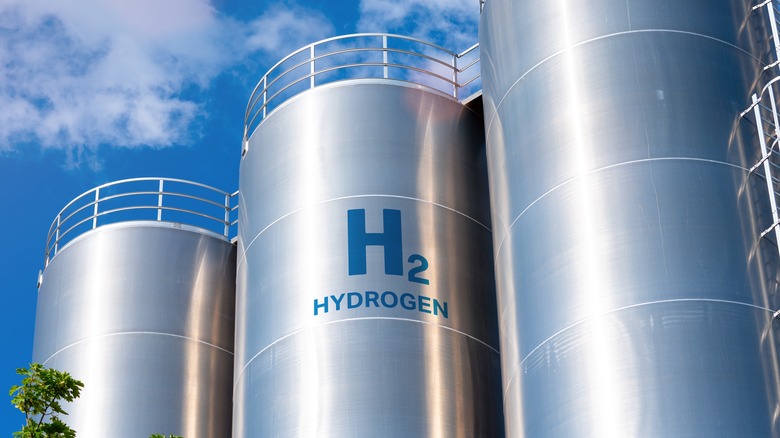 Audio und werbung/Shutterstock
The Home Depot is also creating energy solutions for its individual stores. More than 80 of the company's stores have rooftop solar farms, and over 200 locations have electricity-generating fuel cells, per The Home Depot's November 2022 press release. These changes have helped to reduce the company's electricity consumption by 50% since 2010. The United States Department of Energy explains that fuel cells work similarly to batteries but do not need to be recharged. Fuel cells use hydrogen to create chemical energy by supplying fuel, which produces heat, water, and electricity and can provide renewable power to large structures.
Solar energy is not the only renewable investment that The Home Depot is making. According to the press release, the company has also purchased energy from a wind facility. Harnessed from wind turbines, electricity is produced when the wind pushes the blades and spins a generator. According to the U.S. Department of Energy, wind energy is the country's largest source of renewable power. Together, these changes are expected to power more than 500 of The Home Depot's stores.