The Best Desk Alternative For Your Small Home Office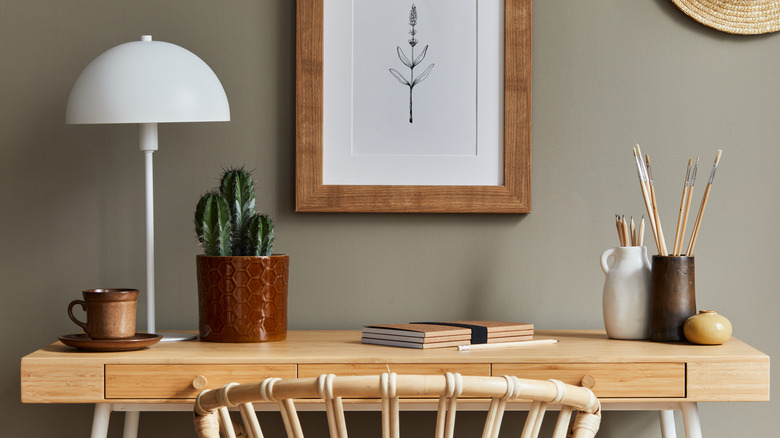 Followtheflow/Shutterstock
It's 2023 and thanks to the challenges the world has faced over the past couple of years, the home office is now the office of the future. We've traded in the stuffy cubicle for a workspace that is much more comfortable, way more personal, and still has free snacks (sort of). The flip side is that while your home office might be slightly bigger than your typical cubicle, depending on the size of your home, you might actually not have as much room as you thought. The folks at Office Finder note that a typical employee should have anywhere from 80 to 200 square feet of work space for optimum productivity, so if your home office is around that size, then you're probably going to be okay, per Chron.
Still, not every home has a spare bedroom or open area that can be designated as a personal, uninterrupted office. That means home offices can be smaller than the normal on-site working environment, or even worse: nonexistent. Your zone could have been (and still be) the nook under the stairs, your dining room table, or wherever there's space. But you need to have a designated home office, no matter how cramped your quarters are. And in that office space, you need a suitable desk that serves all of your productivity needs. Luckily, there is a wide variety of desks to choose from, and we've sourced what we believe to be the best one for any home office, small or large.
Standing desk
Before picking out a desk, you need to take into consideration how much space you actually have, if you would prefer it to be adjustable, and how much storage and surface area your job requires, as noted by Salt Creek Office Furniture. Because you already know that you're working in a tight area, it's important that you have as much surface area as possible. 
Wayfair notes that for standing and adjustable desks, the surface area should be at least 20 inches deep and 30 inches wide. This provides you with ample room for a laptop, or a monitor and tablet. That's why we recommend the Sabine Height Adjustable Reversible Standing Desk by Upper Square. Not only does it have a soft close drawer for pens, pencils, sticky notes, and most importantly, snacks, it has a built-in USB outlet for charging your various electronics. The Sabine can raise from 28 to 48 inches, while the desk itself comes in at 48 inches wide and 24 inches deep, which means there's enough room for all of your office necessities, but it won't stick out and get in the way.  The Sabine has four different height settings and weighs less than 100 pounds (which is unheard of for a better-quality ergonomic desk). 
The runner up
We understand that standing and adjustable desks aren't for everyone. Some people want a desk that blends seamlessly into the background, which is why we've gone the route of the floating desk for our runner-up. The Camus Floating Desk by Winston Porter is wall-mounted and has plenty of built-in storage cubbies, as well as an angled paper sorter, corkboard, and pull-out drawer. It has a drop leaf-style writing surface that can be locked in place when not in use, which can also hide all of your office goodies, thumb-tacked paper doodles, and snack crumbs. This lightweight floating secretary's desk weighs in at around 28 pounds but can hold up to 30 pounds, so please remember to use drywall anchors because this could make quite a mess if not securely attached.
While the Camus has all the storage you might need, it is a bit on the smaller side — 24.75 inches wide and 13.5 inches deep. Its overall measurements come in at 20 inches in height, 26 inches in width, and 6 inches in depth. It's available in four different colors: white, gray, black, and mahogany.