The Kitchen Lighting Trend Home Buyers Want, According To Real Estate Agents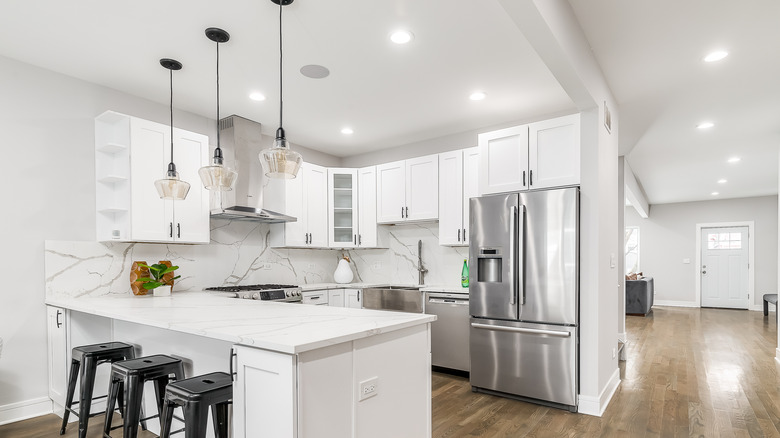 Hendrickson Photography/Shutterstock
Whether you're thinking about selling your home or simply curious about what buyers want, real estate agents tend to keep track of upcoming trends on the market. Like everything in the housing market, these change, and though certain elements remain steadfast for months or even years, people frequently adjust what they want in a potential home. As new ideas and innovations come onto the market, buyers can be quickly intrigued by upcoming trends that might be all new to them.
When it comes to kitchens, people are always finding exciting updates and installations to add. Making this room functional and stylish is imperative, and buyers always look for a home that displays both. Per the HomeLight blog, real estate agents and housing experts have discovered one trend that will be making rounds, illuminating kitchens in a whole new way. If you're interested to find out what this lighting trend entails, read on.
Under-cabinet lighting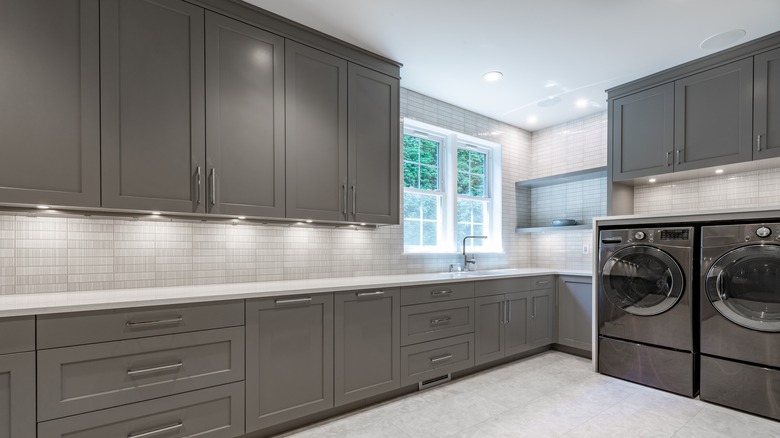 Sheila Say/Shutterstock
Under-cabinet lighting is set to be a big draw for homebuyers in 2023, and for good reason. This type of lighting is defined by illumination elements added to the underside of your kitchen's storage cabinets. This option will help build on your existing lighting scheme within this room, adding additional brightness and making the environment more pleasant to cook in.
Not only do these kitchen additions create a cozy atmosphere, but they can also potentially lower the cost of energy bills, too. By using these lights instead of constantly switching on your overheads, your utilities could go down, especially if you opt for energy-saving bulbs like LEDs. We would also like to note that when you utilize these smaller additions that shine directly onto your counter, you don't necessarily need other light fixtures turned on. Saving money is always a bonus; if your kitchen is well-lit, it boosts the home's resale value.
Choose your favorite option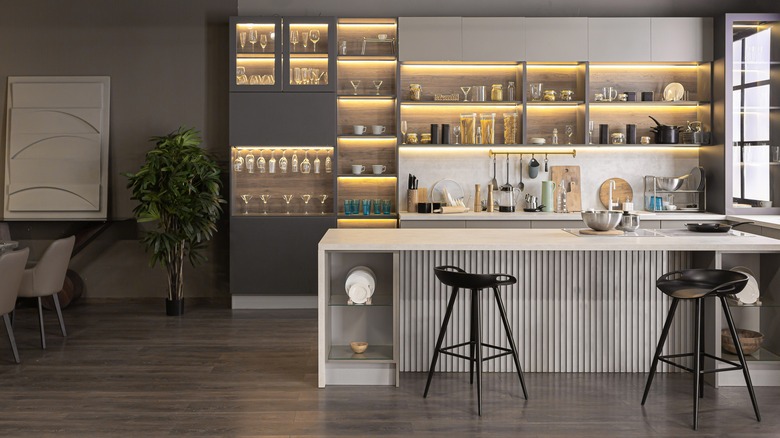 Pinkystock/Shutterstock
You can choose from a few different under-cabinet lights, and each one offers a different aesthetic and vibe, according to Lamps Plus. Puck lights are relatively easy to install, as they are round units that adhere to the underside of your cabinet by a sticky solution, substance, or film. If you have an area in your kitchen that doesn't sit near a plug, puck lighting is an ideal choice. Linear lights come in a strip or as one longer bulb, and integrated lighting is where the cabinets come installed with the illumination built into the bottom.
Choosing under-cabinet lighting can help increase your home's sale value, as well as draw buyers in. People want to live in a dwelling that offers ease, functionality, and style, which is what these lights offer in any kitchen space. Their simplicity makes them so desirable — extra lighting that is invisible from eye level but makes cooking, cleaning, prepping, and everything else a breeze. If this trend hadn't made its way to your list before, it might be worth adding it to your home now that you know it's going to be a big buyer sensation.