Dyson Or Shark? House Digest Survey Discovers The Most Popular Brand Of Vacuum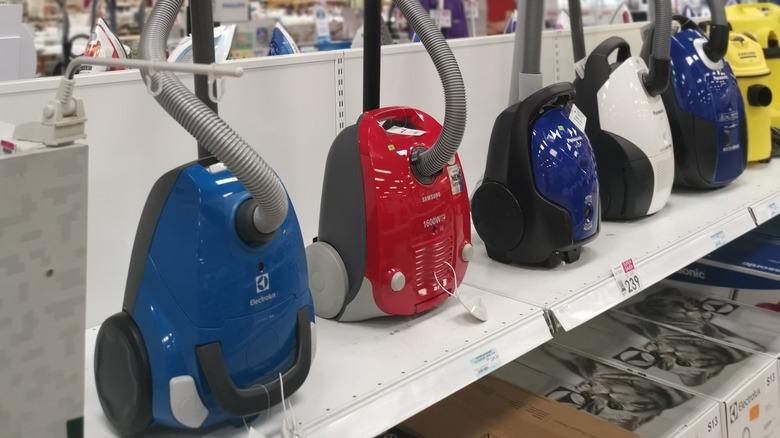 Young Swee Ming/Shutterstock
A quality vacuum cleaner can be an essential staple in any household. These workhorses are known for their durability and ease of use and are just as handy removing dust and debris from carpet and tile as they are cleaning wood flooring and your vintage sofa. They often come with an array of nifty attachments and are a lifesaver for people with children or animals in the house. Their ability to eradicate dust, dirt, and pet dander helps a home look tidy and offers important health benefits (via Vacuums 360). By removing allergens as you clean, you can improve the air quality in your home.
Are you looking for a new vacuum cleaner? You probably notice a wealth of options in terms of brands and styles. Newer companies like Dyson and Shark offer powerful suction and filtration systems and a fair amount of consumer buzz. On the other hand, older brands like Bissel have been around for over a century, proving to be a reliable option. Also, high-tech disruptors like iRobot offer advanced cleaners that can do the job while you sit back and relax. To get down to the nitty-gritty about which brand reigns supreme, we reached out to our greater community. In an exclusive House Digest survey, we asked 629 people, "Which brand of vacuum do you prefer?" Here are their responses.
This popular vacuum brand took the top spot in our survey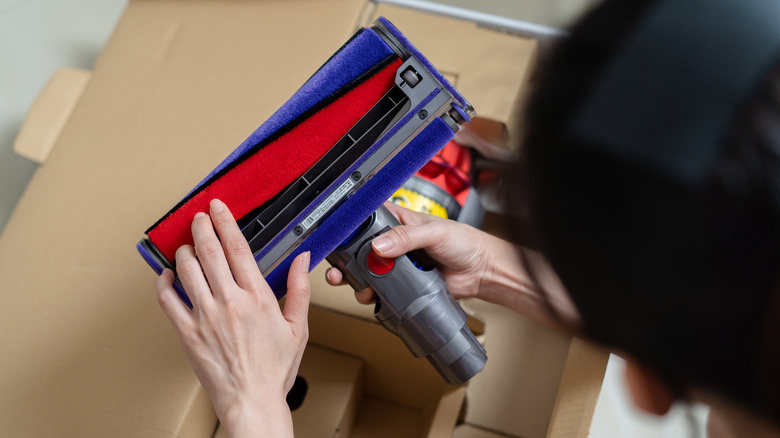 mokjc/Shutterstock
When it comes to vacuum cleaners, there was one company that stood above the rest, according to our exclusive survey. Of the 629 people who participated, 196 — which is 31.16% of the total vote — chose Dyson as the brand of vacuum they prefer. The brand thrives on products with excellent suction power, durability, and a convenient bagless disposal system. However, these extra perks come at a cost, as Dyson cleaners are often the most expensive on the market. Plus, the bagless system may be less beneficial for those who suffer from allergies, as throwing out the refuse is a bit messy (per Spotless Vacuum).
The second most popular vacuum brand selected by 151 people — or 24.01% of the total survey — was Shark. This brand of cleaners has a wide selection of systems designed to clean almost any home surface. With impressive suction power and a handy array of attachments to fit your needs, it offers products at a more reasonable price than its competition, according to Forbes, which could be why it finds itself among the most favored in our survey.
Here are the other popular brands that rounded out our survey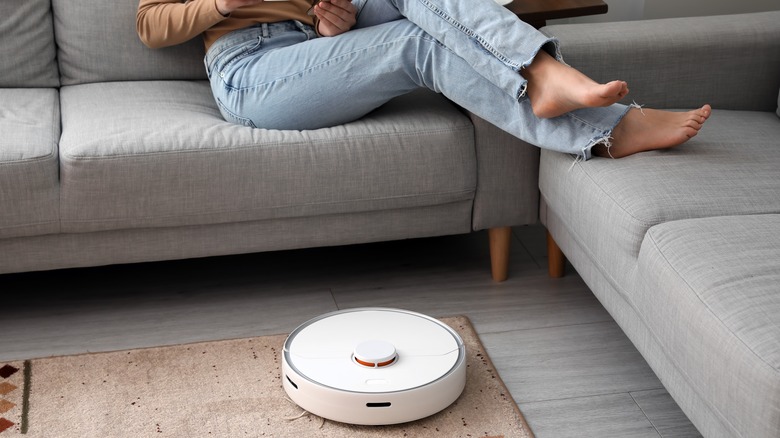 Pixel-Shot/Shutterstock
The third most popular choice among vacuum cleaner brands is Bissell, which received 109 votes, about 17.33% of the total survey. Bissell has been known in the world of home care since the late 1800s and touts itself as having the first female CEO in America when Anna Melville took over the company in 1889 (via Prosperity). Their wide range of vacuums delivers power and performance with specialized HEPA filters to take allergies out of the air and removable tanks that trap dirt, pet hair, and dust. 
An American name-stay for home cleaning, Hoover was chosen among 78 people who participated in our survey, representing about 12.40% of the vote. Designed with a full display of products, Hoover vacuums are known for their powerful suction and affordable price range. Next are the innovative iRobot cleaners that 63 voters chose, or 10.02% of the survey. The prevalent makers of the Roomba, this is a brand to watch out for in the future as automated home appliances become more common. Finally, the Tineco brand rounded out our survey with 32 votes (5.09% of participants). Lightweight and affordable, this brand offers a reliable imported option for home cleaning.