The Best Neighborhood In Charlotte, North Carolina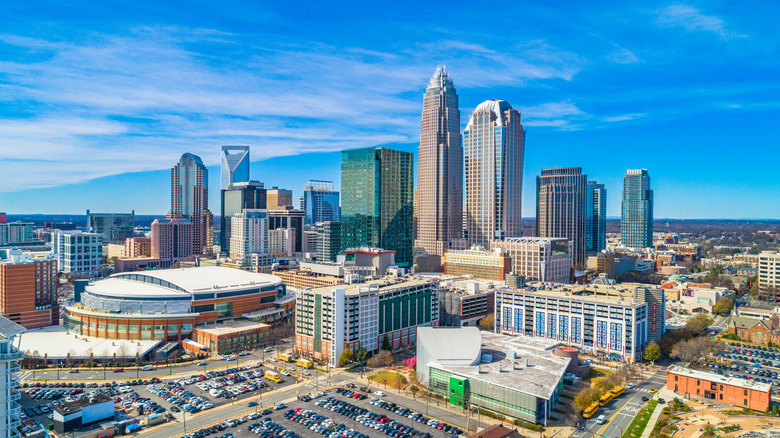 Kruck20/Getty Images
Thinking of moving to a city with a thriving job market, unbeatable culture, and eclectic attractions? Charlotte, North Carolina definitely comes to mind. With a population of nearly 900,000 within the city limits alone, per the U.S. Census Bureau, Charlotte is one of the state's fastest-growing cities and, according to a study conducted by the Inspection Support Network, is even one of the fastest-growing metropolitan areas in the country. The city offers something for everyone, attracting sports enthusiasts, science and history buffs, and lovers of Carolina-style barbecue.
Residents flock to Charlotte for several reasons, many of them related to work. Regardless, moving to a new area is difficult, especially when finding a place to live. Thankfully, even if urban living isn't for you, Charlotte provides a diverse selection of neighborhoods and suburbs to fit a variety of lifestyles. One community in particular, however, seems to rank above the rest due to its alluring atmosphere, high property values, relatively low crime rates, and more.
Food, fun, and amazing schools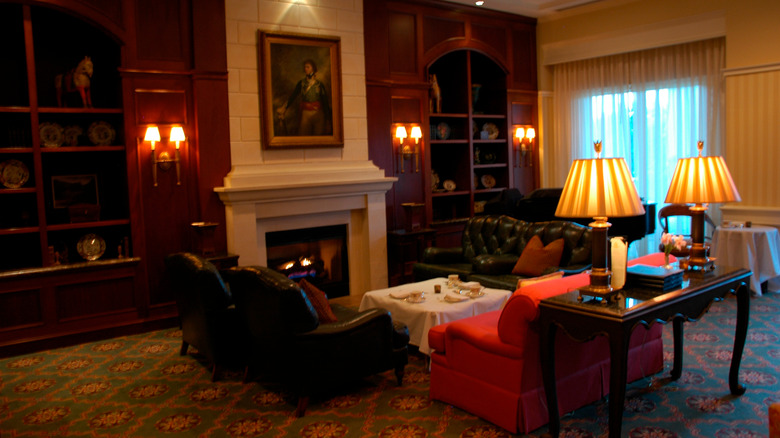 Malachi Jacobs/Shutterstock
According to sites like Niche and Landing, Ballantyne East is the best neighborhood in Charlotte. Located in the southwest corner of the city, near the North Carolina-South Carolina state line, this clean, affluent suburb offers seemingly endless opportunities for shopping, dining, and attractions. Although a U.S. highway separates it from neighboring Ballantyne West, both communities offer chances for career-oriented singles and families alike to cash in on the benefits that come with upscale living while never having to leave the Charlotte metro area.
Ballantyne East is also home to some of the best public schools in the Charlotte metro area (via Landing). In addition, the neighborhood features other learning establishments, including language academies and technology institutes. For those hungry for food as well as knowledge, a vast array of tempting dining establishments abound for foodies, including franchise eateries and local gems. Ballantyne is also frequented by food trucks, providing yet another dimension of variety for residents when it comes to grabbing a quick bite. 
After chowing down, shopaholics may enjoy frequenting the location's boutiques and malls. One of the most popular locations is Ballantyne Village, an outdoor, high-end shopping center west of U.S. Route 521. The area is also great for outdoor enthusiasts, per Make a Move, as the neighborhood houses three greenways perfect for jogging, walking, or basking in the sun.
A corporate hub with an easy commute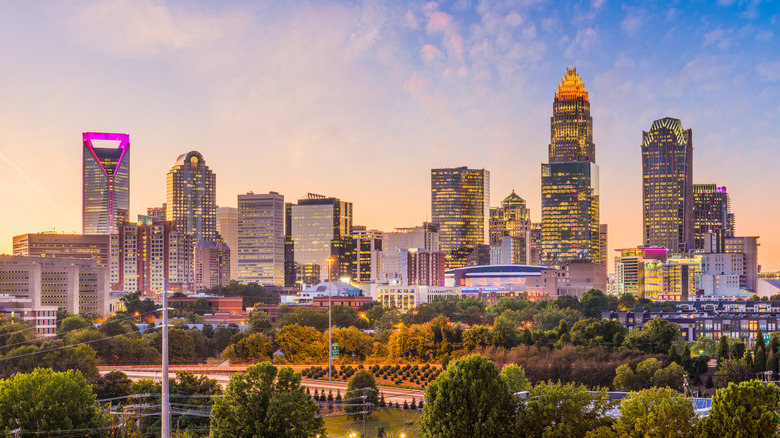 Sean Pavone/Getty Images
Ballantyne East has a competitive job market, housing corporate offices of more than 35 Fortune 500 companies, per Life Storage. Wells Fargo, TIAA, and Premier, for example, have all planted roots in East Ballantyne, attracting young and seasoned professionals to the Queen City suburb. For those working inside Charlotte's city limits, it is a relatively short commute away from the heart of town. When traveling by car, residents can reach downtown in fewer than 30 minutes in light traffic. Commuters can access Charlotte via I-77, I-85, and I-485, the auxiliary highway fully looping around the city. Ballantyne East residents can also commute via light rail from the south Charlotte suburb, according to Neighborhoods, avoiding the dreaded bumper-to-bumper traffic that rush hour can entail.
Unfortunately, a neighborhood with such profitable amenities typically doesn't come cheap, and this one is no exception. The median household income in the area is around $120,000 (via Niche), sitting at almost twice the national average of $62,843. Per Realtor, the median listing price in the suburb is $500,000. In comparison, the median price for a home in Charlotte was about $400,000 in December of last year (via Realtor). This is likely why Make a Move states this exclusive neighborhood is best suited for families and single professionals with established careers.