What Is A Build-To-Rent Community?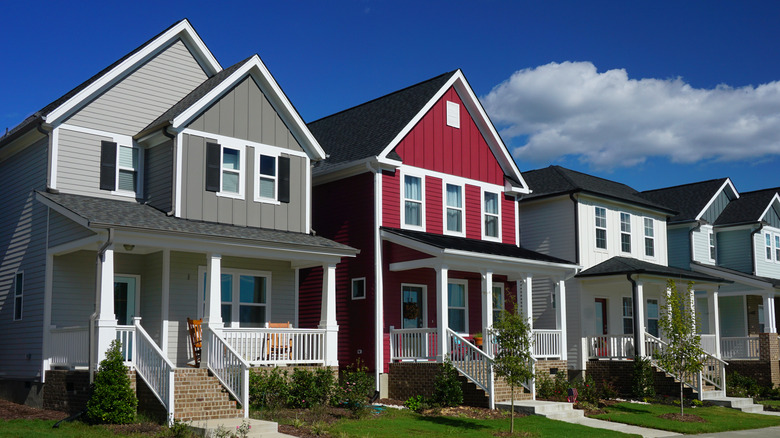 PT Hamilton/Shutterstock
Homeownership is a difficult feat to accomplish nowadays. According to The Ascent, a service operated by The Motley Fool, housing prices are increasing at a more rapid pace than wages, creating an economic landscape where it becomes increasingly more challenging for lower-income workers to buy a house. So, residents across the country are setting their sights on an alternative: build-to-rent housing.
The concept of building to rent is pretty self-explanatory: The term refers to housing that developers build to be exclusively rented out to tenants for long periods of time, says Realtor. In other words, it's housing that can never be owned by its residents. The trend first emerged in 2010, according to Halstatt Real Estate Partners, crafting a path to single-family home living for residents following the stock market crash and financial recession of 2008.
Since then, these communities have surged in popularity, specifically marketing toward individuals and families who can't qualify for a mortgage loan due to poor credit, lack the funds for a proper down payment, or are plagued with other financial setbacks. So, the question rises: Is the build-to-rent model worth it? Let's explore the advantages and disadvantages of pursuing build-to-rent housing opportunities.
Advantages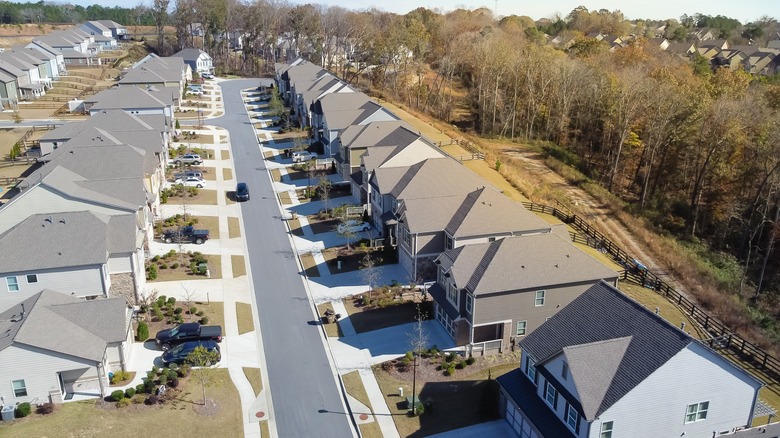 Trong Nguyen/Shutterstock
Build-to-rent housing can be great when a resident is looking to move into a space larger than what a traditional apartment can offer, but is financially incapable of buying a home. Many Americans sought after larger houses amid the outbreak of the pandemic, per Bankrate, since working from home and hybrid school instruction for kids forced families to spend more time indoors. According to Realtor, living within a build-to-rent community gives residents the luxury of a homeownership "lifestyle" without the pressure of a loan looming over their heads. Residents of these communities are also exempt from paying the excess fees that come with homeownership. Build-to-rent housing developer Wan Bridge says its tenants avoid homeowner's association fees, property taxes, and insurance costs by renting their homes.
BTR communities also absolve other pressures related to homeownership, like repairs and upkeep both inside and outside of the home. The companies that manage these communities typically do so in a fashion similar to apartment complexes, where maintenance teams are hired to fix items that break within individual units, on top of tending to the community's landscaping. Developer Christopher Todd Communities states that its BTR subdivisions offer on-site maintenance, meaning repairpersons and groundskeepers are available around the clock to fulfill residents' needs.
Build-to-rent facilities also mirror multi-family housing complexes in the sense that they tend to offer public amenities that all tenants can access and share. These amenities usually include a swimming pool, fitness center, and a clubhouse, per John Burns Real Estate Consulting.
Disadvantages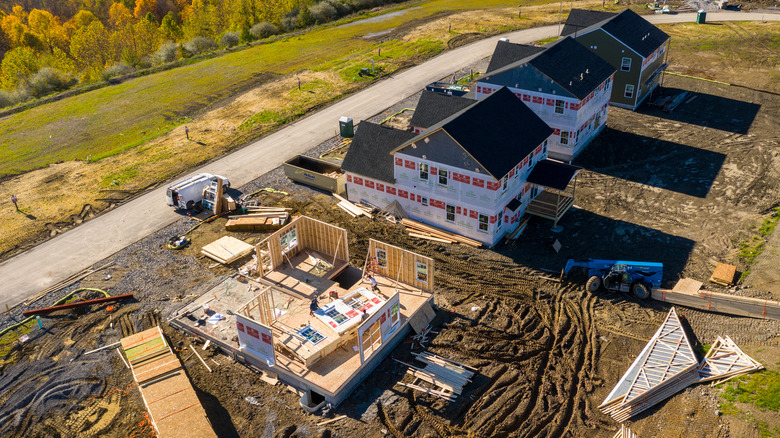 Steve Heap/Shutterstock
Perhaps the most obvious disadvantage to moving into a build-to-rent home is the inability to cash in on the benefits granted through homeownership. As owners make monthly payments on their mortgage, they build equity that they can later tap into when making other large purchases, per Freddie Mac. Further, as the Congress-chartered company explains, homeowners gain equity by making their mortgage payments on time, and by increasing their homes' values through renovations and natural appreciation.
According to Arbor Financial Credit Union, owners can then use their accumulated equity toward emergency expenses, college debt, or to make a down payment on their next home. This isn't the case when renting a house, built-to-rent or otherwise, since these properties aren't owned by the tenants who live in them.
General cost could also be considered a disadvantage to acquiring a BTR home. Oftentimes, the rent a resident would pay to live in a build-to-rent house can be equivalent to the amount a homeowner would fork over in a monthly mortgage payment. Matthews Real Estate Investment Services states that the national average rental price across BTR communities reached $2,091 by the end of 2022.
Also, when locking in on a 15- or 30-year mortgage, a homeowner is expected to pay their lender the same amount each month until their loan is paid in full, unless the owner refinances or takes out a second mortgage. BTR management companies, on the other hand, can raise rental prices in between their tenants' lease renewals.