Tips For Making A Combination Office/nursery Work For Your Home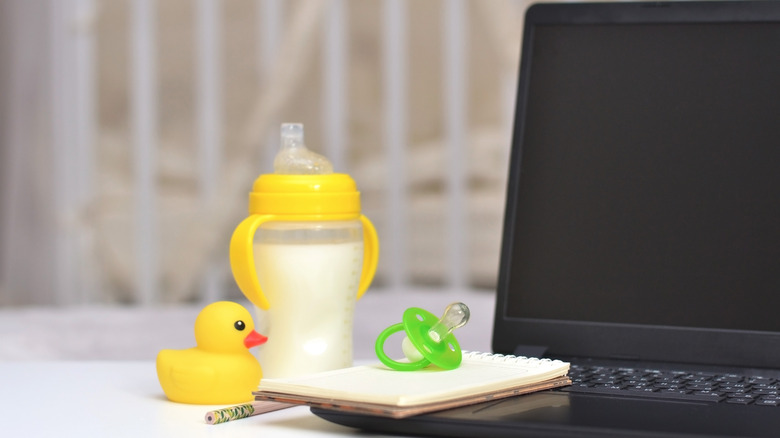 AlexSandraSml/Shutterstock
We may receive a commission on purchases made from links.
Let's say that you live in a small two-bedroom home. One room is the bedroom and the other is a designated office space. Your bedroom is where you rest and recuperate. Your home office is your sanctuary, your productivity zone, and the place where all of your hard work pays off so that you, in turn, can pay your bills. But what if you throw a baby in the mix? Surely babies can't spend all of their moments in the bedroom unsupervised. It's looking like you're going to have a temporary coworker.
Sharing your office space will allow you to not only keep an eye on your baby, but you'll be able to bond with them more, too. On top of that, Simply Nursery notes that baby's cortisol level lowers when they hang with mom, and they sleep better. (Great news for you.)
It's important to set boundaries between you and your little one (not that they'd really understand it). This is meant to distinguish your space from theirs, but with a little bit of cohesion in the middle. (Sharing is caring.) Keep in mind that this particular setup isn't a long-term solution, but that the American Academy of Pediatrics recommends room sharing for at least six months, per Newton Baby. If you're looking for ideas on how to successfully meld your office and nursery space, then keep on reading for some super simple tips and baby hacks for a more positive room-sharing experience.
1. Stay neutral with your color palette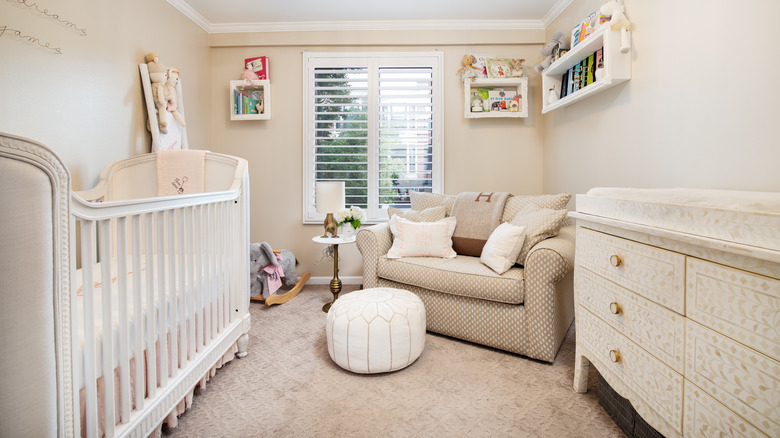 Hendrickson Photography/Shutterstock
Neutral colors are more muted, and when exposed to different styles of lighting, appear to actually change color. This is because the shade itself is made up of different underlying hues. Some examples are brown, cream, black, white, beige, and gray. Make sure to keep the colors consistent so that they give off a more cohesive vibe.
2. Keep it minimal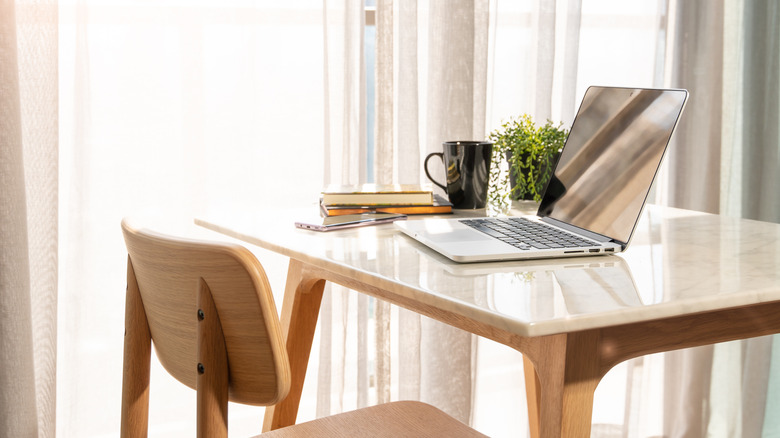 myboys.me/Shutterstock
When it comes to what you'd like to keep in your office-nursery, you're going to want to strip everything down to the bare essentials. This includes, but isn't limited to, a desk and chair for you, some sort of sleeping arrangement for baby, a bookshelf (or two) for both of you, and a nursing chair and footrest. You'll be eliminating any of those fancy rollie carts, super-sized paper shredders, and fold-out love seats.
3. Storage bins are your friend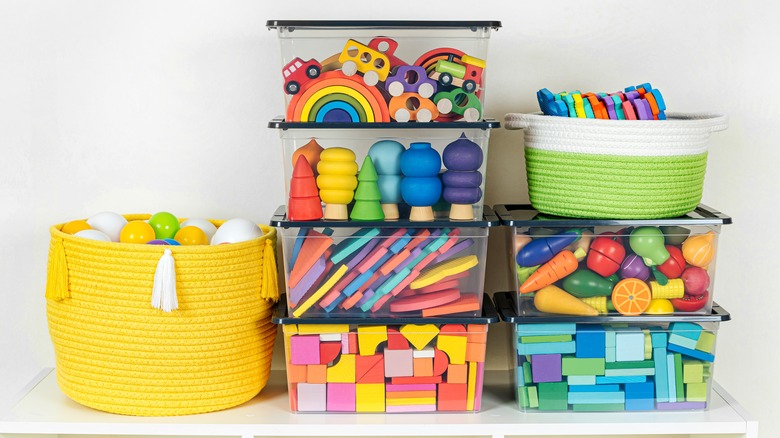 Igisheva Maria/Shutterstock
When sharing a room with a newborn, just know that storage boxes are going to be your friend when it comes to keeping your space clutter-free. Not only do bins stack well, but they're great at hiding all of baby's random toys and supplies (as well as all the diaper backstock that you'll most definitely have). Don't forget that your surplus office reserves should also be kept in storage until you need them. (By the way, labeling does wonders.)
4. Invest in multifunctional furniture
You're going to be in a very limited space, so it's best to use core pieces of furniture that also serve different purposes. Footstool with storage? Yes. Miniature cradle that grows with baby? Even better. Dresser that turns into a changing table? You're thinking sharp. Desk that folds flat against the wall when not in use? You get the idea.
5. Use wall space to your advantage
You're stuck with only a certain amount of square footage, but you're also surrounded by four walls. Think vertically and put that space to good use. Using stuffed animal nets in the corner is also a great way to hide lighter items. Don't forget that the back of the entryway and closet doors, as well as the side of the crib, are also fair game when it comes to vertical storage.
6. Keep furniture compact
Travel-sized furniture is easily transported, can be stored away when not in use, and is smaller than normal-sized items (but still does the job and does it well). Because of its scaled-down stature, portable furniture can also give your space the appearance that it's bigger than it really is. You don't need a full-sized desk, because any excess space can potentially turn into a breeding ground for clutter.
7. Create a common ground
You need to have your own zone and baby needs theirs. But you also both need to meet somewhere in the middle. Having common ground unifies everything in the room. The easiest way to accomplish this unification process is to have a bookshelf double as a holding area for small, personal baby toys. It should also hold some of your important items, too. Be sure to securely fasten the bookshelf to the wall, and use earthquake putty for items that you're worried might easily fall off.
8. Have mama and baby essentials area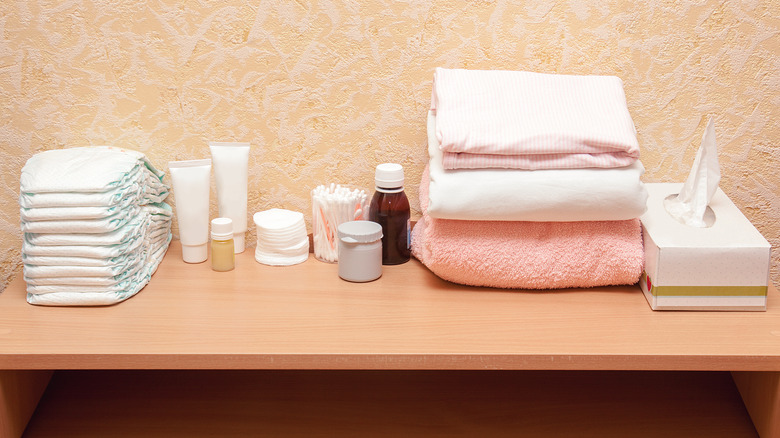 Alina Reynbakh/Shutterstock
This was once your office, but now it's technically baby's room (and you're just hunkering down there for the moment). Make sure to keep items that are purely for baby, namely a crib, rocker, blankets, and if you have space, a dresser with changing table. You might also want a diaper pail and a caddy for diaper-changing essentials. Try to keep technology to a minimum. Store your printer and any extra monitors in a closet, but make sure you've got a nice supportive chair and a workable space.
9. Dedicate one corner of your nursery
Just because baby is the first priority doesn't mean that they can take over the entire office space. In order to set some boundaries early on, make sure that one part of your office is designated solely to your offspring, and that there's also enough territory for you as well. This will help you keep your work and personal life as separate as possible while baby grows up. It will also keep you motivated to keep working.
10. Get a sound machine
Of course the sound of you typing away on your keyboard could lull baby to sleep. It could also do the exact opposite and keep baby awake (which means lots and lots of crying). If you're going to be bunking with baby for a while, do both of you a favor and get a white noise machine. This will dumb down any sudden noises or the clickity-clacking of your keyboard fingers.
11. Invest in a sturdy baby gate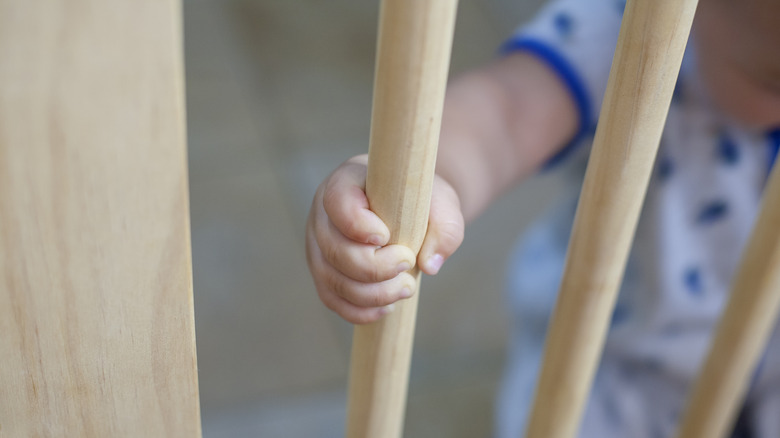 WH_Pics/Shutterstock
In the event that the rest of your home isn't fully baby-proofed, it's a great idea to install a baby gate in the doorway to your office. You're just preparing them for what it will be like in the workforce. All joking aside, a good baby gate will keep your little one safe as a second round of security. If they happen to get out of their crib while you're taking a quick break, this will prevent anything bad from happening. Look for gates that have the JPMA seal of approval.