HGTV's Egypt Sherrod And Mike Jackson Talk Married To Real Estate Season 2 - Exclusive Interview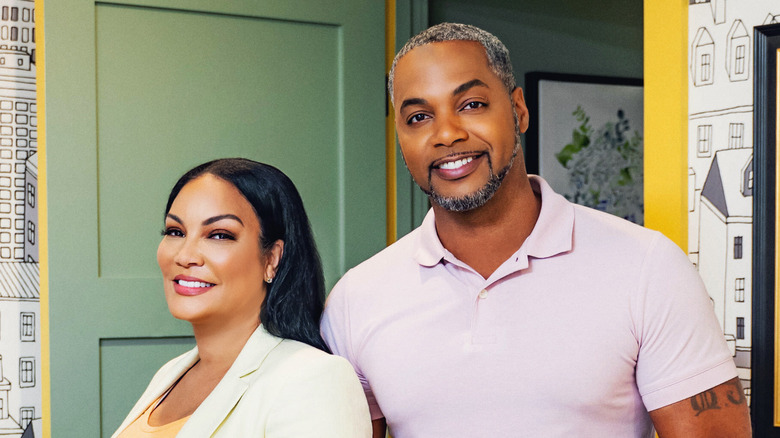 HGTV
HGTV's power couple Egypt Sherrod and Mike Jackson are back with another season of their breakout hit series "Married to Real Estate."
As a market-savvy real estate broker with a keen eye for design, Sherrod scouts the Atlanta area and discovers hidden gem properties for her clients, helping them reimagine what it could be. Utilizing her financial expertise, Sherrod guarantees her clients find a home that they not only love but also one that is a smart investment. Then, incorporating her unmistakable eye for style, she helps punch up the aesthetic of the home with some thoughtful renovation as Jackson, her expert builder husband and business partner, heads up the construction and works to bring the entire vision to life. Together, the duo helps properties realize their "dream home" potential and prove to clients that with a little imagination and a solid investment plan, the home of their dreams doesn't have to be out of budget.
In an exclusive interview with House Digest, Egypt Sherrod and Mike Jackson discussed Season 2 of "Married to Real Estate" and offered buying and renovation advice for homeowners and homebuyers.
What to expect from Season 2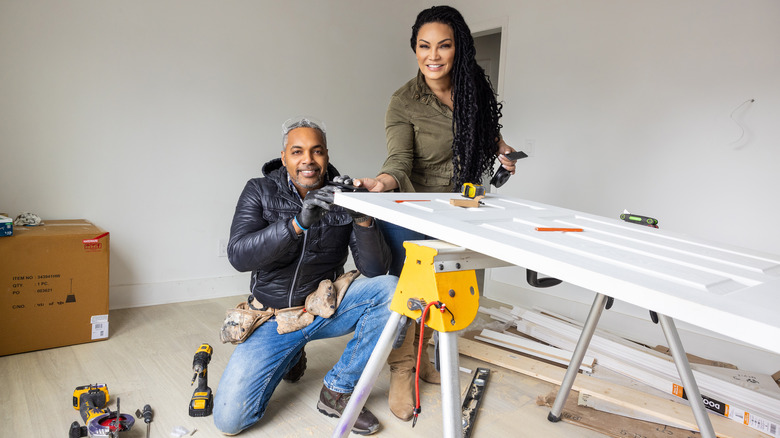 HGTV
Congratulations on the premiere of Season 2 of "Married to Real Estate." In what ways will Season 2 be different from Season 1, and what can viewers expect to see this time around?
Egypt Sherrod: You do get more of the same transparency, the same humor. It's Mike, it's Egypt, it's the kids, it's the family — we're having fun and we're living life. What may be different is the natural course of the economy. We're all in an inflationary period — that's no surprise — so the cost of everything has gone up, and we don't skirt around that. We're very much in the real world and having to deal with doing renovations that are now adjusting because of the economy.
Now, we've been forced to get even more creative. There's more DIY because we have to be able to subsidize these projects as well. Mike will tell you that there are some unexpected twists and turns in construction as well.
Mike Jackson: Yes, there is. Speaking on the construction part, you get to see a bit more exterior projects in this season. You get to see Serene grow up, our dog. You get to see Harper get potty trained and that fiasco —
Sherrod: Or did she? There's that. Since Season 1, we also competed on "Rock to Block" and we won, so that's fantastic — and trust me, we're excited. But there's a lot of pressure because you won. Now that means we have to put more pressure on ourselves, even more so for Season 2 of "Married to Real Estate," banging out even more incredible designs.
Without giving away any secrets, are there any moments from filming this season that you are excited to watch back or to have fans see?
Sherrod: Yes, I am. There was a bit of a sentimental moment for me as a mom. Not to give too much away, but I believe folks see it by Episode 3. We had to have a bit of a ceremony to graduate one of our children from one thing to the next. Parents across the globe are going to fully be able to relate to this moment. I almost shed a tear, but I'm really excited to see that.
Jackson: There's an episode that deals with a lot of mud I'm interested in seeing.
Sherrod: I can't believe you did this to me. You wait till you see it.
The design approach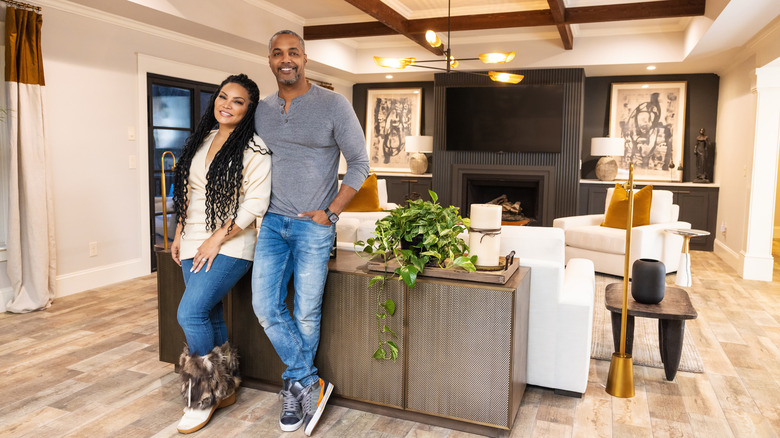 HGTV
Can you walk us through a little bit of your overall design process? Why do you think your approach works so well, and why does it set you apart?
Sherrod: My design process is more ... it starts with observation. It's observation of the client's needs and wants, their particular style and taste. Then we let the house tell us what it needs as well. I spend a lot of time [and] Mike spends a lot of time checking out the house to make sure it's structurally sound to determine how much budget I can put toward design versus things that are necessary.
Once we have that, we try to get to the bones of the house, figuring out how much we can save versus going in and gutting everything. What's here that we can work with and make an asset to the home, versus tearing everything out and making it brand new? Because that's boring. After we've done that, we layer in on top of layer the things that are going to add value. That's where that comes in.
We want clients to have a big return, not just an aesthetic and quality of life return, but an actual financial return. We go there with it first, and afterward, it's how we can have fun in DIY and help them bridge the gap between the look for less and keeping their budget to something that's palpable.
How to make the most of your space and your budget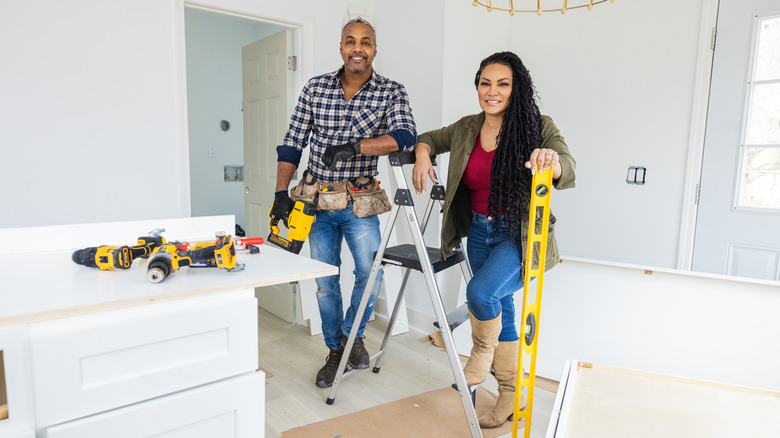 HGTV
What are some of the easiest ways homeowners can increase the value of their home?
Jackson: One of the go-to ways is adding some square footage if you can, any way you can. Square footage is a go-to.
Sherrod: Your comparable for a 3000-square-foot house versus a 3,500-square-foot house is going to be different, period. That's the easiest, most common way to know that your house is going to appraise for more. After that, wherever you can add bedrooms and bathrooms — you may start with a three-bedroom, two-bath house, but by the time we're finished, it's now a five-bedroom, three-and-a-half bath, so you have a totally different house. Those are the quickest ways to add value, but that's just financial. What about quality of life? [Those are the] things you're actually going to enjoy, use, and need while you're living in it.
On "Married to Real Estate," you use your real estate savviness to help clients move into their dream homes at an affordable price. Do you have any real estate advice for homebuyers looking to get the most out of their budget when purchasing a home?
Sherrod: It starts with making a smart decision about the right house and getting honest quotes upfront. That way, you've not lost money from the door. That's number one. Spend money where you're going to make the money. Kitchens and baths, we all know, help homes sell, and they add beautiful aesthetic value to a home. There are projects you can do yourself.
Jackson: I get asked all the time before clients even purchase a house, "Do you mind coming to look at this property and giving me an estimate on what certain renovations would be?" They did their proper planning before they even chose the house. Now that we're in the house, they say, "How can we save money without doing much?"
I tell them, "What rooms are you going to be in the most and make you feel good when you come home?" Put money into your energy. Let's go into the kitchen. Let's spray these kitchen cabinets instead of replacing them. We're going to save a lot of money there. Use what you have with what you have.
Sherrod: On average, a kitchen renovation — depending on size — can range anywhere from $45 to $75,000. But if you're just replacing hardware, and you're keeping the cabinets and you're spraying them, now maybe you spent $3,000 instead. That's a nice way to get a lot of value and keep money in your pocket.
Details Sherrod and Jackson look for in a home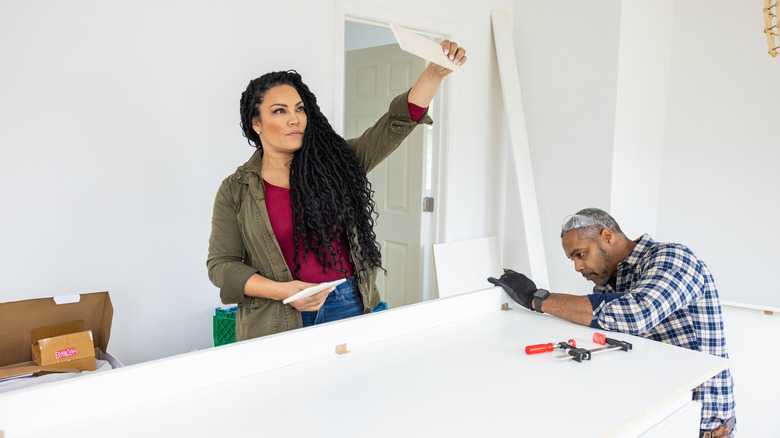 HGTV
What design aspects do you encourage your clients to look for when buying a house or that make you excited to see when walking into a house?
Sherrod: Something that's very expensive to do. Anything that has to deal with changing the structure or roof line of the house can be very expensive to do, so I love when clients find homes or I walk into a home and see high ceilings and great big windows, because the value of natural light is underrated. Anytime you can bring in natural light and you have tons of windows, it's wonderful.
We have done a house — I think you'll see this in this season — we walk in and it's gorgeous. All this natural light floods in, but all of the windows needed to be replaced. It can be pricey, but it's also great for return. Again, that's something that feeds to all three. When I talk about value, financial return, it feeds into your aesthetic value and to your quality of life. It's proven [that] vitamin D is good for your body, especially when more and more people are working from home.
Jackson: For me, it's the boring part. As a contractor, I look for a solid foundation. I look for good units being in place because those are the things that are hidden, but they can hit your pocket pretty hard. If you got a good HVAC that's working and you got a solid foundation, no cracks, the roof looks good — listen, everything else we can build and work on later. As long as those three things are working, we're good.
Do you have any design trends that you're obsessed with right now?
Sherrod: I'm a little bit obsessed with all of the hidden appliances and hidden functions of kitchens where you don't even see the stovetop, or you don't see the sink because the actual countertop elongates over top of it and you've got to press the button and everything retracts. I'm sure if you ask my husband, he's going to say everything's smart and technology-driven too.
Jackson: Exactly.
The couple's connection and upcoming plans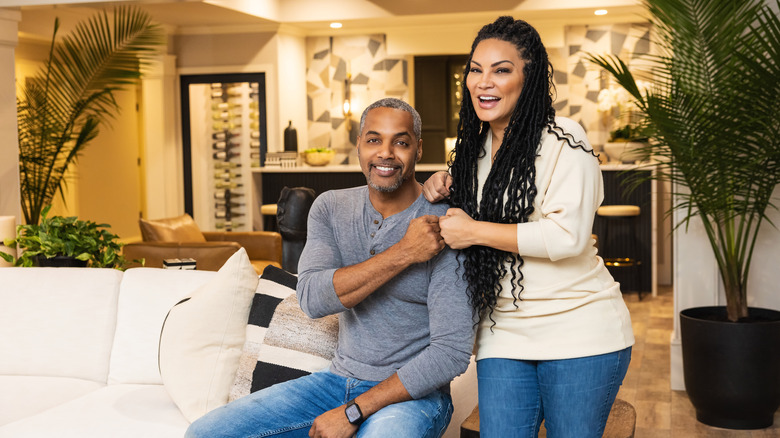 HGTV
What are your favorite parts about being business partners with your spouse? Are there moments that are more difficult than others?
Jackson: I get to wake up every morning and see this beautiful woman beside me and know that I get to tell her what to do.
Sherrod: I thought it was the other way around; what are you talking about? No — it's truly being able to do what we love, what we're passionate about, with the person we love. We've been together for 18 years. That's a long time.
Are you working on any projects right now outside of the show?
Sherrod: We are working on a podcast. As a matter of fact, we just aired the second episode of it. It's called "Marriage and Money with Egypt and Mike." It's available on Amazon, Spotify, Google Podcasts ... Everywhere you get your podcasts, you can find us, but you can also watch it on YouTube. It's been exciting and fun, and it's building a little cult following already of other couples who want insight and want a community of people to laugh with about life and about business. It's a lot of fun for us.
New episodes of "Married to Real Estate" air Thursdays at 9:00 p.m. ET/PT on HGTV and are available to stream the same day on discovery+. You can also watch the couple compete head-to-head against other renovation experts by streaming Season 3 of the hit series "Rock the Block."
This interview has been edited for clarity.