The Viral Dishwasher Foil Hack: It's Minimal Effort But Gets Minimal Results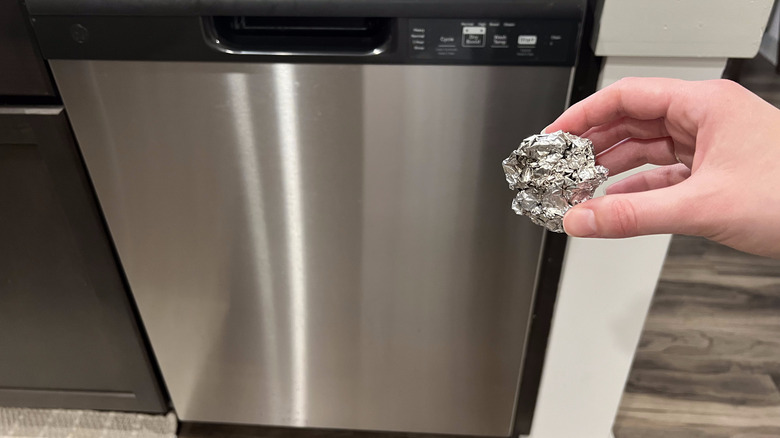 Darby Wagler/House Digest
Perhaps you've heard about this popular trick to make silverware shine: Wrap each piece in aluminum foil and place them in a pot of boiling water with baking soda to remove all the tarnish (via Everbrite Coatings). However, a much simpler method has been gaining popularity on TikTok — one that doesn't require you to wait for water to boil or to wash a pot after you're finished. It works the same way as the old approach but uses a dishwasher and detergent instead of boiling water and baking soda. Also, you don't have to cover your dishes in foil; Instead, simply placing a ball of it next to your silverware will leave it sparkling. 
With over 2.8 million followers, TikTok user "Carolina Mccauley – Home Hacks" is no stranger to viral cleaning techniques. However, some of the comments on the video in question were skeptical about how this could work. One account sought to explain the phenomenon: "[A] chemical reaction from [a] dishwasher tablet and the aluminum foil. This should work!" To see if this hack actually does, we tested it out for ourselves. Like the commenter, we were hopeful to see sparkling silverware after all was said and done. 
What you'll need to try the hack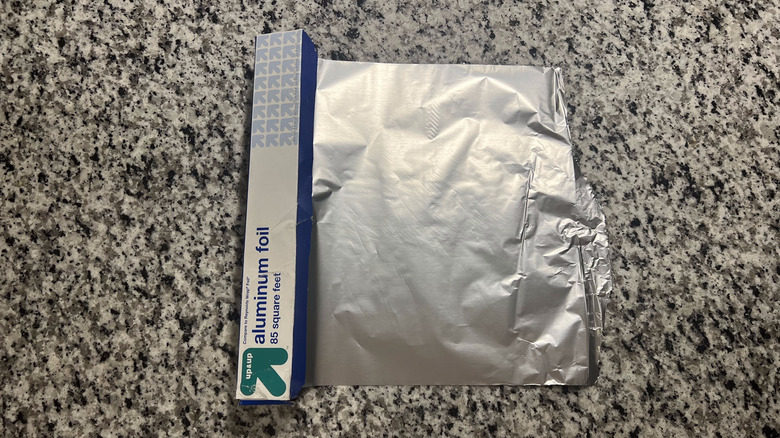 Darby Wagler/House Digest
To complete this hack, you'll need one simple item commonly found in the kitchen: aluminum foil. Tear off a small sheet and crumple it into a ball. While you can use any brand, we used Up & Up, which you can purchase for under $4 at Target. When forming the ball, keep the size of your dishwasher's silverware basket in mind, as it should be able to fit inside one of the compartments along with some utensils. Naturally, you'll also need a dishwasher, dishwasher detergent, and unpolished silverware.
Because the foil is reusable, you should be able to use the same ball for multiple dishwasher cycles, which will save you money and also contribute to a more sustainable kitchen. However, while there's no set amount of times you can reuse this material, you may want to use a fresh sheet once the ball begins showing signs of wear and tear.
How our test went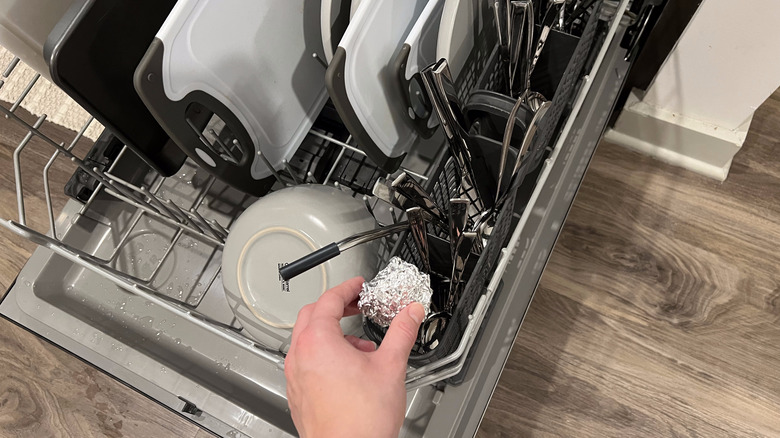 Darby Wagler/House Digest
A huge benefit of this hack is that it's incredibly easy to accomplish and doesn't hinder how you load silverware into your dishwasher. All you do is place the ball of foil inside one of the compartments of your silverware basket, put in the detergent, close the door, and start the dishwasher. Once the cycle is over, you can remove the ball of foil along with your other dishes.
When we tested this hack, we followed the above steps and noticed a slight improvement in appearance as we removed the silverware. To see if the trick made any difference, we compared the silverware before the cycle to how it appeared afterward. While the unpolished pieces looked dull and had some water marks, they had a bit of extra shine once they were washed with the foil. While we wouldn't say it was extremely noticeable, this hack undoubtedly made a difference.
Did the hack live up to the hype?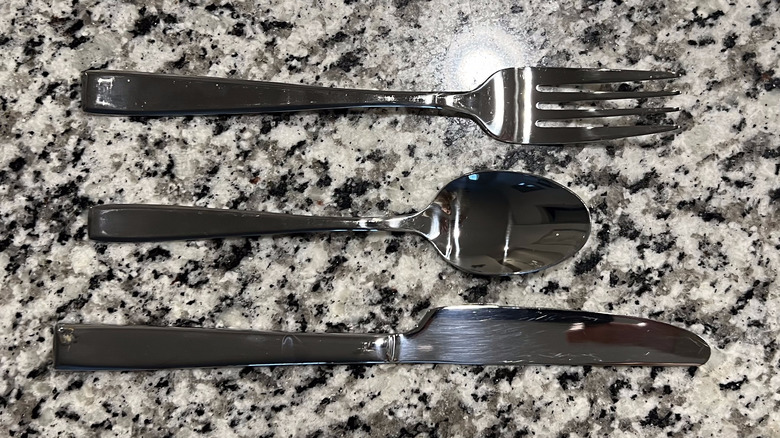 Darby Wagler/House Digest
As stated, this hack did what it said it would do — it made our silverware look more polished. However, while the TikTok by McCauley displayed a massive difference between the before and after, this wasn't the case for us. While our silverware did appear a bit shinier, the pieces still had some noticeable marks and scratches, as you can see in the above photo, which was taken after the test. Therefore, while this method will improve the appearance of your silverware, it's definitely not a miracle worker that can revive ancient, neglected forks and spoons. 
At the same time, since this hack is so easy and inexpensive to complete, the minimal results may be worth it for some. For instance, it may be worthwhile if you're having guests over or your silverware is quite old. It's also much easier than the alternative of wrapping each piece in foil and placing them in a mixture of boiling water and baking soda.