The Position Of Your Couch May Be The Key To Making Your Living Room Look More Expensive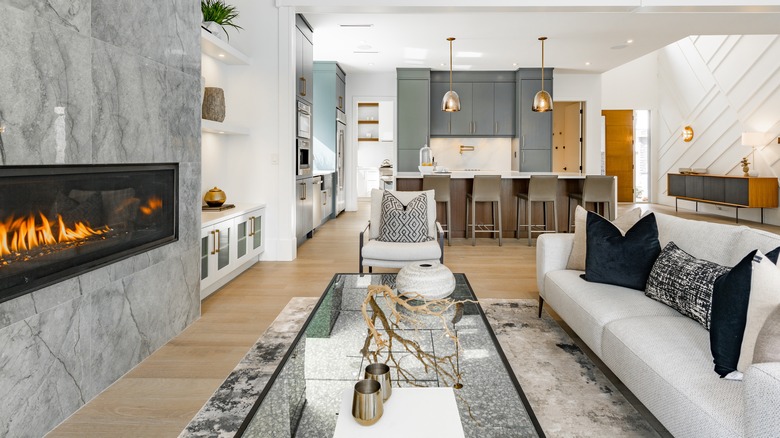 Sheila Say/Shutterstock
The living room is one of the most important spaces found inside a home. It's the area where you serve and entertain guests, and maybe even relax and socialize as a family. According to Virtually Staging Properties, as one of the most commonly used spaces, the living room sets the tone for the remainder of the house. Therefore, this room should emit a vibe that is both cozy and classy.
One of the focal points of any living area is the couch. It's probably the most expensive piece of furniture inside the room and likely garners the most use, notes Newman and Bright. As such, it acts as your living room's anchor, serving as the base that you'll use to style the rest of your space. Designing a living room is no easy feat, but you don't need to be a professional to craft an aesthetically pleasing space that works for you and your family. If luxury is your desired vibe, there are plenty of design choices at your disposal that will give the room that opulent flavor, many of which begin with your couch. Here are some examples of how the position of your living room couch, along with the other furnishings surrounding it, can make your space look and feel more expensive.
Avoid hugging the wall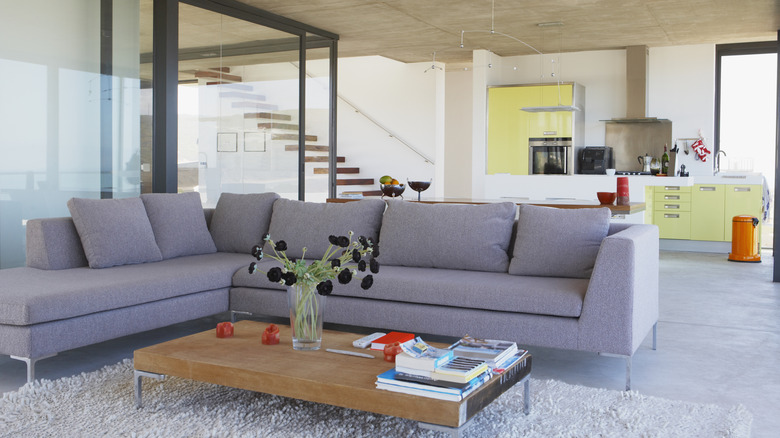 Tom Merton/Getty Images
When designing the floor plan of your living room, it may feel tempting to place the back of your sofa directly against a wall, either to generate greater distance between the seating area and television, or to make the rest of the room feel more spacious. Redesign4More states that doing so can make individual furnishings within the room feel isolated or closed off. To craft a space that is comfortable and encourages conversation between guests, try floating the couch instead by pulling it away from the corners and walls and closer to the room's center. Floating furniture is an easy way to add a sense of division to an open concept layout. Try positioning yours as a makeshift wall so it will act as a border separating a combined dining and living area. 
Floating your sofa is a must when working with modern styles, says Living Etc. Implementing a curved sofa in your living room floor plan is an effective way to add an expensive touch to the space. These sofas should be positioned so that they can be admired from all angles, including from the back. Pulling your modern sofa away from the wall allows your guests to enjoy the statement piece from any and all perspectives.
Play around with symmetry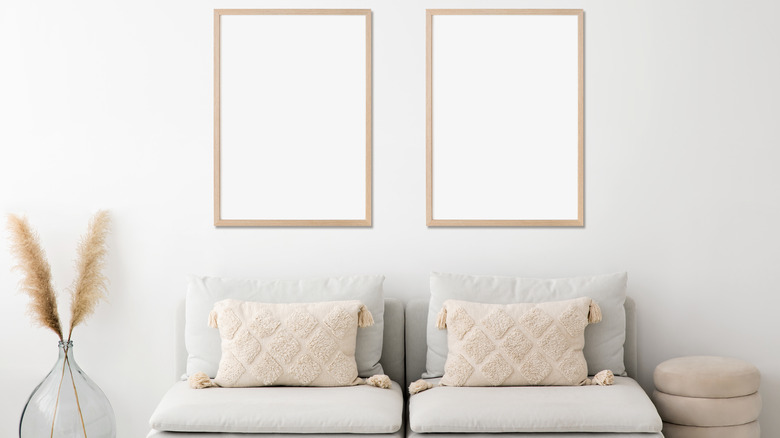 Poike/Getty Images
Homeowners can position their living room furniture symmetrically or asymmetrically, depending on the shape and purpose of the space. According to Lux Deco, symmetrical designs inspire harmony and balance within a room, while asymmetrical designs invite a comfortable informality. The layout you choose to implement also depends upon the furniture options you have at your disposal. Go for symmetry if your living room already features symmetrical architectural elements, like pillars or built-in shelving. This also works for someone who likes to purchase furniture in pairs, whether they be sofas, side tables, or chairs. On the other hand, opt for an asymmetrical plan if you want to incorporate a wider variety of furnished pieces into your living room, or want to create a space that is easier to rearrange and maneuver around.
Better Homes & Gardens adds that symmetry implies a living room is orderly, which is a trait commonly associated with expensive interiors. To achieve this look, arrange couches and other large pieces of furniture inside the space so that they sit opposite each other. You don't need to purchase a second identical sofa to achieve this sought after balance; From House to Home suggests using chairs as an alternative to create a sense of evenness within the space.