How To Modernize Monogrammed Décor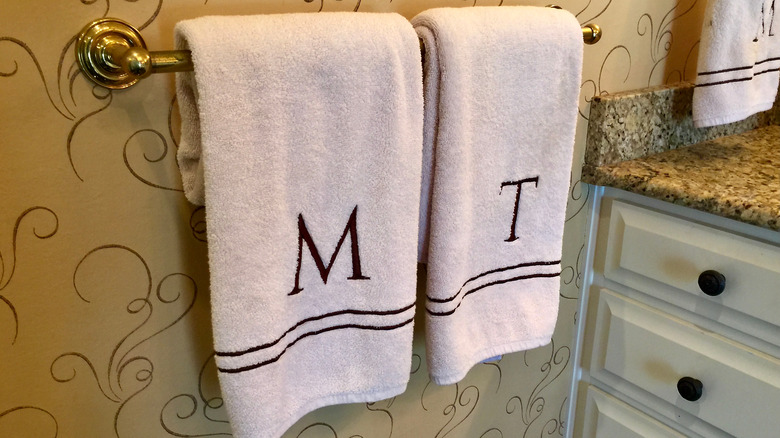 Mikey1SDF/Shutterstock
We may receive a commission on purchases made from links.
Monogrammed decorations are not only great gift ideas for newlyweds or staples in your grandmother's southern home — they can also be treasured heirlooms that families may pass down for generations and could elevate a home's style if used tastefully. Initials are typically either embroidered into textiles like napkins, towels, pillows, bedding, and blankets or carved into wooden or metal welcome signs hung on front doors. However, some also include them on things like upholstered furniture, luggage, dishes like plates and cups, or purely decorative pieces like wooden slabs. Most feature a cursive font with three initials to resemble a person's first, middle, and last name, with the middle initial being the largest.
You may have assumed that these pieces are only reserved for traditionally styled homes. However, that's not the case, as there are plenty of ways to modernize a monogrammed item. Many modern monogrammed items are also for sale, which could give your home a personalized touch. 
Try these smart techniques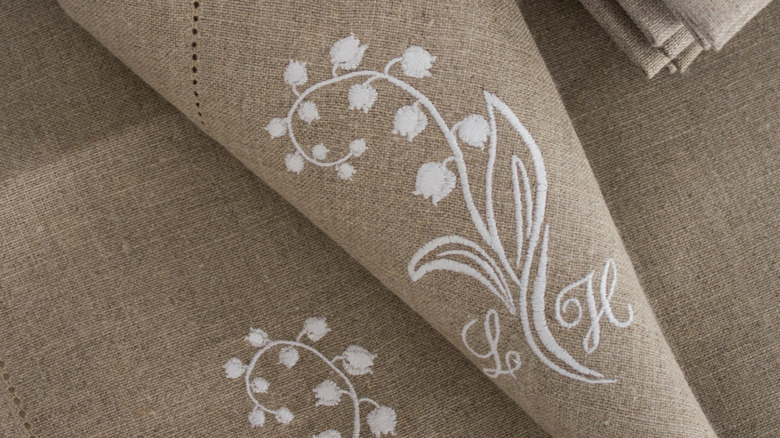 BeaKendra/Shutterstock
To use monograms in a modern-styled home, you'll want to minimize the use of these pieces and make the designs more subtle. Therefore, you could choose a blocky or simplified look instead of opting for a traditional style font. Likewise, opt between one and two words instead of three, or even write out an expression. For instance, you could have your full first name, last name, or any word you desire. A popular choice for couples is adding the phrase "His and Hers" to bathroom towels. Another way to modernize monograms is by implementing them in unexpected places — embroider the initials in the bottom left corner of a pillowcase or include two letters around a flower design on a napkin. Minimizing the font size can make it appear less pronounced and more contemporary.  
Those who have older-looking monogrammed textiles that want to revamp the look could cut out the initials and add them to something else, per The Scout Guide. Include a traditional font on a modern piece to create an exciting contrast.
Modern pieces to purchase
If you're looking to include modern monograms in your home décor, there are quite a few options on Etsy. As stated, while most older monogrammed pieces have a cursive font, newer items sometimes feature blockish scripts. Therefore, you could purchase a wooden sign with one letter carved out in this font style. Some also have a futuristic look by using fonts that curve the letters with the shape of the piece instead of making them stand out.
Those searching for modern textiles should lean into minimalist styles. For instance, some pillowcases only have the monogram off to the side instead of having the initials cover the entire surface. Another example is making the letters match the color of a hand towel in the bathroom, adding subtle interest that doesn't draw too much attention. Finally, your last name in a curvy font could be added over a chunky initial on something like a decorative cutting board.