35 Creative Ways To Incorporate Blonde Wood Into Your Home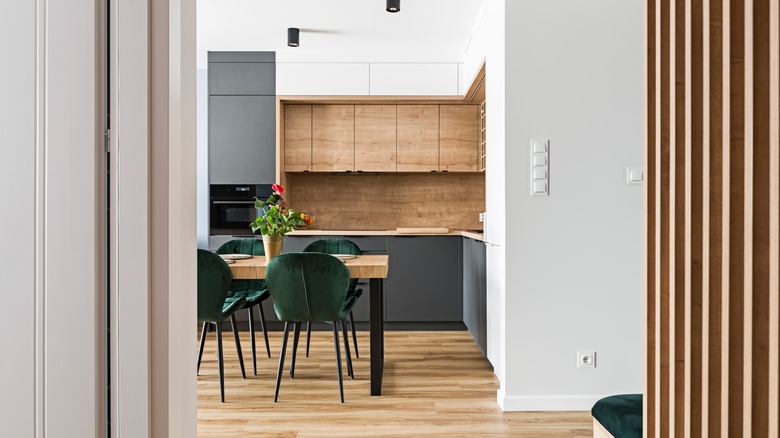 ErFishOn/Shutterstock
A home is undoubtedly an oasis, the place you go to get away from it all, so creating an aesthetically pleasing and functional environment is incredibly important. When designing your spaces, If you're drawn to light blonde woods, consider selecting birch, oak, maple, or pine, which looks beautiful in just about any room in your home, including kitchens, bathrooms, bedrooms, and other living spaces.
The Identité Collective agrees, calling this wood tone versatile, saying that the sophisticated hue looks great on countertops in the bathroom as it would on cabinets in the kitchen — the room that brings the family together. The company notes that this wood style works well in modern homes or rooms with a little bit of kitsch, so if your style is boho, this is an excellent choice. Blonde wood on floors can also give the illusion that your room is larger than it is since it reflects sunlight, and the color helps hide dust and dirt, too, according to T&G Flooring. If you're inspired, keep scrolling to see ultra-creative ways to incorporate these gorgeous blonde wood tones into your abode!
1. A luxe country home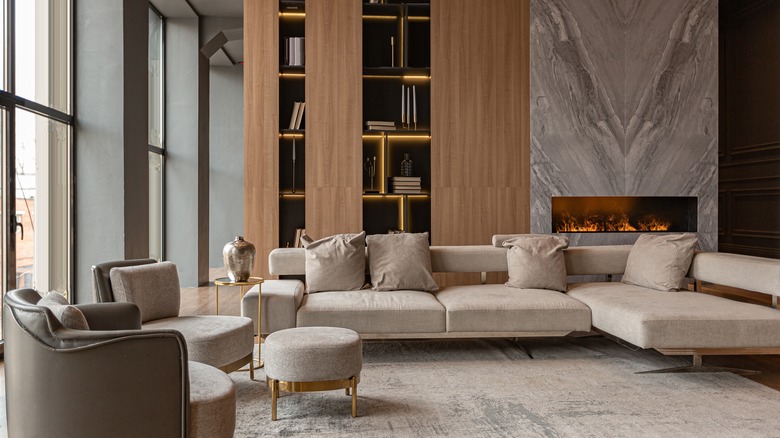 Pinkystock/Shutterstock
Who says your country home doesn't need to be luxe? This elegant rural retreat has a modern look and brings in blonde wood, making it the perfect backdrop to the living space.
2. Blonde wood flooring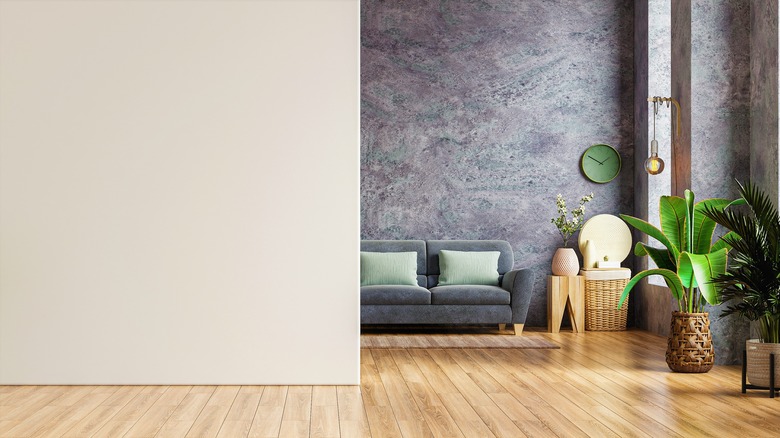 fazilran1234/Shutterstock
One of the best ways to infuse warm, light wood into your space is with beautiful flooring. Whether you choose bamboo or maple, consider selecting medium-sized planks to have your room stand out. Blonde wood also really pops against the darker-colored gray walls and furniture.
3. Just a touch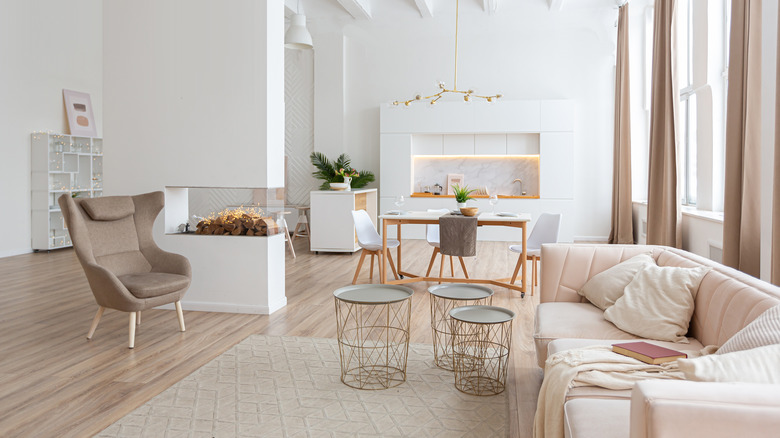 Pinkystock/Shutterstock
Besides the blonde-hued flooring, you could add a touch of light wood to your space with a simple yet elegant dining room table.
4. Black and blonde wood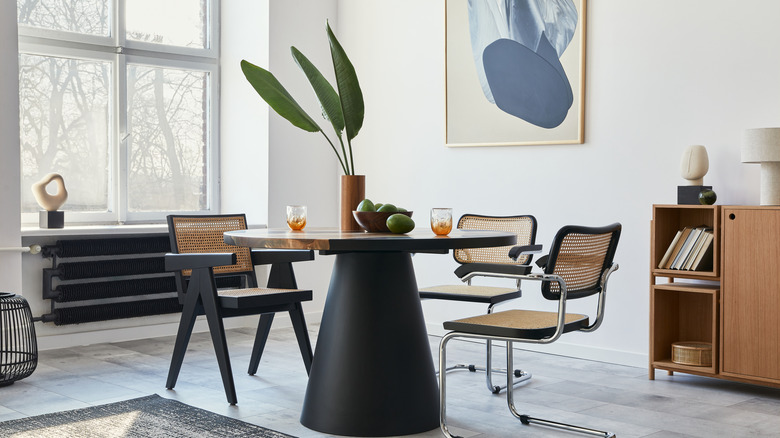 Followtheflow/Shutterstock
Think about featuring black and blonde furniture pieces. It goes perfectly together and looks so modern in this dining room.
5. A dark and light kitchen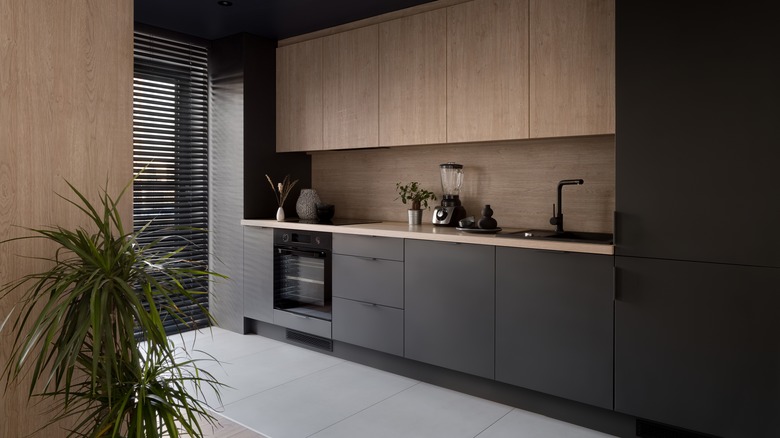 Dariusz Jarzabek/Shutterstock
Here's a kitchen with light wood cabinets on the top and dark, mysterious gray cabinets on the bottom half. A deep paint color on the ceiling and the other nearby accent wall ties the entire room together.
6. Blonde all over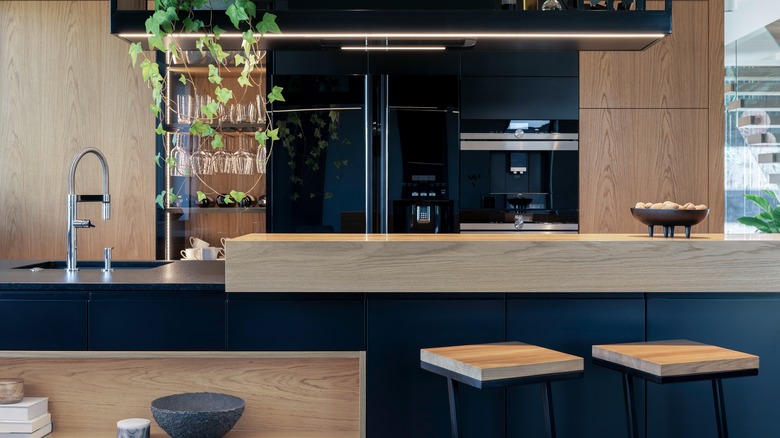 Followtheflow/Shutterstock
For the over-the-top personalities, consider featuring blonde wood all over your kitchen, from your cabinets to your countertops and even on your bar stools.
7. Natural elements
Followtheflow/Shutterstock
A beautiful way to incorporate blonde wood into your home is by bringing in a natural piece of furniture like this gorgeous table that shows all of the rough edges.
8. A massive desk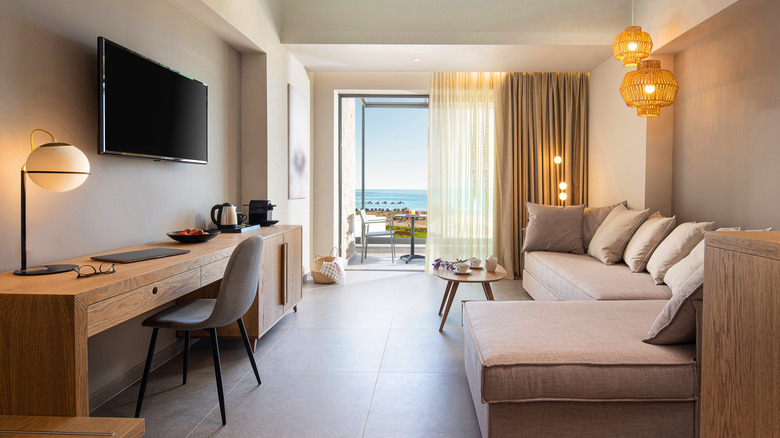 George Tsamakdas/Shutterstock
If you can look away from that spectacular ocean view, take a gander at that light wood desk that takes over an entire wall. It looks beautiful, and there's space for displaying your favorite items, too.
9. Light furnishings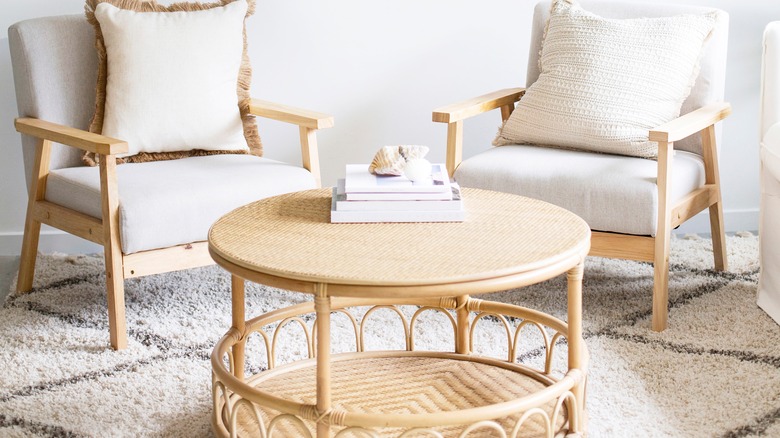 Amy Richmond/Shutterstock
One way to celebrate your light woods is by focusing on your furniture. This beautiful set features two side chairs with plush neutral cushions and a blonde round table in the center.
10. Get boxy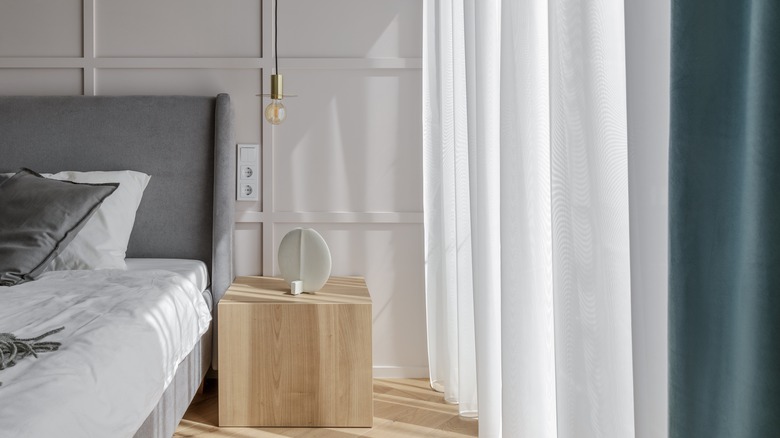 Jevgenija ZUK/Shutterstock
A minimalist bedroom doused in gray brings simplicity back to the forefront. The boxy, blonde, wood side table is ideal for a stack of books to enjoy at bedtime.
11. Scandinavian elegance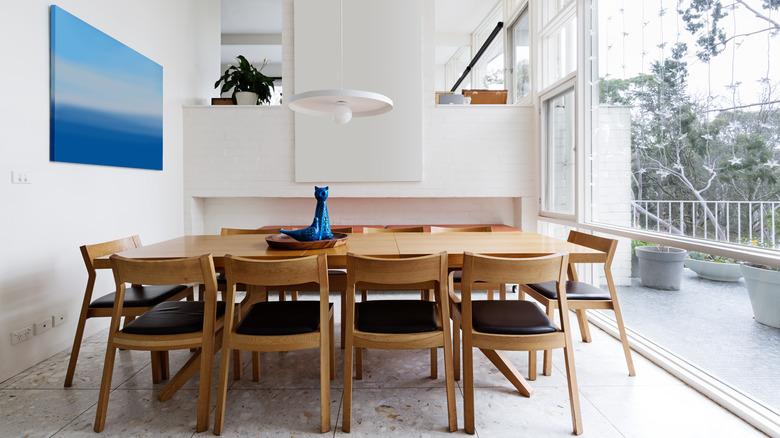 Jodie Johnson/Shutterstock
An all-white dining room with floor-to-ceiling windows looks exquisite with this mid-century modern Scandinavian-style dining room table. It's a simple yet sophisticated way to bring blonde wood into this space.
12. A wood beam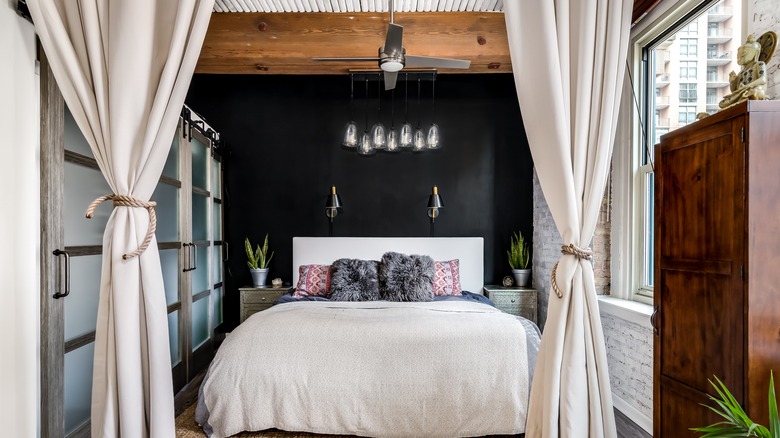 Hendrickson Photography/Shutterstock
An otherwise modern bedroom comes alive with a lightened wooden beam across the ceiling, bringing a rustic feel.
13. A movable wood island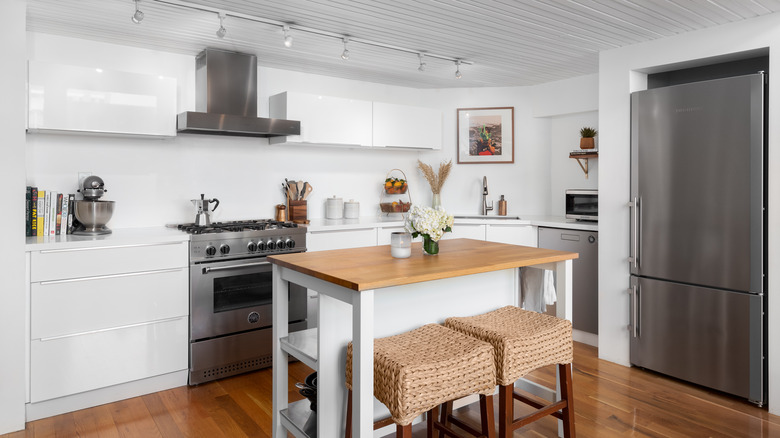 Hendrickson Photography/Shutterstock
A simple all-white kitchen with shiny cabinets and stainless steel appliances features a movable island topped with light wood paired with rattan seating.
14. Living large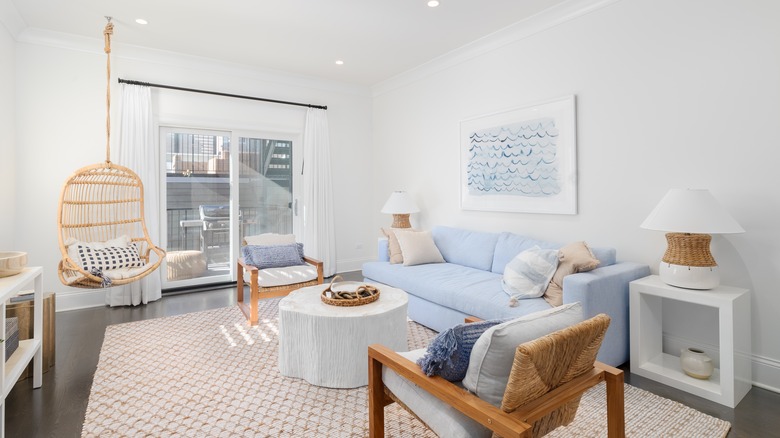 Hendrickson Photography/Shutterstock
A gorgeous living room with a baby blue couch and white side tables look beautiful with blonde wood accent chairs that are sure to get the conversations going.
15. Boho bathroom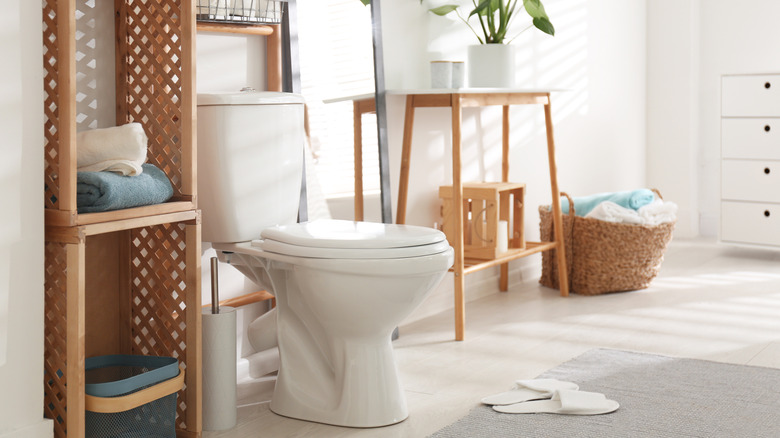 New Africa/Shutterstock
This bohemian-style bathroom has the prettiest blonde-colored shelf for towels, while another light wooden simple shelf is the perfect spot for a thriving plant.
16. A beautiful block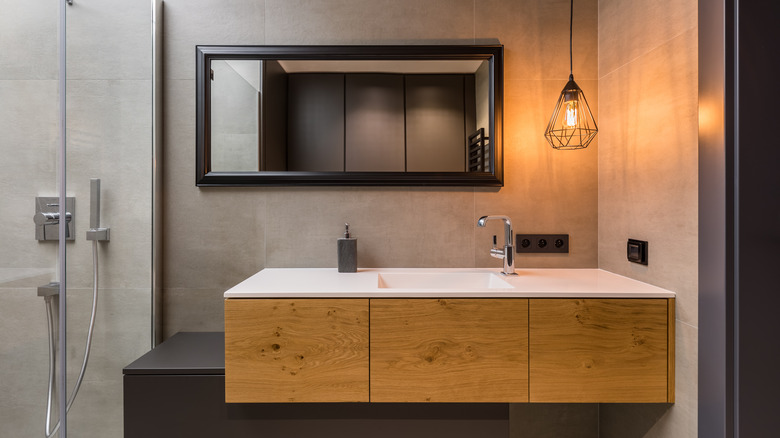 Dariusz Jarzabek/Shutterstock
The floating bock-like vanity is such a sophisticated option in a bathroom. The simple black-framed mirror, neutral walls, and modern hanging light make this bathroom shine bright.
17. Mixed up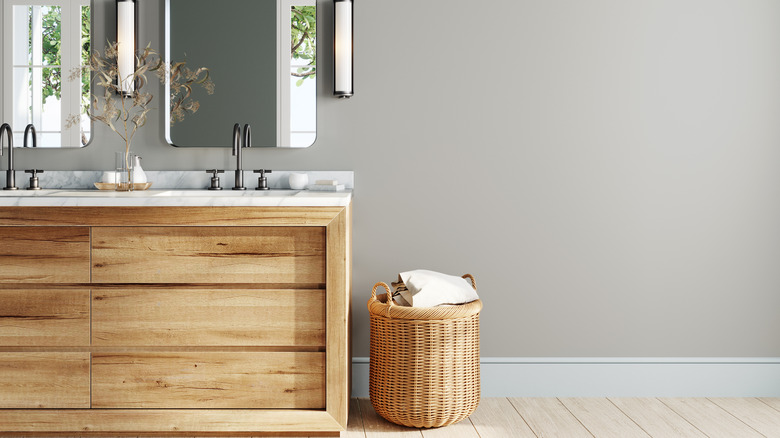 Ilija Erceg/Getty Images
Here's a bathroom that brings modern elegance to the forefront with a marble-topped vanity with natural light wood covering its front. It has updated mirrors, a sconce, and a wicker basket to finish the look.
18. Into the light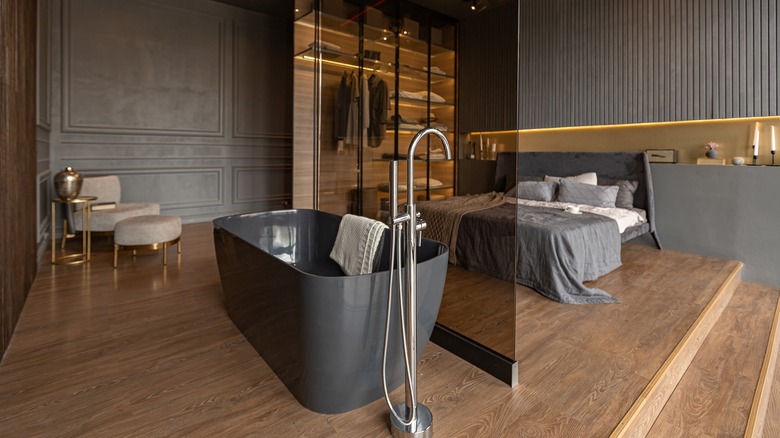 Pinkystock/Shutterstock
Sophistication emanates in this boudoir. An entire wall features an open shelf closet with blonde wood lit up by LED lights to make it modern.
19. An interesting pattern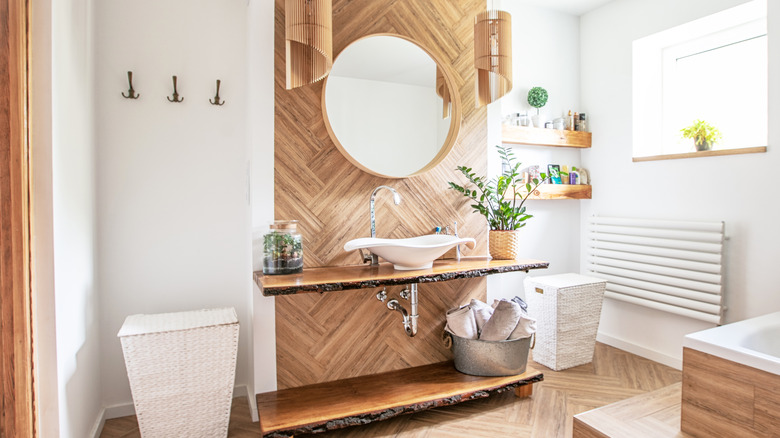 NeonShot/Shutterstock
The herringbone pattern stands out as the backdrop to this floating sink vanity. This gorgeous accent wall features all light wood that goes up to the ceiling, making the overall room feel larger.
20. Room divider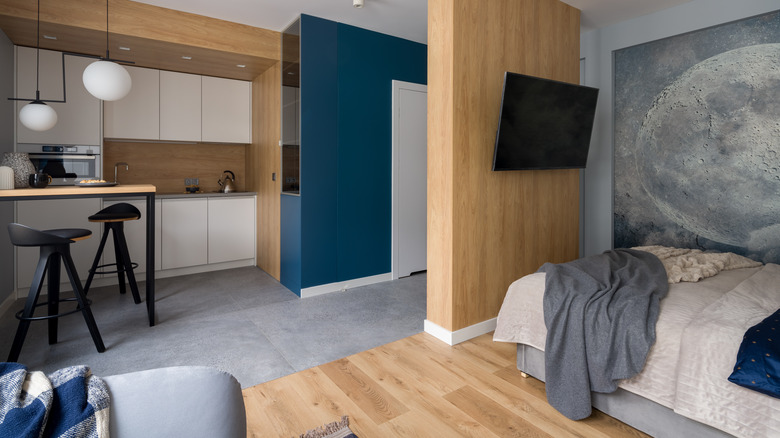 Dariusz Jarzabek/Shutterstock
This tiny studio apartment brings in blonde wood with the room divider that separates the bedroom from the kitchen and also features gorgeous light flooring.
21. Tons of beams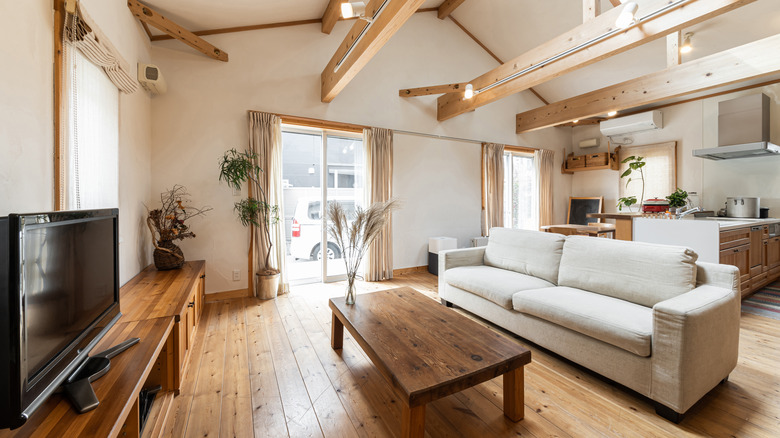 mapo_japan/Shutterstock
Besides installing gorgeous and natural large-planked floors, the homeowners used many architecturally-intriguing wood beams for their living room, making you want to do nothing but look up!
22. Focus on the ceiling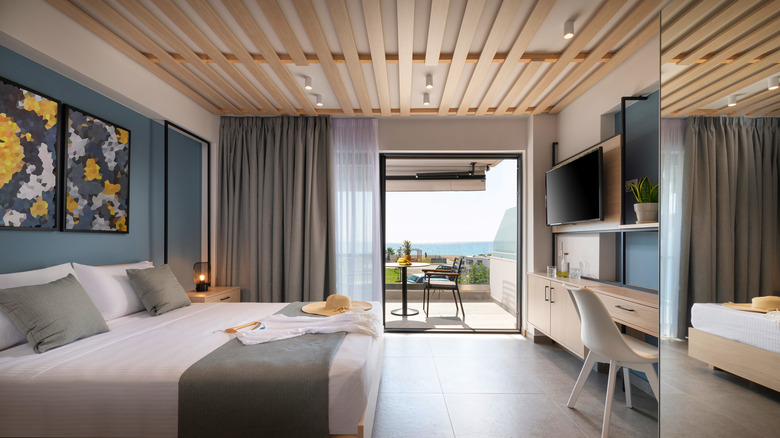 George Tsamakdas/Shutterstock
An otherwise basic bedroom looks stunning, with thin wood planks covering the ceiling. Of course, you can appreciate it if you stop staring at the massive floor-to-ceiling windows.
23. A bathroom with a blonde wood ceiling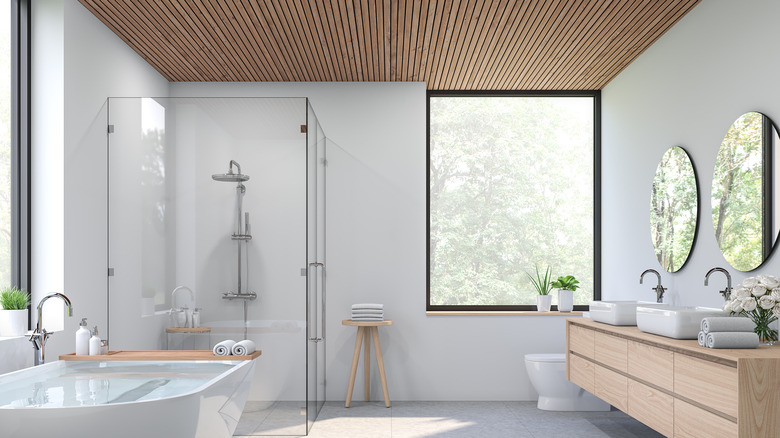 Runna10/Getty Images
Just like blonde wood looks gorgeous in a living room, bring light wood planks into the bathroom, covering the ceiling for a natural and sophisticated look.
24. A spotlight on the dining table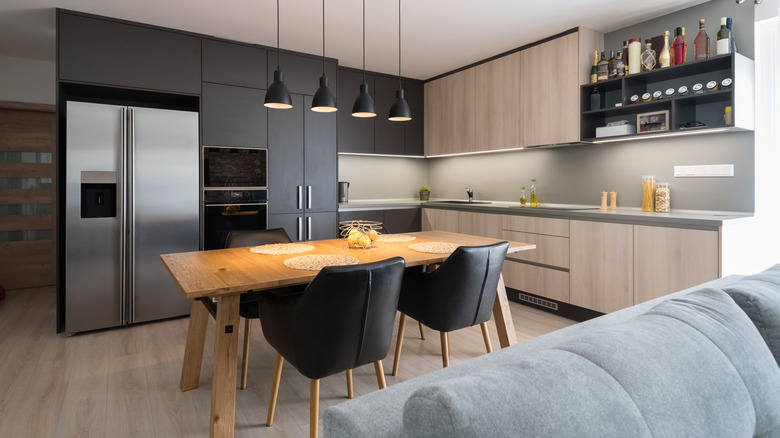 Ventura/Shutterstock
Sometimes all a modern kitchen needs is a little warmth, which is quickly done by selecting the prettiest blonde wood table for your party of four.
25. Modern fireplace wall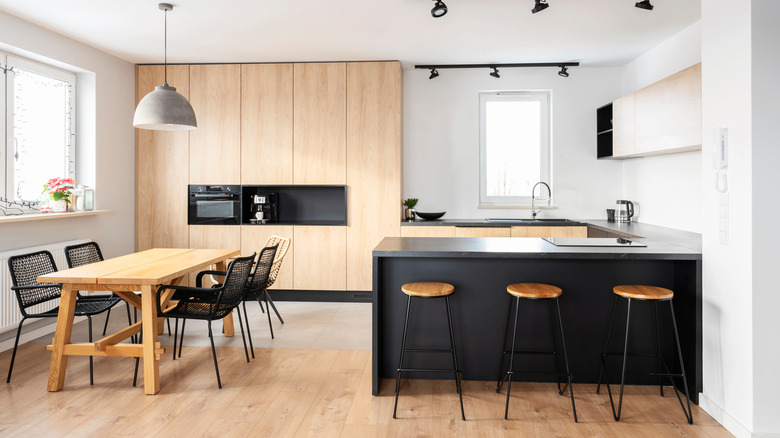 liloon/Shutterstock
These homeowners mixed light wood with black countertops and chairs that look incredible against the floors, table, and gorgeous fireplace wall.
26. The simple life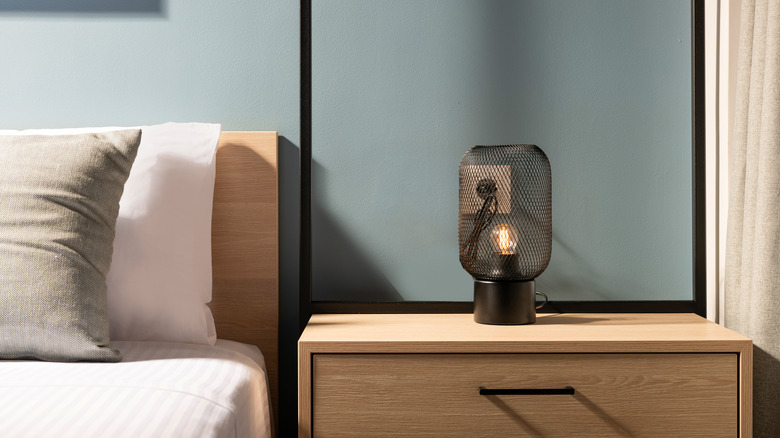 George Tsamakdas/Shutterstock
An easy way to bring in light wood is by choosing a simple dresser for your bedside and topping it with a modern, black, and metal Edison bulb lamp to make the room seem extra chic.
27. Rustically modern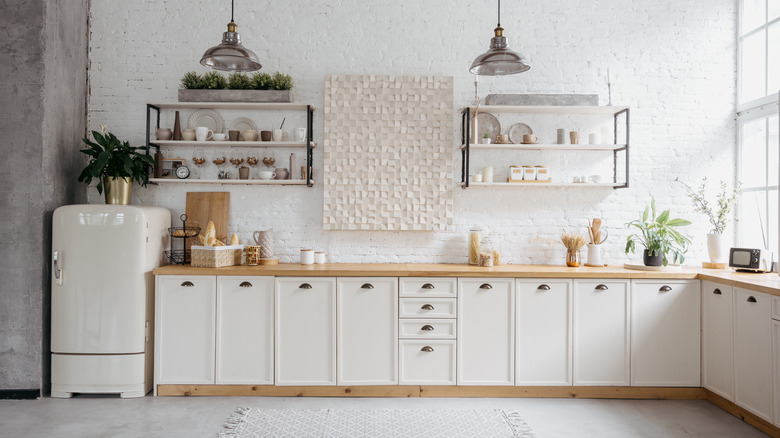 brizmaker/Shutterstock
Tall ceilings, white brick walls, and vintage-style countertops topped with pretty wood counters are an excellent way to work the trend into your kitchen.
28. Chalet inspired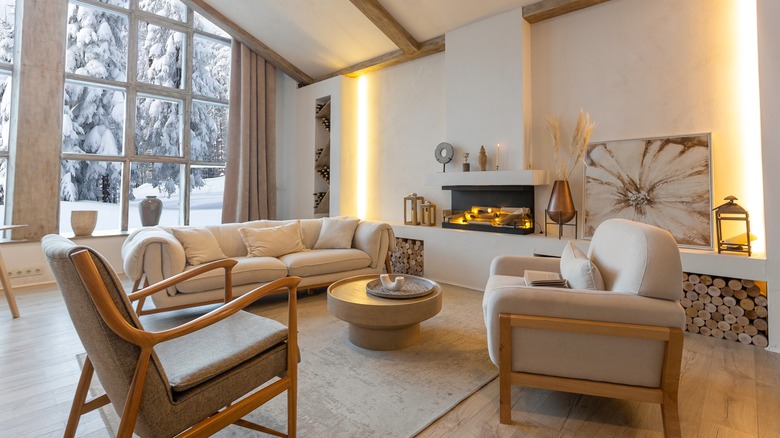 Pinkystock/Shutterstock
A gorgeous chalet-style cabin is the best inspiration for creative ways to incorporate the blonde family of woods into your space, from the floors to the beams, and of course, furniture is another way to show off the style.
29. Pining for these floors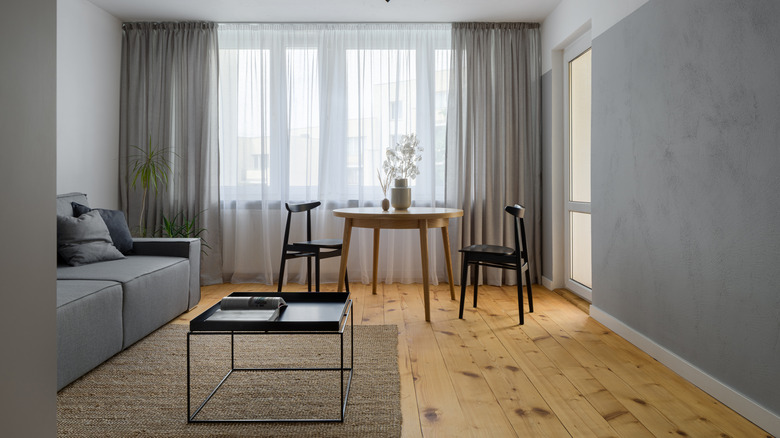 Dariusz Jarzabek/Shutterstock
A room with gray walls, a sofa, and ethereal neutral curtains looks divine with these natural wide-plank pine floors in this simple living room.
30. All over pine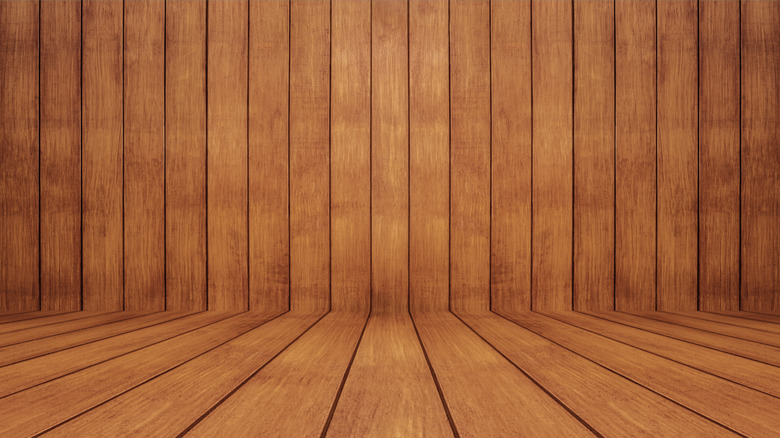 Sasin Paraksa/Shutterstock
If you love the look of pine all over, think about covering your walls and floors in this popular wood style.
31. Blonde kitchen cabinets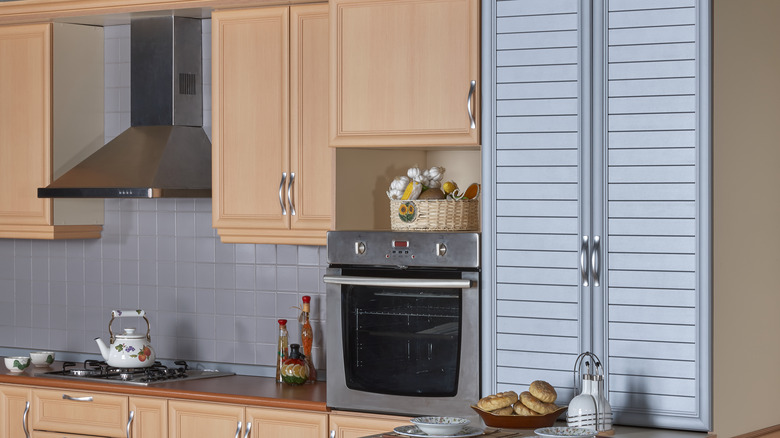 Dreamsquare/Shutterstock
These simple blonde kitchen cabinets pair well with the gray tiled backsplash, shutters, and stainless steel appliances.
32. Open shelving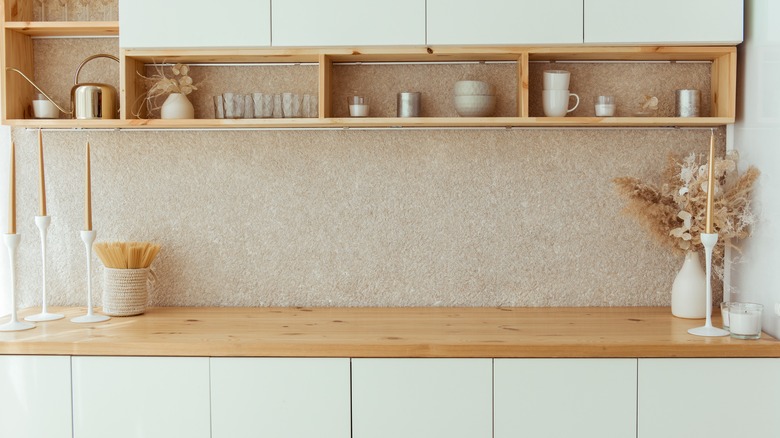 Iren_Geo/Shutterstock
Create open shelving with blonde wood in your kitchen, perfect for displaying your favorite pieces. The wood countertop pairs so well with the shelves and is a great spot to show off your best collection of vases and candles.
33. Shelves with LED lighting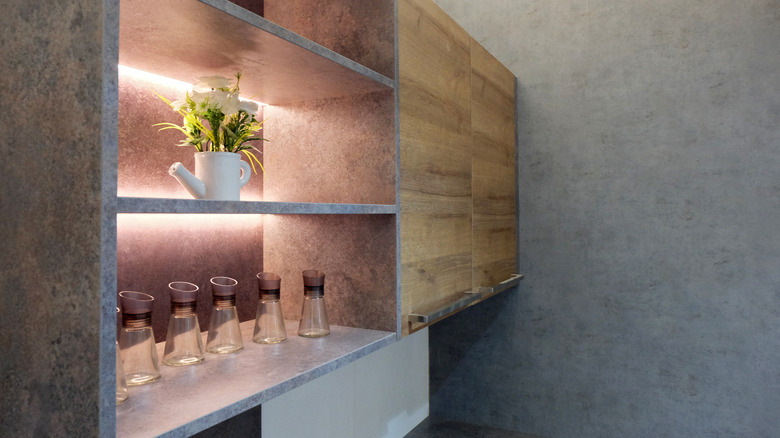 Papah-kah/Shutterstock
Add a cabinet or shelves in the light tone of the wood and highlight it with LED lighting so that you can spotlight everything from a vase of flowers to special occasion glassware.
34. Simple shelves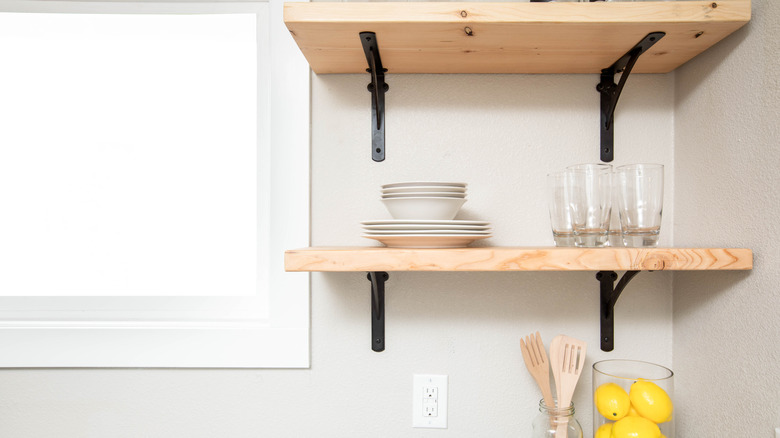 Duntrune Studios/Shutterstock
If you don't want to break the bank, consider getting a few pieces of wood and DIYing the cutest floating shelves in your kitchen.
35. Totally cool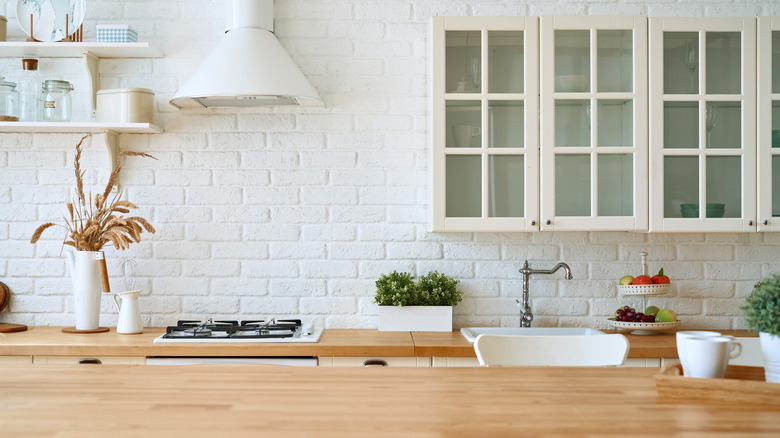 Tanya Sid/Shutterstock
This modernly cool kitchen features hip white brick and wood countertops. Add a blonde wood center island, and you will have an up-to-date and natural room.