The Best Way To Arrange Pillows On Your Bed For The Perfect Cozy Feel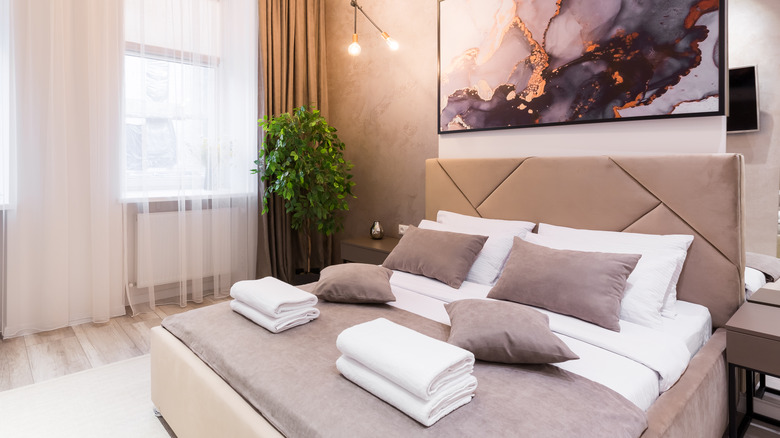 voronaman/Shutterstock
A good number of us don't need much of a push before we admit that our bedrooms, in general — and beds in particular — are the best places to be. Of course, this is particularly true when we need a well-earned break. 
Ballard Designs admits that personalizing a sleeping space can be a challenge for some, particularly if they don't have a specific look and feel they are going for. It's not down to a lack of choice, but an abundance of it, since we are spoilt for choice when considering the different sheets, duvets, covers, and color schemes available today. Even if you're entirely happy with how your bed looks and feels, you might discover ways to elevate your sleeping space so that it becomes the cozy nest you always dreamed of.
Working with pillows is one way to achieve this. However, just as there are different types you can work with, there are many ways to arrange these soft furnishings that neither overwhelm your space nor make it look like you're not even trying. As a first step, you'll want to consider your bed itself. 
Bed proportions determine the number of pillows you'll need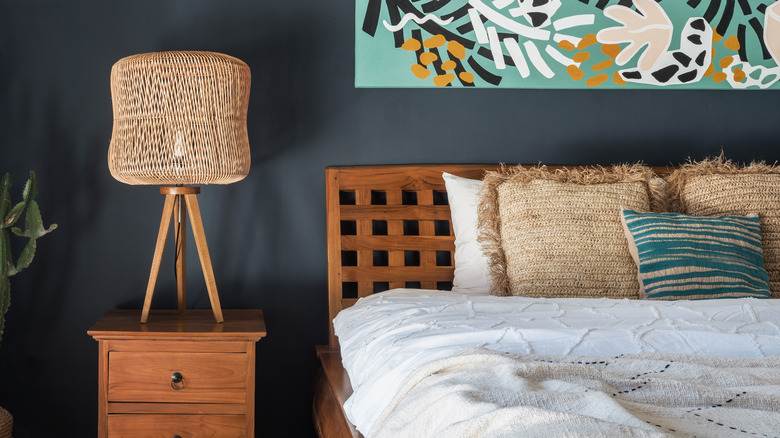 brizmaker/Shutterstock
One way to use pillows to cozy up your bedroom is to use different tried and tested formulas to determine how many you'll need. First, consider the height of your headboard (if there is one) because, as Ballard Designs points out, there is a ratio you'll want to keep in mind: Your pillows shouldn't take up more than two-thirds of the headboard and should leave a third of the headboard exposed. Thus, the bigger the headboard, the more pillows you'll need. And because they should ideally cover the width of the bed, it is reasonable to expect that different bed sizes will have different requirements, with king-sized beds needing more and twin beds needing less.
Depending on the room you'll want your pillows to occupy, Overstock.com recommends picking up a mix of several types of Euro shams, accents, bolsters, and different sizes to help you mix and match until you get the look you want. Of course, you'll also need to consider your sleeping pillows since they are an essential part of your effort.  
Quick tips on how to organize your pillows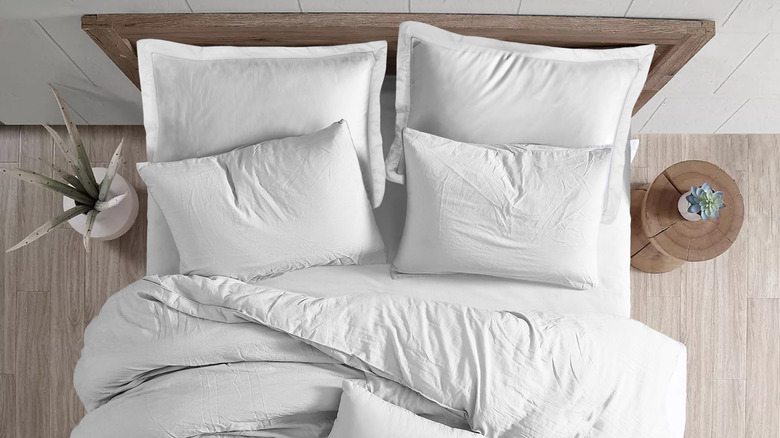 vectormann/Shutterstock
Another way to look at personalizing your bedroom with pillows is to think about what "cozy" means to you. For instance, some might be happy to keep things minimalist and straightforward, in which case they can stack sleeping pillows under two or three propped-up Euro shams of a complimentary or contrasting color. 
Otherwise, you can skip the shams, angle the pillows against the headboard, and add up to two smaller ones for a more spartan feel, per Havenly Hideaway. Another alternative from Mattress Clarity uses up to four standard pillows and a bolster to achieve a clean look. And if you want to splash out and create a freestyle nest, Ballard Designs proposes using both Euro shams and standard shams of the same number and moving them about to get the depth you desire.
If you want to let your instinct be your guide, Laura U Design Collective offers several tips to help you work with what you have, so you might eventually achieve the effect you want. First, the site reminds you that a few large pillows will offer cleaner lines than a bunch of smaller ones, and the magic number of shams to work with is three. The site also recommends you use colors that complement your surroundings for a more relaxing atmosphere or add contrast for a pop of color and drama.