Real Estate Experts Explain How Much Small Kitchen Upgrades Can Increase Resale Value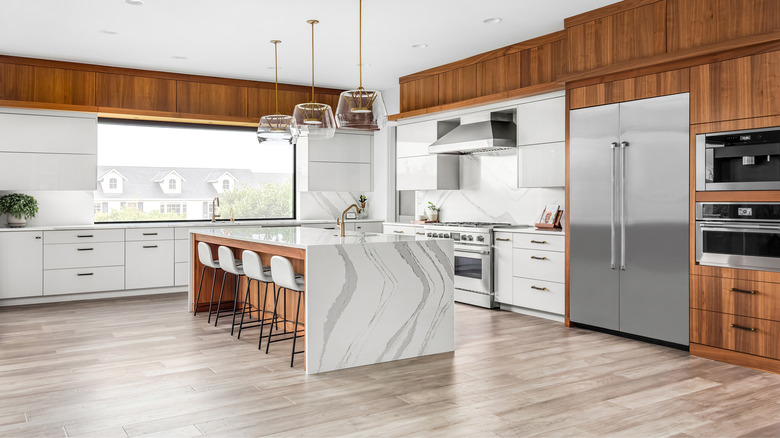 Justin_Krug/Shutterstock
Real estate agents will always suggest ways for their clients to get top dollar when selling their homes. Most of the time, these include making strategic renovations that help add value, particularly to areas that make the home more functional. Kitchens and bathrooms tend to be a place where potential home buyers are most interested. They can also be pricey to tackle.
But small upgrades can still make a big difference. When planning a renovation to get a larger return, you don't have to agonize over choosing the latest trends in material and color, as noted by a report from HomeLight. Potential homebuyers will love having an updated kitchen, even if it's not a design masterpiece, because it will save them the trouble of a huge renovation later. Any cosmetic changes to personalize the space is up to them. If you're planning to sell your house now or in the future, a light kitchen remodel can help boost your sale price.
Invest in your kitchen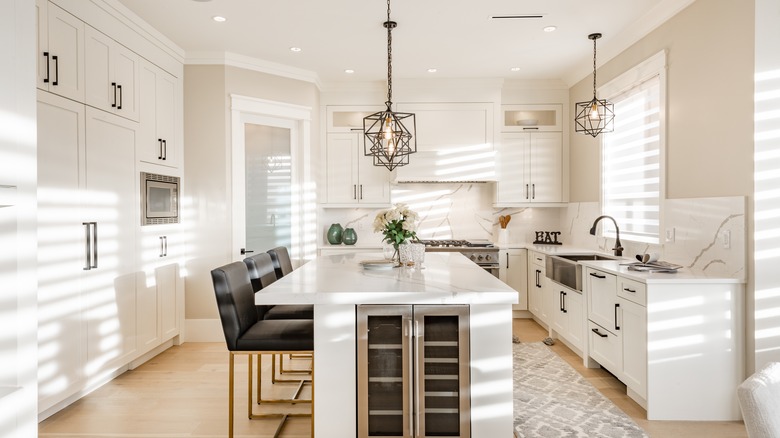 Sheila Say/Shutterstock
For many homeowners, the kitchen is the most important space. So if you want to get top dollar when you sell, you're going to want to focus on this room. "Nationally, agents estimate that a light kitchen remodel costs about $10,512 and results in an additional $17,865 in resale value," according to the HomeLight report. In general, the more you spend on a renovation, the more you can get back in resale; however, it's not always guaranteed. Updating your kitchen to be functional and updated is more important than having it look like an interior designer had a hand in the renovation. After all, many homeowners would want to put their own aesthetic touch on the space once they move in.
Easy kitchen projects you can tackle include most of the main fixtures of the room. Repainting or re-staining cabinets and changing out the hardware, plus updating the backsplash, are all easy and relatively inexpensive changes you can make, according to Trulia. You can also tackle more aesthetic changes like swapping out the kitchen lights or updated appliances like the sink or oven hood. Potential buyers will appreciate the attention to detail.
There are regional differences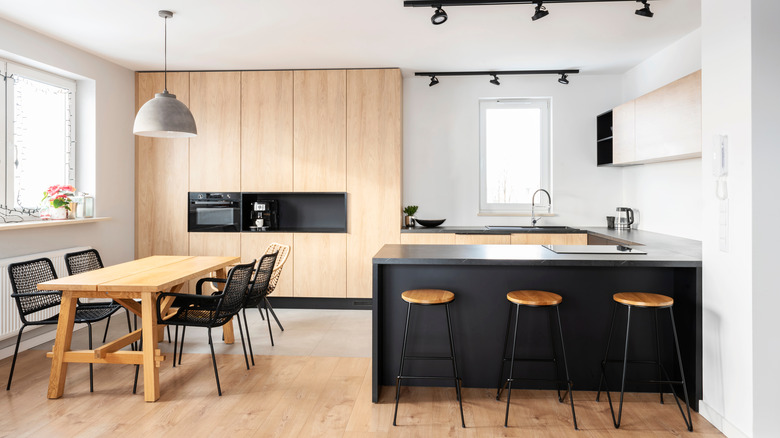 liloon/Shutterstock
It's also important to remember that there are some regional differences in the housing market. And these differences can also affect the return on investment you may get from a renovation. According to the report published by HomeLight, homes in the Pacific region have a higher return on investment. A remodel here can yield a return of about 87%. The Mountain region, including states like Colorado and Utah, also yields a high potential return. Though it's a little lower at 80% return on investment, home sellers may still be pleased. However, the Midwest sees the lowest potential return on investment in the country at only 48%.
For most of the country, the return on investment is high — in the 70% range. But the places where the return on investment is the highest are also the regions with hot real estate markets. Sought-after cities on the West Coast, like San Diego, California, and Seattle, Washington, are also some of the most competitive housing markets in the country, according to Insurify. These cities increase home value and, therefore, home sale prices.