Home Depot Or Lowe's: Which Has Better Deals On Lawn Mowers?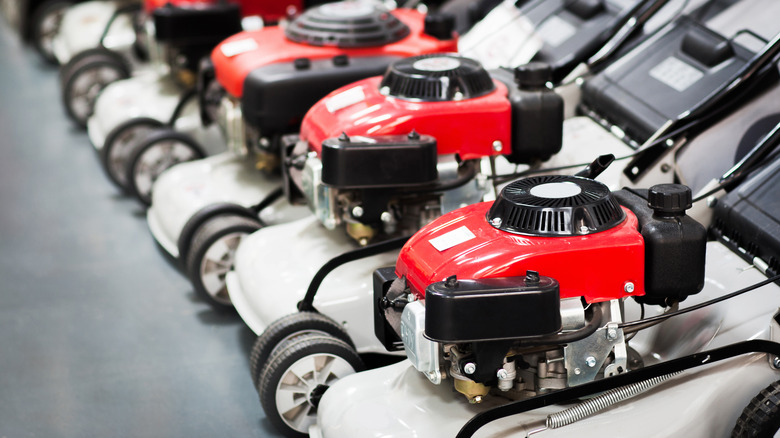 Golubovy/Getty Images
Those looking to purchase a lawn mower from a big-box store will need to choose wisely, as there are plenty of options. Before comparing your choices, decide whether you want a ride or a walk-behind mower. According to Popular Mechanics, riding is best if you have over ¼ of an acre of land, as it will save you time. However, if a limited budget is your main concern, walk-behind types will be your best option. There are also two types of walk-behinds: self-propelled and push mowers. Self-propelled types are much easier to use and could assist those with many hills, while push ones will be the cheapest.
No matter what type you end up choosing, you may be wondering which big-box store has the best deals: Home Depot or Lowe's. To help you decide on the best fit, we've compared lawn mowers from these retailers in the above three categories: riding, self-propelled, and push.
Lowe's mowers
Beginning with the riding mower, Lowe's sells the John Deere S130 Gas Hydrostatic Tractor for $2,799, which comes with a fuel gauge, cruise control, and an up to the four-year warranty on select parts. With over 500 reviews, this mower has a 4.3-star rating. While some said it had smooth steering, was quiet, and quickly started, others complained that it arrived damaged or dirty from Lowe's and that the oil was difficult to replace.
Lowe's also sells the Honda Variable Speed Gas Walk Behind Lawn Mower, which retails for $549. Some of this mower's benefits include its adjustable speed and height, twin blades for a fine cut, and a three-year warranty on certain parts. With over 2,000 reviews, this option received a 4.4-star rating. Some complained that the oil spilled or didn't cut well, but others said it worked great even on hills and that the wheels were easy to adjust. 
Finally, if you want a push mower, Lowe's sells the Craftsman M110 Briggs and Stratton Gas Mower for $349, which has height adjustment, a two-year warranty, and a mulch kit. With over 1,000 reviews, it has a 3.8-star rating. Complaints included that the oil leaks and the machine can break easily, but others loved that it cuts fast and has a straightforward assembly.
Home Depot's options and the verdict
Home Depot sells almost the same John Deere Riding Mower as Lowe's. This option retails for $100 less, $2,699, and has all the same features. Their website has over 250 reviews and a 4-star rating. Many said it was easy to maneuver and had a great turning radius, but others complained about poor customer service and the belt breaking. The Honda Walk Behind Self Propelled Lawn Mower is also sold by Home Depot for the same price as Lowe's, at $549. With over 6,000 reviews, it has a 4.6-star rating. While some complained that it leaks oil and doesn't cut well, others said it had good power, was easy to assemble, and seemed built to last. 
Finally, Home Depot sells the Yard Machines Briggs and Stratton Gas Mower push mower, which retails for $329 but doesn't come with a bag. It does, however, come fully assembled with a one-year warranty. With over 2,000 reviews, it has 3.8 stars. Some said it lasts a long time and is easy to use, while others said it was hard to adjust the wheels, leaks oil, and wouldn't start.
Overall, Home Depot has better deals on lawn mowers than Lowe's, as their John Deere riding mower is $100 cheaper, and their walk-behind gas model is $20 less (though it doesn't have a bag).