How To Prepare Yourself For Buying A Home In The Next Year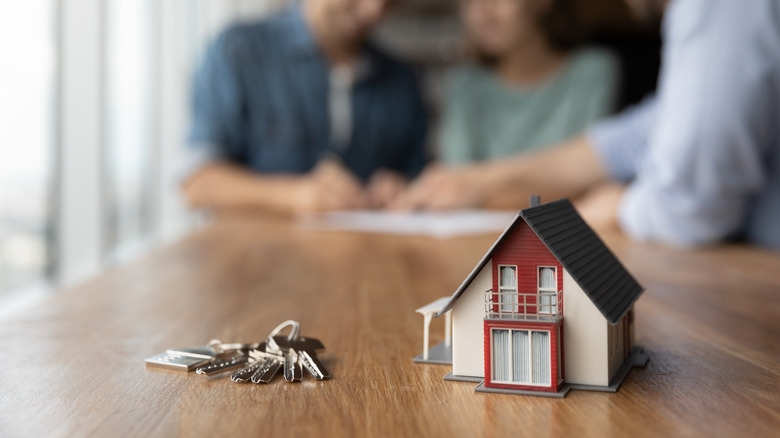 Fizkes/Shutterstock
There are a lot of moving pieces when it comes to buying a home. Too often, people think the buying part is easy; it's the packing up, moving, and unpacking that's the hassle. And while that is true, it's just as important to prepare yourself for the buying process, especially if you want to purchase a home in the next year. If you have a strict 12-month timeframe, you want to ensure there aren't any unnecessary delays that will push back your move-in date.
And a lot can go wrong if you don't know the rules and requirements. The buying process should take anywhere from four to six weeks, but that timeframe only covers the accepted offer, appraisal, inspection, and financing. Prior to that, you need to prepare for a lot more, like budgeting, actually looking at houses, finding the right people to support you, and having patience; lots and lots of patience. So if you're interested in buying a house in the next year, here are some things you need to prepare for.
Determine if you're ready to buy a house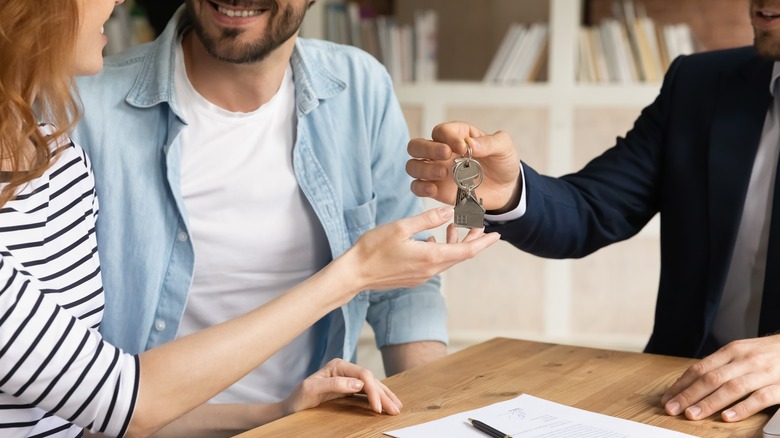 Fizkes/Shutterstock
Owning a home means taking full responsibility for all costs, repairs, and future selling if you decide to leave. That's why they say buying one is an investment. Knowing whether you're truly ready to commit to this process before you start is important. As a renter, you may be limited to what you can do to the property, but owning a home means having free range to do what you want so long as it's within your budget.
You know you might be ready if you're interested in more square footage, or you've lived in apartments all your life and you're itching for a yard. These are common desires, as is the ability to do what you want and when you want. How do you know if you're not ready? Buying a home requires time and patience. If you don't think you can handle the difficulties of the process, you may need to wait. Money is a huge factor as well. If you feel your bank account cannot handle it, start saving, and try again in a few months.
Talk to friends or take a home buyer class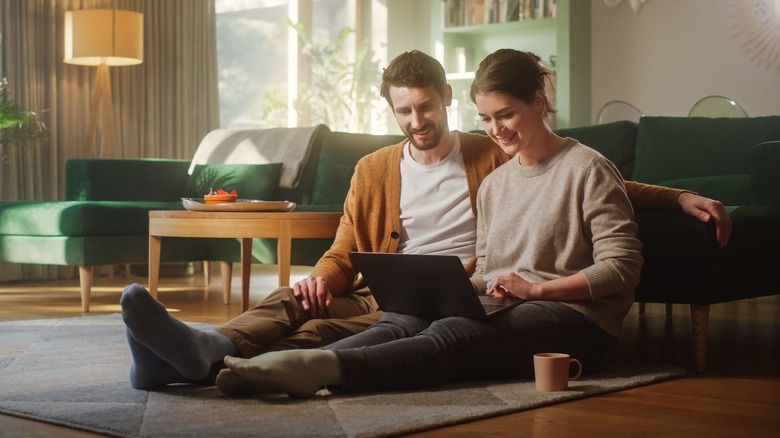 Gorodenkoff/Shutterstock
Two great resources to help you decide if you're ready to buy are home-buying classes and friends and family who recently bought a house. Reach out to people you know and ask them about their journey. Get specific, but be careful of prying too much. For example, you can ask them how long they looked, if they used a real estate agent, and if more issues were found during the inspection than they thought. It's best to steer clear of money questions unless it's about the average cost of home insurance or moving expenses. 
Home buying classes are ideal for first-time buyers, though anyone can sign up even if they've previously purchased a home. You can do them online or check to see if local real estate agencies host any in-person ones. Most classes cover the basics, from selecting an agent to budgeting for costs, as well as what to expect during inspections and closing deals. If you want the best and most up-to-date industry tips, these classes are a must. Classes range from $15 to $500, so budget accordingly.
Start saving now for all the costs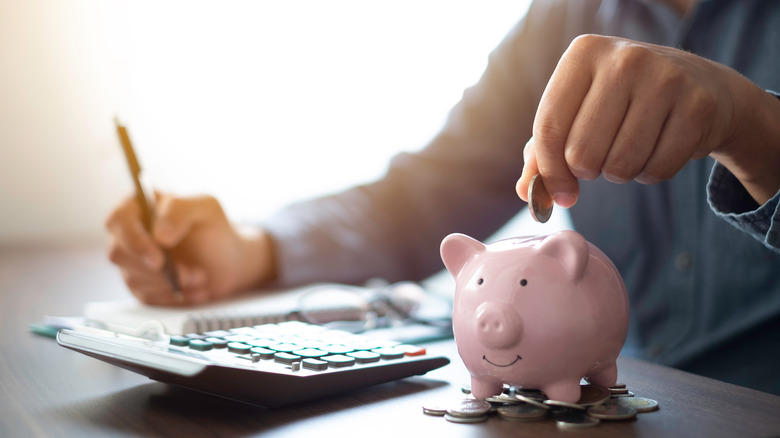 Otello-stpdc/Shutterstock
Buying a home requires a lot of costs, from down payments to real estate agent fees. There are also home insurance and maintenance repairs to account for. In 2022, The Zebra reported that the average home in the U.S. was about $350,000. While this will vary depending on your state, knowing the average is a good place to start, as it will help you know what you need to save. For home insurance, the average is about $1,500, and the cost of moving can range from $800 to $2,500. 
If these prices are making you think you'll never be ready to buy a house, don't worry. There has never been an easier time to make extra money. A few ways you can start saving for a home is to pick up a side hustle, like freelancing or doing food deliveries on the weekend. Consider asking your supervisor for overtime and start using apps to help you budget or cancel unused subscriptions. Mint is a free budget tracker and planner that guides you on your budget journey.
Check and improve your credit score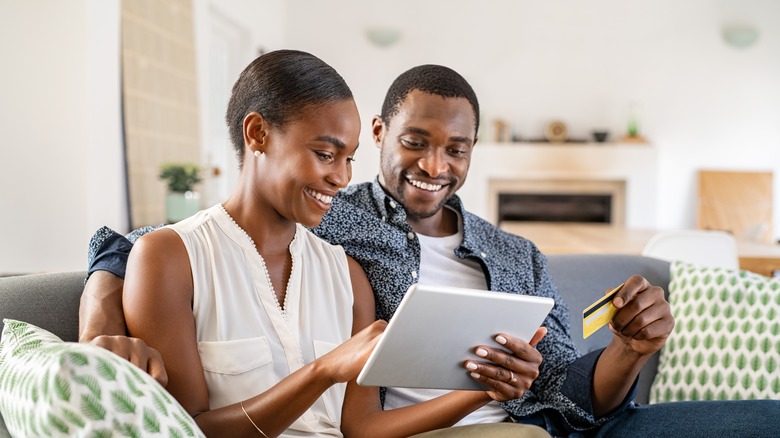 Ground Picture/Shutterstock
Your credit score is a huge factor when buying a home because it shows lenders how responsible you are with payments. That's why you should take the time to figure out your credit score and implement ways to improve it if it's lower than you'd like. Another advantage of good credit is that you'll get a lower interest rate on any loans, which will make you feel much less worried when the time comes to pay it back. If you need to improve your credit score, you can do a few things.
For starters, begin making on-time payments. Even if you pay the minimum, paying on time every time will vastly improve your credit. Instead of canceling cards, dedicate them to specific things like groceries, large purchases, business expenses, etc. And don't assume that bad credit means you can't buy a house. Many lenders, from Fairway to Citibank, offer loans for low credit scores. When the time is right, you can use sites like NerdWallet to help you find lenders. They will link most application processes and tell you exactly what you need to submit to check your eligibility.
Take advantage of open houses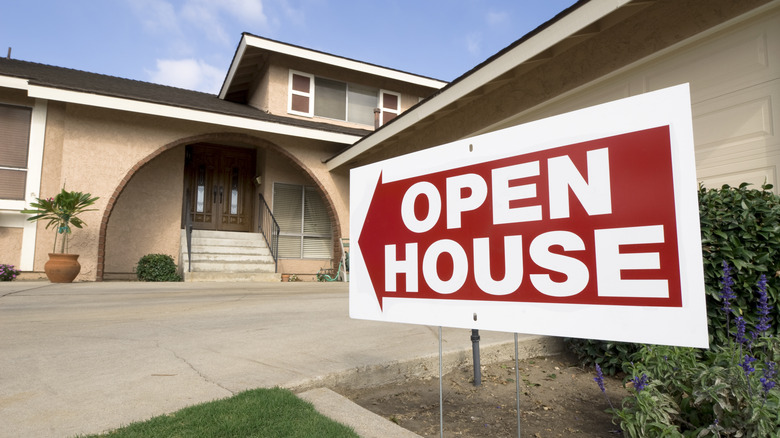 Joebelanger/Getty Images
Open houses can teach you a lot if you're looking to buy a place in the next year, so take advantage of any events in your area. For starters, use them to see different styles of homes to see what you like best. Perhaps you wanted a split-level home but realized you much prefer a ranch once you walked through a few. You can also use them to learn how to spot certain issues like water damage, foundation cracks, rusted pipes, and more. Knowing how to spot these will help you when you start looking at homes you're interested in.
Another advantage of open houses is the hosting agent themselves. Don't ignore them since they're there to answer questions you have. You can ask them if there are any structural issues with the house. This is good if you're not confident in spotting them yourself yet. You should also ask what's included with the home sale, the utilities, their costs, the seller's timeline, and the last major updates. You can even ask them about the neighborhood‌. Get comfortable inquiring, and listen in on what other people ask. That way, you'll know exactly what to ask when looking at houses seriously. Don't forget to get their card on the way out because, who knows, you may have just found your real estate agent.
Figure out your budget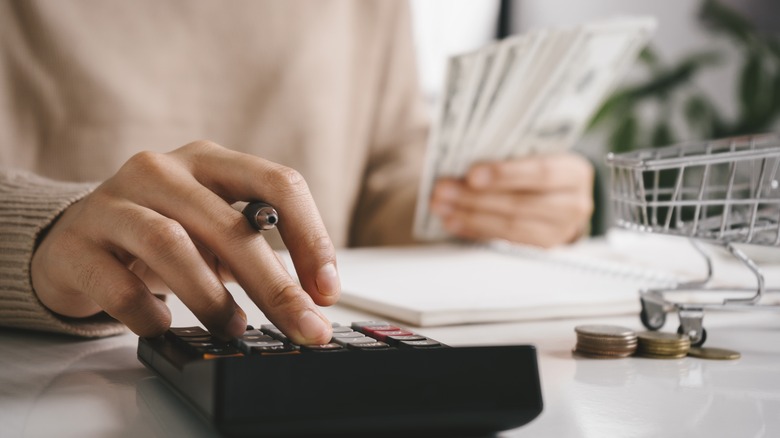 Deemerwha studio/Shutterstock
We mentioned earlier that it's important to start saving for a home as soon as you know you're interested in buying one. But if you've already been saving, the next step is to figure out your budget. This is a major preparation step that will have you seeing all kinds of numbers, but it's worth the little bit of stress. And you can always seek guidance from a finance specialist or even a real estate agent to help you out. You can also download apps like Goodbuget, Mint, NerdWallet, and more to provide step-by-step instructions and professional guidance.
On average, you want to save at least 20% of the home's total cost for the down payment. That means if a home costs $300,000, you want to budget for at least $60,000. To avoid being "house poor," which is common among people who don't properly budget, building an emergency fund that covers three to six months' worth of expenses is another important thing to save toward. As for repairs, saving 1%-2% of your income is recommended each year. If you can put aside more, do so, but even the bare minimum can make a difference.
Research mortgage and loan assistance
Utah778/Getty Images
Over the last few years, buying a home has become more expensive, time-consuming, and stressful, especially for first-time buyers. This has given rise to more loan assistance programs and mortgage options, which means there's a way for every buyer to own their home with a little bit of research. Two of the most popular assistant programs are mortgage lenders and down payment assistance. 
The former is a mortgage bank or financial institution whose focus is on underwriting home loans. Their guidelines are very specific since they set their own interest rates, payment schedule, and more. Loan assistance programs vary from state to state, but they ‌cover part or all of the down payment of a home through grants and loans. They may work with mortgage lenders pending approval and eligibility. Some even cover closing costs and down payments. To find the best home-buying assistance in your area, check out USA.gov.
Get a preapproval letter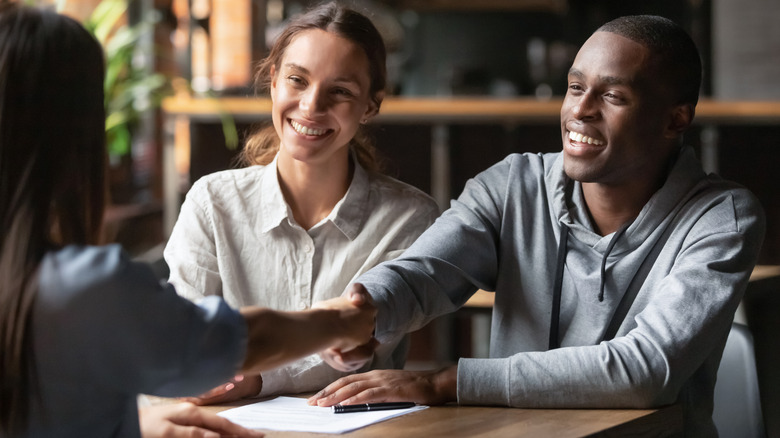 Fizkes/Shutterstock
We get recommendation letters for many things in life. When applying to college, we ask teachers for them, and jobs often request a list of references to contact regarding our work ethic. So it stands to reason that getting a preapproval letter for a mortgage is a great way to make buying a home easier. When you hand over a letter of recommendation to a lender, you're showing them how responsible you are and that others can vouch for you.
The most common things in this letter will be information about your employment, income, and financial accounts. These matter to lenders because they summarize your ability to make timely payments. But it's important to remember that preapproval doesn't mean pre-qualification. Preapproval is just the first step, but it will also give you an idea of whether you're ready to buy a home. If you can get a preapproval letter quickly, chances are high that you're ready. If it takes some coaxing, you may need to give yourself some more time.
Decide on a real estate agent or not
Polinaloves/Shutterstock
It's hard to decide if you're going to use a real estate agent or not. A few pros to using one include having someone who knows the market and the area well. They handle most of the paperwork and save you time by having a list of houses ready to be viewed. On the other side, an average real estate agent fee is 6%, and since they work primarily on commission, they may encourage you to go after the bigger sale. There are also horror stories of fraudulent agents taking advantage of clients and leaving them in the wind. 
You can avoid this by asking the right questions when interviewing them. It's important to learn their communication style, so ask them about that. You should also ask for client references as this is a great way to learn about their previous sales and experience. Another key factor is asking about their sale record, and the time they take to find a house and make an offer. It's recommended to interview at least three agents and then compare and contrast what you learned to make the best decision. It's important to note that you can try house hunting on your own first if that's what you want.
Be flexible with your wants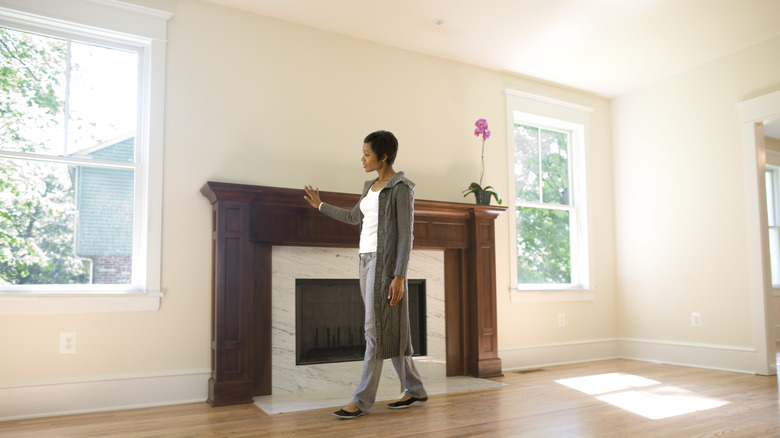 David Sacks/Getty Images
When looking for your new home, it's important to differentiate between what you want and what you need. Often, they can get confusing, so creating two separate lists is a helpful way to prepare. Needs should always be the focus when looking at houses, but wants are just as vital to dream about. So long as you don't only look at homes with wants, you're good to go. Let's focus on your needs first. These can include location, parking, good school districts, electricity, up-to-date plumbing, a yard, and even a specific price. 
Wants are often more surface-level desires, including a pool, garage, fireplace, modern appliances, specific carpeting or flooring design, a fenced-in yard, and more. It's important to be realistic about wants vs. needs because looking too hard for your wants and not enough on your needs can lead you to buy a home with a lot of repair costs. One way to help you differentiate the two is by using checklists or worksheets. This one from Eaton Realty can be super helpful in getting you started. And remember that the wants you don't get now, you can always add on later.
Focus on finding good home insurance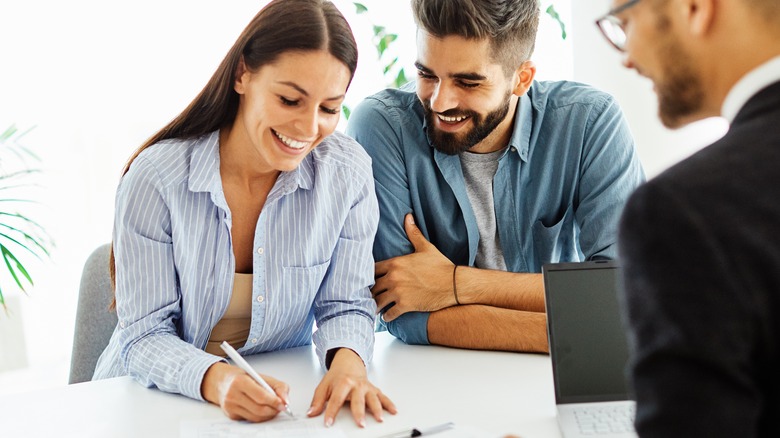 Pics five/Shutterstock
If you haven't factored home insurance into your budget, now is the time to do it. Lenders require home insurance before closing, so it's essential for you to shop around for the best deal. The basics of home insurance are this: It covers your home and the damage that can potentially happen to it on any given day or season. But it can also cover personal liability, loss of use costs, and even medical payments to others. 
The average cost of home insurance is $1,500 a year, though it can vary depending on your location, the size of your home, and what the insurance covers. For example, if you live in an area prone to hurricanes, you'll want to ensure you're covered for rain, wind, and storm damage. But if you live in an area more prone to earthquakes, you want better structural coverage. All of that factors into the overall total of the insurance plan. When in doubt, speak to an insurance or real estate agent for the best options and cost.
Declutter your current home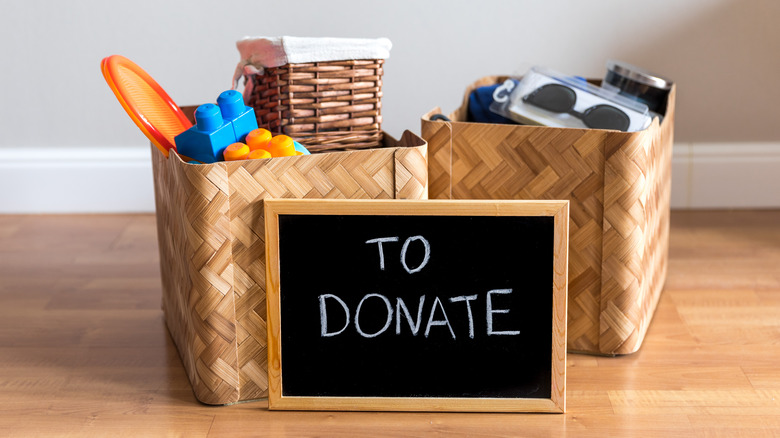 Tartanparty/Shutterstock
A new home is a fresh start and a great way to turn the page on the next chapter in your journey. While preparing to buy a house involves a lot of number crunching and research, another thing you can do is declutter your current home. This may not seem like an important step, but it prepares you for the major transition you're about to take. When you look at homes, you might imagine your stuff there. You think of new ways to display it and give it a fresh life. 
Even if you're nowhere near ready to move yet, make a plan to do a big declutter of your home. Start by listing all the rooms and what you want to focus on in each. A good place to start is often with clothes. As you declutter, focus on removing things you haven't used or touched in months. Take into account the location you're scouting for homes in. Is it warmer there all year round? If so, you may not need as many sweaters or winter jackets. Is there a park within walking distance? Then consider getting rid of your treadmill or stationary bike. Are you planning to move into a smaller house? Then put up your least favorite furniture on Facebook Marketplace. While some of these decisions may not occur until you know exactly where you're moving to, it's good to think about these questions now, so you're prepared to declutter when the time comes.