How To Save Your Dormant Grass This Spring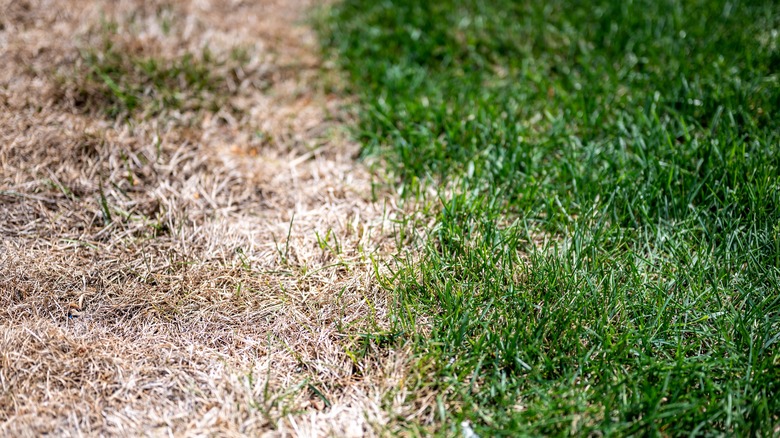 Lost_in_the_Midwest/Shutterstock
With spring just around the corner, it can be a great time to start thinking about sunny days, blooming flowers, and the return of a lush green lawn. But, if your outdoor area looks a little patchier than usual, you'll want to revitalize that greenery after it's been dormant throughout the winter. It's perfectly natural for grass to go through a dormancy stage; this means that your lawn's root system is conserving nutrients and water, leaving the exposed tips to look tan or even brown. During cold months or periods with a noticeable lack of water, grass can remain dormant for up to six weeks without any permanent damage (via the Ontario Ministry of Agriculture). However, every week after this period, you could see a reduction of about a quarter of your grass if it's not maintained correctly.
Thankfully, this doesn't mean your lawn is dead. To protect your lawn through a brutal cold snap or during a lengthy drought period, there are many ways to ensure it looks its best. With a solid routine, you can help your turf stay lush and vibrant while steering it away from too many dormant stages in the future.
Rehydrate your lawn and don't over-fertilize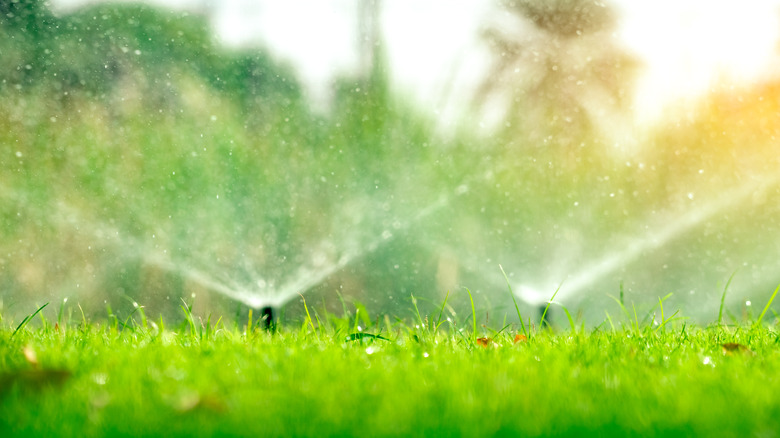 Fahroni/Shutterstock
In the beginning stages of spring, you may become impatient waiting for your lawn to fill out and return to its signature green state. However, with some care and self-control, your grass can look great in no time. Watering your turf could be the best way to revitalize and wake it up after an extended dormancy stage. If you can water your lawn down to the roots to about 5 inches, this can be especially beneficial to your grass if it has experienced a long time of drought. Even if you are coming out of colder winter months, you still want to give your lawn a healthy dose of hydration. However, you may not see significant improvement until the soil temperatures warm up.
While your lawn is dormant or coming out of its dormant state, it's important not to go too wild on the fertilizer. However, using organic grass feed in moderation will help to spring your lawn back to its former glory. When rain isn't as available, opt for a lawn feed with a high-potassium content and minimal nitrogen, per Plant for Success. Alternatively, you can use a higher nitrogen-enriched fertilizer near the end of the season as the weather begins to cool down. This will give your grass the nutrients it needs as it heads into a period of dormancy.
Control the weeds and don't be afraid to mow and water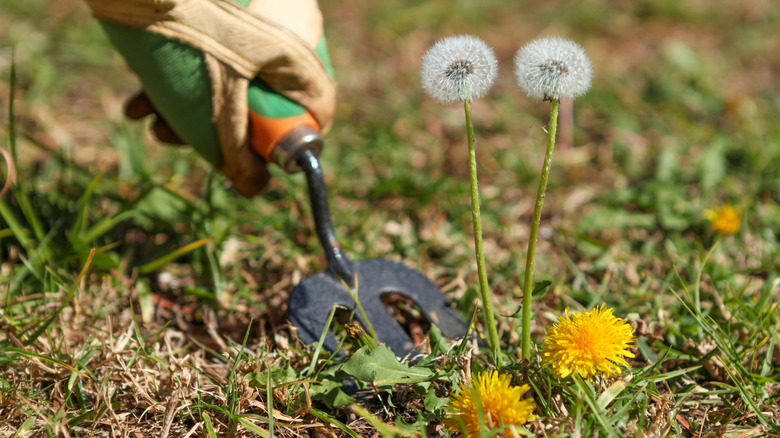 OzCameraman/Shutterstock
When your grass is dormant, this doesn't stop harmful weeds from spreading and wreaking havoc on your yard. Weeds such as dandelions and crabgrass will continue to feed off the nutrients from your lawn, even during periods of drought when water isn't readily available. The weeds will reach deep into the soil and feed off the water kept in the roots. Especially for dormant grass, you should carefully remove all weeds for your turf to have every opportunity to thrive. However, to ensure that your lawn is not shocked by an influx of herbicide, you should pull out the problem areas by hand or administer the herbicide directly to the weed.
During a drought, it's essential to keep your grass at a respectable length to prevent undue stress. Although it is equally important not to have an overabundance of traffic for your lawn to look its best, if your grass needs a quick cut, you should stick to a mowing schedule first thing in the morning or later in the morning evening for best results. Finally, remember to generously hydrate your lawn before any dormancy span to keep those roots strong and healthy throughout a cold snap or dry period.